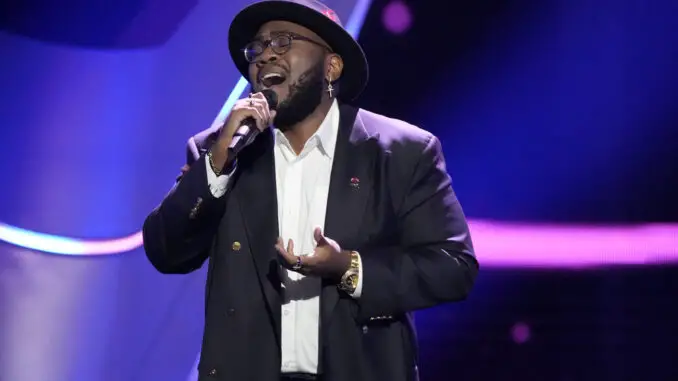 After last night's Season 23 premiere of The Voice showcased a slew of memorable talent, some unforgettable moments for first-time coaches Niall Horan and Chance the Rapper, and dozens of mentions of Blake Shelton's final season, the show is back tonight for a second round of Blind Auditions!
The Voice 2023: Full Season 23 Schedule
The Voice 23 Spoilers: Top 8 Semifinal Artists Playoffs Results
The Voice 23 Spoilers: Battle and Knockout Round Results
The Voice 23 Contestant List and Guide: Meet the Artists!
Sheer Element (Trio- Jej Vinson, Tabon Ward, Izzy Kaye) – Los Angeles, CA – Leave the Door Open by Silk Sonic
The trio slowly but surely impresses the judges with their harmonies, making Chance, Niall and Kelly turn their chairs. Kelly then shoots up and shouts Jej's name because he was on Team Kelly in Season 16.
Niall tells them they were all trying to figure out how many harmonies were in the group, but the reason he turned was because their performance made him feel. Chance says the overall presentation was insane. Kelly says she already loves Jej's voice, but advises them that they're picking a coach based on song selection right before Niall chimes in with, "I was in a group!" Sheer Element chooses… and commercial! Sheer Element chooses Team Kelly!
Carlos Rising – 28 – Wilmington NC –  Change the World by Eric Clapton
Carlos has a very unique tone to his voice despite sounding like a familiar reality singing show voice. Blake turns his chair almost immediately, while Kelly waits until the very last second to turn.
Chance says his voice would do well with R&B. Kelly says she was waiting for him to climb and that she believes he has it in him and it's her job to push him to grow. Niall says he has a controlled rasp. Blake says he gets excited when he hears a voice nothing like what he's heard before. Carlos chooses Team Blake.
Alex Graham – 24 – Belmont NC – She Had Me at Heads Carolina by Cole Swindell
Alex has a very Luke Bryan-sounding voice and song choice. Great voice, but nothing that stood out, causing no one to turn their chairs.
Kelly said she didn't know the song. Niall said he didn't turn because of pitch issues, while Blake tried to talk him into turning during the performance.
Magnus – 25 – Virginia Beach VA – Sara Smiles by Hall & Oats
Magnus starts the song and Chance turns his chair after the very first note. He ended with a long, falsetto note that impressed everyone.
Chance gives him a standing ovation and says he's so excited to win the show with him. He compliments his runs and the final note. Niall says his voice is incredible and he could smell Chance's excitement when he turned. Blake says he's happy for Chance. Magnus joins Team Chance.
Kala Banham – 24 – Windermere FL – Both Sides Now by Joni Mitchell
Kala's strong voice stuns with this ballad, Kelly forcing herself to refrain from hitting her button too fast. Niall turns his chair and blocks Kelly. Chance turns his chair before the end of the song.
Kelly says she felt the message and words mean something to her, and she plans on stealing her. Niall compliments the song choice and says her voice was brittle and tender. He then says he gets one block and he chose to use it on her, and he wants to go grab a guitar and write a song with her. Chance wants to bring her song options the other judges may not have. Blake says he's never heard the song before and when he looked to his fellow judges, they were all singing along, and Kala will have to take her CHANCE with these coaches. Kala chooses Team Niall.
A surprise artist takes the stage and sings "I Keep Forgettin' (Every Time You're Near" by Michael McDonald.
The artist turns and reveals himself to be Jimmy Fallon! Kelly first turns her chair, followed by Niall and Chance. Blake never turns, so Jimmy walks over and presses Blake's button for him.
Jimmy plugs his new show That's My Jam, then congratulates Blake on 23 seasons. He then says he chooses Team Kelly.