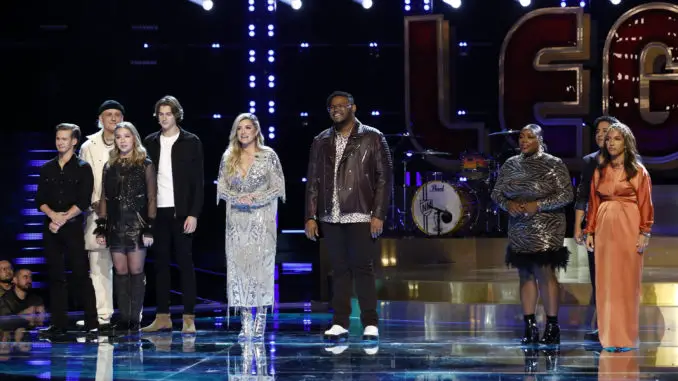 The Voice 2022 Recap Top 10 Results – Top 8 revealed!
The Voice 2022 Recap Top 10 Results are here. In what's sure to be a night full of drama, the Top 8 finalists will be revealed LIVE.
The Voice 22 Top 10 Poll Results and Elimination Predictions
The Voice 22 Recap: Top 10 Performances (Video)
Who from Team Blake Shelton, Team Gwen Stefani, Team John Legend and Team Camila Cabello will make the cut? After last night's viewer vote, 7 artists will be declared safe. Next, the bottom 3 singers will perform for America's vote in the Instant Save. The winner will round out the Top 8.
Additionally, John Legend and Gwen Stefani will perform with their teams.
First up, John Legend joins his team members Kim Cruse, Omar Jose Cardona and Parajita Bastola to perform the 70s classic, "The Weight" by The Band. That song choice came out of left field. Kim Cruse is pretty fab. I'm getting Merry Clayton vibes!
RESULTS!
The Top 10 take the stage. Kique will join the group remotely after testing positive for COVID over the weekend. CARSON DALY ASKS DUMB QUESTIONS! Morgan shares that her "milestones" fans have stood by her. "Thank you for voting." Omar was excited to get a standing ovation last night. Plus, he always wanted to play piano and sing on stage. Brayden urges younger fans to follow their dreams. Carson insists the results are in NO PARTICULAR ORDER.
America saved…from Team Blake…Bodie! America also saved….Morgan Myles from Team Camila! Camila is in the semis with her only artist.
More RESULTS!
DUMB QUESTIONS: Rowan thanks her fans for supporting her throughout the season. Justin shares with his students back home that he's he's living proof of how one YES can change a person's life (He was a a one chair turn). America saved…from Team Legend…Omar Jose Cardona! America also saved…from Team Gwen...Justin Aaron!
Now, Gwen Stefani and Justin Aaron perform Talking Heads' "Burning Down the House." Her other team member, Kique, is quarantining remotely and cannot participate. The thing about Gwen, her voice is so stylized, she often sounds really bad covering other artist's songs….like here. Justin seems VERY out of his element. I wonder if he heard the song before Gwen suggested it.
Next, host Carson Daly promotes his and Blake Shelton's new game show, Barmageddon. In a clip, the coaches compete in one of the Barmageddon bar games played on the series. Gwen and John win the game. The series premieres on USA Network on December 5.
EVEN MORE RESULTS
The remaining five artists take the stage. DUMBEST QUESTIONS. Parajita thanks the Nepalese community, who has been with her all the way. Kique learned this week how to face challenges with hard work. America saved…from Team Blake…Brayden Lape!
After the break, more results. Bryce talks about himself in the third person before thanking his coach, Blake Shelton. Kim hopes that America saw her heart and drive during her performance of Rihanna's "Love On the Brain" last night. America saved…from Team Legend…Parajita Bastola! America also saved…Bryce Leatherwood from Team Blake!
My predictions TOTALLY CORRECT so far: Kique, Rowan Grace and Kim Cruse will sing for the Instant Save. After the break, Kim will crush the competition.
The Voice Top 10 Results Instant Save Performances
Rowan Grace – Landslide by Fleetwood Mac – She seems nervous, with a look of concern on her face. She's having pitch issues and her vocal is trembly and soft. She ends on a solid note. This kiddo has potential: A pretty tone and moments of great phrasing. She's already crying. Blake says she performed the song as if she wrote it. Blake more or less admits that last night's Billie Eilish song choice was a mistake. He promises to bring her back to her "wheelhouse" of old songs.
Kique – River by Leon Bridges – Kique's performance is pre-recorded. I wonder if he taped this song alongside his Top 10 performance? The stage looks exactly the same. The young singer never reached the heights of his "Hey Ya" cover, but he's an interesting and unique singer. He had a good run. He's crying too. Coach Gwen calls him stylistically unique. "He is so recognizable," she states while begging for votes.
Kim Cruse – Believe by Brooks & Dunn – Pulling out the gospel song for a life or death moment. Smart. She's singing last, crushing it. Kim's got this. She hits the key change and the crowd goes wild. All four coaches stand for her. Her coach John calls her one of the best vocalists he has ever worked with. Massive begging for America's votes.
Vote on The Voice official phone app or nbc.com/voicesave. Fans have FIVE MINUTES to get it done.
Top 8 Revealed
Before Carson announces the winner, the singers have a last word. Rowan thanks Blake for stealing her in the Playoffs. She also thanks Gwen for her earlier coaching. Blake considers it an adoption rather than a steal! He basically says goodbye to her, saying she's got a future in the music business no matter what. Kim thanks John for seeing her own potential and being a great role model. John can't believe she's not always confident. "You are a joy to work with." Gwen learned to trust Kique right off the bat, saying he came in with a vision. Kique, who had tech issues for a bit, said to his coach "You taught me to be myself."
America INSTANTLY SAVED Kim Cruse!
The Voice 2022 Recap Top 10 Results
Top 8
Bodie – Team Blake
Morgan Myles – Team Camila
Omar Jose Cardona – Team Legend
Justin Aaron – Team Gwen
Brayden Lape – Team Blake
Parajita Bastola – Team Legend
Bryce Leatherwood – Team Blake
Kim Cruse – Team Legend – INSTANT SAVE WINNER
Eliminated
Kique – Team Gwen
Rowan Grace – Team Blake