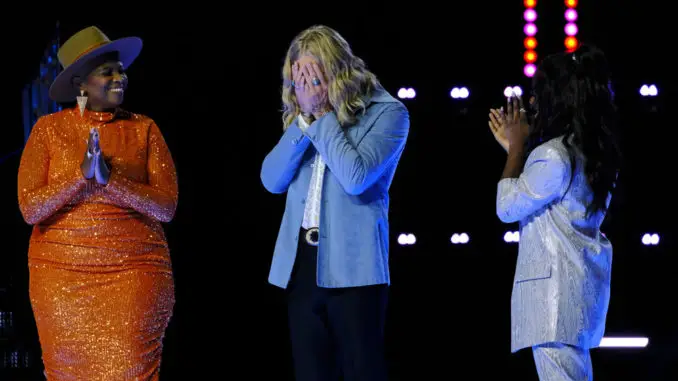 We're LIVE BLOGGING The Voice 20 LIVE Semi-final results here. The Top 9 will become a Top 5 by the end of the episode. Here's how it will work: Host Carson Daly will announce the top vote getter from Team Blake Shelton, Team Kelly Clarkson, Team John Legend and Team Nick Jonas. 
The remaining 5 singers will compete in the Instant Save for the 5th spot. The Top 5 will compete in next week's finale.
The Voice 20 Semi-finals Predictions and Poll Results
The Voice 20 Recap: Semi-finals Top 9 Performances Live Blog (VIDEO)
Jake Hoot and Kelly Clarkson will perform their new duet "I Would Have Loved You."
Right to the results! Team Kelly is up first. DUMB QUESTIONS. Kelly has taught Corey Ward to believe in himself, and that his passion is a positive. He's learned that "it's OK to be myself." Kelly has given Gihanna Zoe more confidence. She's learning to be her authentic self. The artist advancing to next week's finale is…Kenzie Wheeler. Of course. 
Team Legend is next. Pia Renee's message to her mom is "Thank you for teaching me to stand up for myself against all odds." Pia is tearful speaking about her late mom. Victor Solomon wants everyone to think about their own relationship to God, and build on that.  Team Legend your finalist is….Victor Solomon.
Next The Voice season 17 winner Jake Hoot and his former coach Kelly Clarkson take the stage to perform their duet "I Would Have Loved You." 
Team Nick Jonas is next. Rachel Mac wants fellow young people to know that their feelings are valid. "I believe in you," she says Dana Monique wants America to know that everything is coming from her heart. Team Nick, your finalist is Rachel Mac!
Next, Australian Rapper Masked Wolf performs "Astronaut in the Ocean." Apparently, he filmed this performance remotely from down under. 
Finally, it's Team Blake. Cam Anthony wants his supporters back home in Philadelphia to know that he appreciates them. Jordan Michael Young says that he is really lucky for the positive influence his family has had on him both personally, and musically.  Team Blake, your finalist is…Cam Anthony.
Instant Save Performances
Pia Renee – Team Legend – Everything I Wanted  – Performing 1st of five doesn't bode well for Pia. Also, the bad singing isn't working for her either. She hits several clunky notes. Is she nervous? Did speaking so emotionally about her mother earlier in the episode leave her upset? She's usually not pitchy. She doesn't look happy. John loves that she showcased a different part of her artistry today. "You've given us so much of your heart." He would love to coach her one more week into the finale. Except that you won't, John.
Corey Ward – Team Kelly – Iris by Goo Goo Dolls – Corey does his Corey thing with the Goo Goo Dolls classic. He'd be a worthy and exciting finale performer, but I don't think it's going to happen.  "You pick great song," says Kelly. "You wear your heart on your sleeve. I love that about you." She calls his gift "magical" and begs America to vote for him.
Dana Monique – Team Nick – Caught Up in the Rapture by Anita Baker – Nice jazzy tune, but it's decidedly NOT a save me song. Wrong song choice for Dana, unfortunately. Nick calls her "So brilliant…you absolutely have to stay in this competition." He calls her the best that's ever been on the show. Hm. He begs America to vote for her.
Jordan Matthew Young – Drift Away by Dobie Gray- Team Blake – Gah. I hope he doesn't win the save. But he could, as the only country singer of the five. One thing, this is a pretty boring pick for a save me song. Only Corey, so far, actually understands what needs to happen at this stage of the game. Blake thinks Jordan was born in the wrong decade. People who say that weren't born before 1980. Ha. "I need this man in my life for one more week! I NEED YOU." Blake begs America to vote for Jordan.
Gihanna Zoe – Team Kelly – Someone You Loved by Lewis Capaldi – I KNEW she'd get the pimp spot. And she gets it, singing a super emotional song that has the potential to bring the house down. THAT's a save me song.  She hits the big note and follows up with some runs. She could have gone even bigger, I think. Still, she just gave herself a chance. Kelly loves that she goes places she herself doesn't even think of, and loves the way her voice flows. PLEASE AMERICA VOTE THIS BEAUTIFUL VOICE TO THE NEXT ROUND she pleads.
Now it's time for Voice fans to vote. Go to the app and TheVoice.com. Y'ALL HAVE FIVE MINUTES TO VOTE. 
RESULTS
Pia thanks John for saving her and having confidence in her. She also acknowledges Trilani, the vocal coach. That's nice. "You made it undeniable that I would work with you," says John. Corey is so humbled to have the opportunity to work with Kelly. Kelly reveals that they will sing "Already Gone" on the finale. She is rooting for both of her singers competing in the Instant Save with all of her heart. Dana thanks Nick for saving her. She enjoyed working with the other contestants, who are now like family. Jordan thanks Blake for letting him be himself. "I always felt like an underdog out here." He thanks all the behind the scenes people. Kelly has helped Gihanna grow. "You felt like my second mom," she says. After Kelly's remarks, there was no more from the coaches. Carson, obviously rushing, running out of time. 
America instantly saved…Jordan Matthew Young UGH UGH UGH UGH UGH.  Always the freaking country guy.  Also, Jordan's song choice was boring, but I am underestimating the power of nostalgia, even as a person who has been through it. (Probably unpopular: Nostalgia is overrated).
The Voice 20 Top 5
Kenzie Wheeler – Team Kelly
Victor Solomon – Team Legend
Rachel Mac – Team Nick
Cam Anthony – Team Blake
Jordan Matthew Young – Team Blake – Instant Save winner