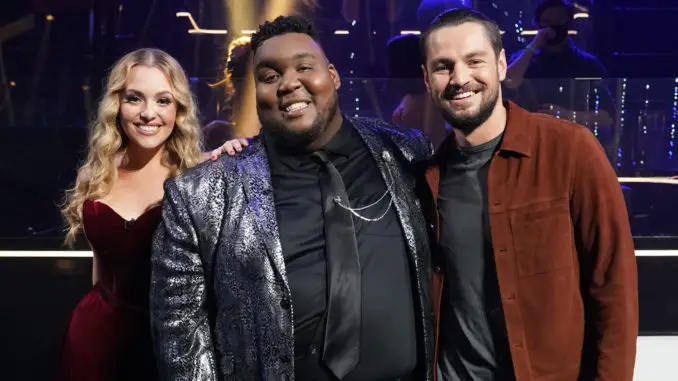 Hometown Visits went off without a hitch for the American Idol 2021 Top 3, Grace Kinstler, Willie Spence and Chayce Beckham. As reported earlier, the visits happened, but staged as low key affairs. In past years, producers and politicians encouraged fans to come out and support their hometown hero, but with Covid-19 precautions still in place, most of the events, including school visits and concerts, were conducted as invite-only events.
Idol producers followed the festivities, cameras in hand, as fans celebrated the contestants. Covid or no, these homecomings are ALWAYS 3 hanky affairs. There is always crying. Lots and lots of crying. The video packages for each finalist will air on Sunday's (May 23) 3 hour finale. 
Here's a rundown of each visit, with a few tweets.
Willie Spence visits Douglas, Georgia.
At first, Willie learned the entire day would be "Willie Spence Day." That's until Governor Brian Kemp declared that the entire week would be devoted to the Georgia native. From WSB-TV 2:
Fans gathered at the Coffee County courthouse where a very excited Mayor Tony Paulk declared Tuesday May 18 as Willie Spence Day and gave him a key to the city "This is the official welcome home to the next "American Idol", Willie Spence!" Paulk said.

It wasn't just a key to the city. The biggest surprise for Spence was that Gov. Brian Kemp declared this week "Willie Spence Week" throughout the state of Georgia. From cheers from the fans to all the celebrations, Spence said he was living the dream. "I'm still trying to take it all in. I'm still shocked and mind blown. I'm really grateful and blessed," he said.
Later on in the day, Willie sang at a "private concert." Check out a short news video HERE.
#WillieSpence WEEK IN GEORGIA: @BrianKempGA has issued a proclamation honoring the @AmericanIdol finalist heading into Sunday's season finale. Here's @Williespence pictured with our own @EmmaHamiltonTV in his hometown of Douglas, Ga. >>> https://t.co/Hq83APNCMc #AmericanIdol pic.twitter.com/a78PXgxcwA

— WJCL News (@WJCLNews) May 18, 2021
@Williespence's reaction to @GovKemp's declaration for #WillieSpenceWeek in Georgia. @AmericanIdol @WJCLNews @CodyHallGA @malloryblount pic.twitter.com/MSQSblwNHt

— Emma Hamilton WJCL (@EmmaHamiltonTV) May 18, 2021
Chayce Beckham – Apple Valley CA
Chayce's homecoming had very little advance fan faire. But his local newspaper, the Daily Press covered the event. 
With guitar in hand, "American Idol" hopeful Chayce Beckham arrived Tuesday at Vanguard Preparatory School in Apple Valley, where hundreds of cheering students welcomed him.

"Chayce! Chayce! Chayce!" chanted the masked students as the 24-year-old Vanguard alum came to perform at a midday assembly.

As Beckham smiled and emerged from a passing white stretch limousine, students waved pom-poms and held signs and banners that read, "We love you Chayce," "Welcome Home Chayce Beckham" and "Chayce You Got This!"

Beckham's return to Apple Valley was part of his "American Idol Hometown Visit," which included his appearance at Vanguard and several private and limited capacity events due to COVID-19 health and safety protocols set by broadcaster ABC, which airs the "American Idol" show.

"What an exciting day for our students, to see an 'American Idol' hero come back to his school," Dennis Bender, a board member with the Apple Valley Unified School District, told the Daily Press.

Beckham's visit to Vanguard included a heavy AVUSD police presence, with officers not allowing vehicles to travel or park near the school campus. Vanguard Principal Brian Goodrow said Beckham's appearance at the school was a "fantastic experience for students and staff."
Chayce Beckham is back in his home town of Apple Valley! The @AmericanIdol finalist took part in the ceremonial planting of an apple tree before performing at a small concert. The town's elected officials say they will all pulling for him on this Sunday's season finale on ABC7. pic.twitter.com/lLCM5TUhBB

— Rob McMillan (@abc7robmcmillan) May 19, 2021
Grace Kinstler – Crystal Lake Illinois
Grace Kinstler actually got the traditional parade. The singer sat in the backseat of a yellow convertible, waving, as she passed fans along the parade route. Check out the story with photos at the Daily Herald. Also, check out the McHenry County Blog for more photos HERE.
Hundreds gathered along a route Tuesday between the Crystal Lake high school Grace Kinstler attended and the city's downtown hoping to see the "American Idol" finalist.

The parade had tentatively been set for about 4 p.m. but actually took place about 5:45 p.m., after an event at Crystal Lake Central High School where she sang with students.

Sam Leon, a junior at Crystal Lake Central, said Kinstler was greeted by hundreds of students and teachers at the school when she arrived. She played her original song, "Love Someone," on the football field for the students, and then many music students, including Leon, performed "Eye of the Tiger" with Kinstler, he said.

"She's very inspiring," Leon said.

She later gave a "hometown concert" at Lakewood's RedTail Golf Club. It was filmed for a segment for the show's finale.
Got to see Grace Kinstler perform today! Holy crap man. Pipes like that should be illegal! #AmericanIdol pic.twitter.com/Gmu8mYa9Fy

— Alex Abrams (@ChiSportsAlex) May 19, 2021
Sweet hometown parade for our American Idol finalist, Grace Kinstler, today? SO PROUD! pic.twitter.com/zWBwLZwig3

— ???? I? AM ALL THE MANDALORIANS?? (@FrayAdjacent) May 19, 2021
"American Idol" finalist Grace Kinstler is coming back home to Illinois for a special celebration in her honor in Crystal Lake and Lakewood.. https://t.co/afMyvP3Mrc pic.twitter.com/U2sHGrtivI

— ABC7 News (@abc7newsbayarea) May 19, 2021
The American Idol 2021 3 hour finale will air on ABC Sunday May 23 at 8 pm ET/5 pm PT. Once again, the show will air live coast to coast allowing fans across the country to watch and vote in real time. By the end of the episode, a winner will be crowned.