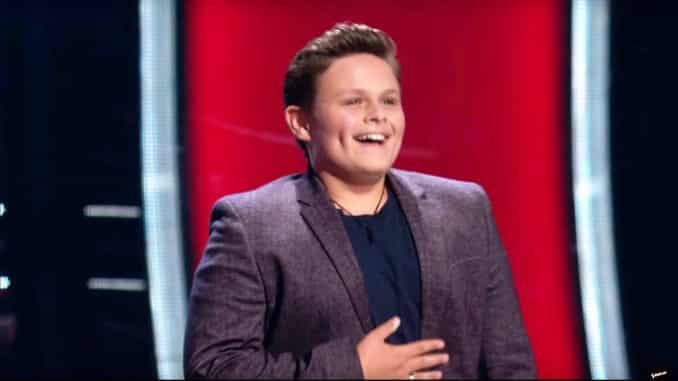 Fourteen year old Carter Rubin shocked the coaches with an assured performance of Lewis Capaldi's "Before You Go" during his Blind Audition.
"I cannot believe what I'm hearing right now," said Gwen Stefani after the Long Island New York native finished his performance.
Kelly Clarkson loved the young singer's dimples. "You have the most incredible smile I have possibly seen on any human!" she gushed. "You have a really great voice."
The Voice 19 Top 40 Contestant Spoilers – Teams & Song Choices
The Voice 19 Top 16 SPOILERS: Battle, Knockout Results, Song Choices
Gwen and John Legend turned for Carter. Unsurprisingly, Blake Shelton immediately begun advocating for his girlfriend Gwen. "You have one great coach that did turn around in this situation," he joked. "I never thought you would say that about me," John snarked.
John, admitting he doesn't usually turn for young people, noted that he turned early for Carter. "You sounded polished, you sounded strong, your voice has control, which a lot of people your age wouldn't have." John didn't stop the compliments, "Your tone is piercing and brilliant and it just shimmers out there." 
"I'd love for you to be the youngest person I've ever coached on The Voice," John said.
Gwen went the maternal route, noting that she's the parent of a 14 year old son. "I could be like a mom figure for you. You could feel very comfortable around me." Gwen suggested that she could help him with TV and stage presence.
Does Carter choose Gwen or John to be his coach? Tune into NBC on Monday October 26 at 8 pm ET/PT to find out.