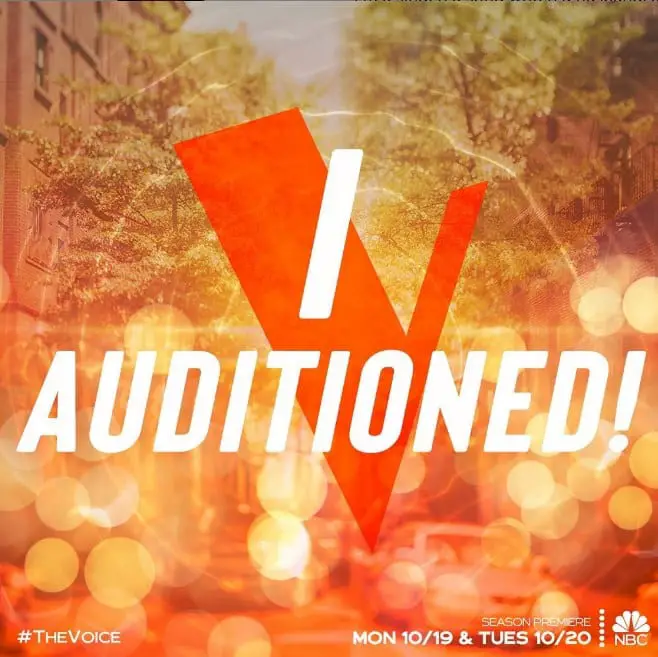 The Voice season 19 reveal day took place on Friday (Oct 3). Here's a super detailed list of Top 40 artists plus artists that auditioned in front of the coaches Blake Shelton, Kelly Clarkson, John Legend and Gwen Stefani
Once again, big thanks to the posters at Idol Forums led by Someone648 for organizing all of the information. I suspect because the audiences are virtual, due to Covid-19 restrictions, and are culled from all over the United States, spoiler info was easier to obtain. 
Check out the main Idol Forums spoiler post HERE. 
The Voice season 19 coaches will have 10 artists on each team, for a total of 40 singers who make it through to the Battles. The Voice season 19 premieres on NBC Monday October 19.
We also have Battle Round and Knockout spoilers:
The Voice 19 Top 16 SPOILERS: Battle, Knockout Results, Song Choices
40 artists who turned a chair.
Confirmed No-Chairs/Not in top 40
Thomas Stringfellow from American Idol season 15 didn't get a turn. He also re-auditioned for Idol during the Disney era, and didn't make it to the judges. Bummer. 
The Voice Season 19 Top 40 Teams
Again, Idolforums and Someone648 did a great job organizing the spoilers! Check the page for even more detail.
Once again, coaches have one opportunity to block another coach from turning for a singer. 
TEAM KELLY 
Marisa Corvo – Perfect by Pink
Skylar Mayton – Blinding Lights by The Weeknd
DeSz – Un-break my Heart by Toni Braxton (4 chair turn)
Eli Zamora – Ya Lo Se Que Tu Te Vas by Juan Gabriel 
Madeline Consoer – Girl by Maren Morris (Kelly blocked Blake, but he did not turn)
Joseph Soul – Is This Love by Bob Marley & The Wailers
Kelsie Watts – I Dare You by Kelly Clarkson
Ryan Gallagher – The Prayer
Tanner Gomes – Cowboys and Angels by Dustin Lynch
Emmalee – How Will I Know by Whitney Houston
TEAM GWEN (10/10)
Liam St. John – Sex & Candy by Marcy Playground
Lauren Frihauf – Come to my Window by Melissa Ethridge
Payge Turner – Call Out My Name by The Weeknd
Tori Miller – When You Say Nothing at All by Alison Krauss (Gwen blocked Blake, he didn't turn)
Chloe Hogan – What the World Needs Now is Love by Jackie DeShannon 
Van Andrew – Behind Blue Eyes by The Who
Larriah Jackson – I'll Be There by Jackson 5 (Mariah Carey)
Ryan Berg – Waiting on the World to Change (Gwen blocked John)
Lain Roy – Someone You Loved by Lewis Capaldi
Carter Rubin – TBA (Gwen's team full)
TEAM JOHN (10/10)
Sid Kingsley – Don't Think Twice, It's Alright by Bob Dylan
Tamara Jade – Cuz I Love You by Lizzo (4 chair turn)
Rio Souma – Cruisin' by Smokey Robinson
John Holiday – Misty by Johnny Mathis (John blocked Kelly)
Olivia Reyes – Falling by Harry Styles
Cami Clune – Skinny Love by Birdy (4 chair turn, Kelly blocked Blake)
Julia Cooper – Alaska by Maggie Rogers
Bailey Rae – Does My Ring Burn Your Finger by Lee Ann Womack
Casme – Baby I Love You by Aretha Franklin
James Pyle – Watermelon Sugar by Harry Styles (John's team full)
TEAM BLAKE (10/10)
Taryn Papa – Anyway by Martina McBride (Blake blocked Kelly)
Ben Allen – Red Dirt Road by Ronnie Dunn
Sam Stacy – Fire & Rain by James Taylor
Ian Flanigan –  Colder Weather by Zac Brown Band
John Sullivan – Operator by Jim Croce
Payton Lamar – Never Alone by Tori Kelly and Kirk Franklin
JusJon – Talk by Khalid 
Jim Ranger – Blue Ain't Your Color by Keith Urban
Aaron Scott – Hemorrhage (In My Hands) by Fuel
Worth the Wait – When Will I Be Loved by Linda Ronstadt (4 chair turn, Blake's team full)