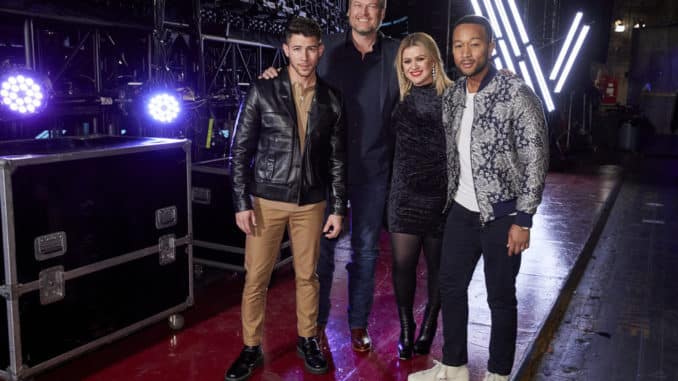 The Voice Monday April 6 Battle Pairing Spoilers
The Voice season 18 Battle Rounds CONCLUDE next week, with the final eight unforgettable matchups resulting winners, losers, steals and saves.  Check out song and match up spoilers for Monday's (April 6) episode below. For the first time since season one, the teams are comprised of 10 members rather than 12.  Team Nick and Team Blake have not used their steals. Team Kelly still has a save.
Next Monday (April 13) The Knockouts begin.
The Voice Coaches' Celebrity Mentors
As always, each coach has brought a celebrity mentor on board to help get their teams ready for battle. Nick Jonas teams up with his brothers Joe Jonas and Kevin Jonas. Kelly Clarkson joins forces with pop star Dua Lipa, John Legend and UK R&B singer Ella Mai work alongside each other, and Blake Shelton enlists the help of Bebe Rexha. The crossover country singer served as a "Fifth Coach" on The Voice season 16 digital "Comeback Stage" series in 2019.
Team Nick
Arei Moon vs Samuel Wilco – Missing You by John Waite? Diana Ross? – Samuel serves in the US Army. Nick blocked Kelly after Arei sang her "Miss Independent." 
Jacob Miller vs Kevin Farris – Lights Up by Harry Styles – Nick paired the two because they both have "really exciting voices." Jacob's grandparents were songwriters, and got into folk music as a result. Kevin runs a music enrichment program for preschoolers. 
Team Kelly
Megan Danielle vs Samantha Howell – Top of the World by Patty Griffin – Kelly paired them up because she knew they both could pull off a country vibe. Samantha's parents supported her music aspirations all along, while Megan's mom and dad divorced when she was 7. 
Mandi Thomas vs Sara Collins – My Baby Loves Me by Martina McBride  – Mandi is a trained opera singer. Musical theater helped Sara come out of her shell. 
Jules vs Tayler Green – Water Under the Bridge by Adele – Tayler started songwriting at age 14. She subsequently moved to Los Angeles to pursue her dreams. Jules is a sophomore in high school. 
Team Blake
Jon Mullins vs Tod Tilghman – Ghost in this House by Alison Krauss – Todd only sings at church, while Jon's wife is his biggest fan. Blake calls the song he chose "Sacred"
Team Legend
Brittney Allen vs Zan Fiskum – Closer to Fine by Indigo Girls – John chose the folk classic because "It's such a good harmonizing song." Zan came to the show because she wanted to push herself forward. Brittney took care of her mom after she was diagnosed with pancreatic cancer.  
Cedrice vs Thunderstorm Artis – Stay by Rihanna ft Mikky Ekko – Thunderstorm grew up in Hawaii in a family of 11 kids. Cedrice learned self-acceptance as she suffered from alopecia. We previewed this battle HERE.