The Voice season 16 Battles begin on Monday March 25.  The coaches 12 artist teams are set. And the Battle advisors are on board. Charlie Puth will join Team Adam Levine. Team Blake Shelton has enlisted country duo Brooks & Dunn, Team Kelly Clarkson has brought along her tour mate Kelsea Ballerini and producer/artist Khalid will join Team John Legend.
Usually the show posts a pre-round video on YouTube revealing the pairings and sometimes the song titles. But we're in luck! The super spoilers in The Voice spoiler forum at Idolforums.com sussed out the pairings by examining the promo that aired at the end of Monday night's episode. Additionally, sources have spoiled quite a few battles. Do check out the full spoiler thread HERE. 
If there are any updates, I will post them here. 
*A commenter who was in the audience on Day 2 reports that Dexter Roberts won his battle. Also, all three coaches declared Oliv the winner of her battle. John shockingly chose Kaslin. Blake then stole Oliv…
A reminder that SPOILERS ARE UNCONFIRMED. The folks providing information (THANK YOU!) are reliable, but there could be a few wrong bits here and there. Carry on and have fun.
BATTLE SPOILERS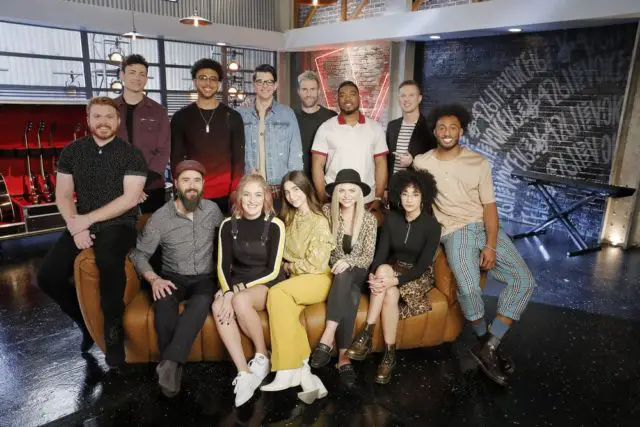 Pictured: (l-r) Trey Rose, Anthony Ortiz, Patrick Mcaloon, Kalvin Jarvis, Ciera Dumas, Andrew Jannakos, Celia Babini, Adam Levine, Karly Moreno, LB Crew, Jimmy Mowery, Mari, Domenic Haynes — (Photo by: Trae Patton/NBC)
TEAM ADAM LEVINE
Mari vs. Anthony Ortiz – I Like Me Better by Lauv – Anthony Ortiz ELIMINATED
Kalvin Jarvis vs. Jimmy Mowery – U Got It Bad by Usher – Jimmy Mowery ELIMINATED STOLEN BY JOHN LEGEND
Andrew Jannakos vs. Patrick McAloon – Free Fallin' by Tom Petty – Patrick McAloon ELIMINATED
Ciera Dumas vs. LB Crew – Done for Me by Charlie Puth – Ciera Dumas ELIMINATED
Domenic Haynes vs. Trey Rose – I Need A Dollar by Aloe Blacc
Karly Moreno vs. Celia Babini

Pictured: (l-r) Dexter Roberts, Lili Joy, Andrew Sevener, Rod Stokes, Dalton Dover, Kendra Checketts, Blake Shelton, Kim Cherry, Hannah Kay, Gyth Rigdon, Selkii, Cecily Hennigan, Carter Lloyd Horne — (Photo by: Trae Patton/NBC)
TEAM BLAKE SHELTON
Selkii vs. Cecily Hennigan – Head Above Water by Avril Lavigne – Cecily Hennigan ELIMINATED
Dalton Dover vs. Dexter Roberts – Hurricane by Luke Combs – Dexter Roberts ELIMINATED – Dalton Dover ELIMINATED*
Rod Stokes vs. Gyth Rigdon – Drunk Me by Mitchell Tenpenny
LiLi Joy vs. Carter Lloyd Horne – Lili Joy ELIMINATED
Kendra Checketts vs. Kim Cherry – Here by Alessia Cara
Hannah Kay vs. Andrew Sevener

Pictured: (l-r) Abby Kasch, Rizzi Myers, Presley Tennant, Karen Galera, David Owens, Alena DAmico, Kelly Clarkson, Rebecca Howell, The Bundys, Mikaela Astel, Beth Griffith-Manley, Jej Vinson, Jackson Marlow — (Photo by: Trae Patton/NBC)
TEAM KELLY CLARKSON
Rebecca Howell vs. David Owens – David Owens ELIMINATED
Abby Kasch vs. Jackson Marlow – Jackson Marlow ELIMINATED
The Bundys vs. Mikaela Astel
Jej Vinson vs. Beth Griffith-Manley – Jealous by Labrinth
Rizzi Myers vs. Presley Tennant – – Whataya Want From Me by Adam Lambert
Karen Galera vs. Alena D'Amico – Alena D'Amico ELIMINATED

Pictured: (l-r) Matthew Johnson, Denton Arnell, Lisa Ramey, Talon Cardon, Savannah Brister, Jacob Maxwell, Maelyn Jarmon, John Legend, Kayslin Victoria, Julian King, Oliv Blu, Shawn Sounds, Betsy Ade — (Photo by: Trae Patton/NBC)
Team John Legend:
Jacob Maxwell vs. Talon Cardon – Every Little Thing She Does is Magic by The Police
Kayslin Victoria vs. Oliv Blu – Location by Khalid – Olive Blue ELIMINATED STOLEN BY BLAKE
Matthew Johnson vs. Shawn Sounds – Never Too Much by Luther Vandross
Betsy Ade vs. Lisa Ramey
Maelyn Jarmon vs. Savannah Brister
Julian King vs. Denton Arnell – Denton Arnell ELIMINATED