On Wednesday afternoon, the five The Voice season 13 Blind Audition singers who moved on to the next round took questions from reporters. See what they had to say below.
Keisha Renee
Keisha Renee received a four chair turn for her performance of Ray Charles "I Can't Stop Loving You." She spoke about touring the world with Adam Lambert and Nicki Minaj, being a singer with R&B roots turning to country music, and more: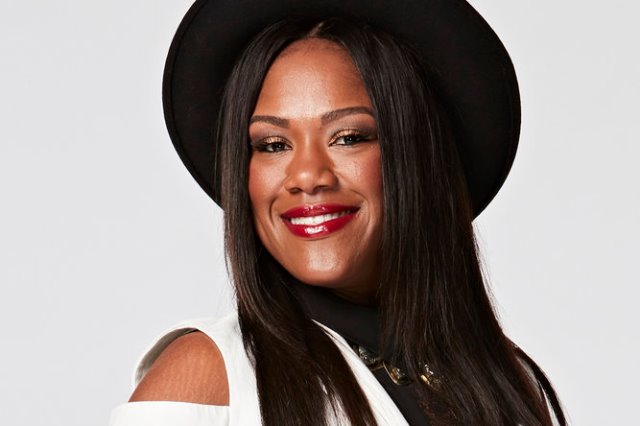 On touring with Adam Lambert: "That was one of my favorite times of my current career. I love Adam Lambert so much. He's such a sweet person. He took me to a lot of places that I didn't even know existed, like Bali and Indonesia. I was this little girl from Inglewood. I didn't think I would know anything but California. I have been almost everywhere. He contributed to that. I'm forever grateful for him. He gave me a chance. This industry is very image driven. I've been trying to be this solo artist for a long time, but I didn't look the part. He didn't care about that. He said 'Listen, I want you to sing background for me, you have a voice, I want to showcase that.' He also gave me opportunity while we were touring to do little parts in the show where I had a little solo here and there. I'm always grateful for people to give me opportunity on their platform. I feel like that is so selfless. It's so humble of him. I still talk to him to this day. He just commented on Instagram yesterday. I made a life-long friend. I'm really, really excited for him to share in this journey with me. He, too, took a chance for himself [competing on American Idol in 2009] and now he's travelling the world with Queen. It's amazing."
On touring with Nicki Minaj: "It was a dream. When I started working with her I was around 22, 23 years old. I traveled the world with her. Because she is a hip hop/rap artist, on tour I do most of the singing. We were doing arenas. I was able to check things off my list like doing the O2 arena in London, travelling the United States to different places I never thought I'd see. I feel like working for her, such a strong woman in the industry, taught me a lot of things [about how to make my own career]. Working for someone who is a female in a male dominated industry, I have gotten the best knowledge ever. I will not be pushed over. It's tough. I will say that. I've seen it first hand. It hasn't discouraged me. I worked for a fearless person who created no limits for herself. And here I am trying to do the same thing for myself."
On her musical evolution. What draws her to country music? "I have a gospel background. Very soulful. But when I moved to Houston, it was a real southern state. I got exposed to lots of music, to zydeco, country. I just fell in love with every aspect of country. It's real instrumentation, it's real lyrics, One of my favorite songs now is "Better Man" by Big Little Town. It's what I'm going through. People go through that. They have relationships. They wish people were different. It's relatable. It's not something that I lived through. I just want to make music that people can relate to."
Was she set on choosing Team Blake Shelton going into her Blind Audition? "When I was given the opportunity to be on the show, I already made up in my mind that I wanted Blake. But in that moment, every coach says something that stuck out to me. Blake absolutely did say more than what they showed. On top of that, he was the first person to turn around–that put the icing on the cake. Being that I'm new to country, I don't know everything about it. I felt like he would be the best one suitable to teach me the ropes.
Ashland Craft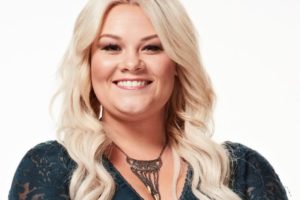 Ashland is the old school singer with a gritty voice. Her performance of "You Are My Sunshine" had Blake Shelton, Miley Cyrus and Adam Levine all pushing their buttons. Ashland, surprisingly, when with Team Miley. She explains the thinking behind her song choice and why she chose Miley over Blake Shelton.
On her Blind Audition song choice, "You Are My Sunshine" "The song I chose was actually in the style of Chris Stapleton. I've always loved the song. I especially loved it because it kind of…everything that I wanted to be as an artist. I am certainly a soulful artist, but I also have rock influences. I felt like this was the perfect song to show every aspect of my voice. I would say it did exactly that."
Why she chose Team Miley Cyrus rather than an established country singer like Blake Shelton? "Originally I was so headstrong on picking Blake, just for that simple reason that he is such a well known country music artist. I also came into this competition with an open mind. When Miley told me how old she was–I didn't realize she was around the same age as me. She knew how to be in this industry at such a young age. It honestly made me feel a little more comfortable with the whole process. Coming into this I was extremely nervous. I've only sung in bars and small little restaurants. This was something huge for me. For her to give me that sense of comfort…it made me feel a whole lot better. It was a very very hard decision for me. I feel like when your gut tells you something, you should always go with it."
Red Marlow
Blake Shelton and Miley Cyrus fought over down-home country singer, Red Marlow, who performed "Swingin'" by John Anderson. But in the end Team Blake was victorious. Red shares how Miley gave Blake a run for his money, and what makes him different from other country stars who have competed on The Voice. 
How did he decide on his song choice? "It's just a hillbilly song and lord knows I'm a hillbilly. It just fit. It's just a fun country song. I got to meet John Anderson. Anything that country, I really like to do.
Did he plan on going with Team Blake Shelton from the beginning? "I always had Blake in mind for sure. Blake and I met several times through the years. He didn't remember me. I'm pretty easy to forget! It was kind of a tossup, because Miley. She put up a great fight. I'll be honest with you, I was torn. [It was very] interesting as far as her telling me what she wanted to do, and how she would let me be me and do country music. She almost had me. I kinda looked over at my wife, she was standing on the stage of the stage there. I could see her over there mouthing 'Blake.'  I had planned on going with Blake anyway, but Miley sure was very convincing.
How would He differentiate himself from other The Voice country artists, for instance, season 12 winner Sundance Head. "It's not that I'm even anywhere nearly as good as those guys–I sing how I sing. For me it's personality, it's real. What you see is what you get with me. I really truly live country, that lifestyle. Every day I wake up that's how I live. I think that comes across onstage as well. Just being my goofy hillbilly self.  I've been doing this for 15 years as a professional demo singer.  Singing and being on that stage is home. Hopefully that will come across. And that will be the difference to take us all the way to the end."
Dylan Gerard
Dylan, who performed James Arthur's "Say You Won't Let Go" was the singer who got a coaching lesson from Jennifer Hudson right on the spot! She suggested that he perform his song a half a step higher and he tried it. Still, in the end, the singer chose to be on Team Adam Levine. 
About Jennifer coaching him on the spot. Did that make him consider choosing Team Jhud? "It absolutely did. Just seeing her excitement. From the git go I told myself that if Adam turns, that's who I'm going with. But when she came up there and I could see her excitement, and I could see this passion, and coach-like demeanor, it really made me think for a second 'Maybe I should give Jennifer a chance.  Then we talked about what I want to do with my music, where I want to go, and the kind of work that could be done on my voice. Having Adam there to help coach me through the same kind of stuff that he would do, because he's got a male voice. I had to go with my gut. It really took a lot of thinking. I really hated to turn down Jennifer after how much she put into that.
Maharasyi
Indonesian native Maharasyi is another contestant that got on-the-spot coaching from Jennifer Hudson. The coach suggested that she go for the big note at the end of her song "Tell Me Something Good," and she tried it. 
She seemed dead set on picking Miley Cyrus, Why did she go with Jennifer instead? "I'm a huge Miley Cyrus fan. I was really sure I wanted her. But the time and the passion that Jennifer invested in those few minutes meant so much. I've always looked up to big voices, confident powerful performers. Jennifer threw herself out there for me–immediately recognizing my voice and where I was trying to go as a vocalist and as a performer. Her strong presence won me over. When she told me to sing the line again it just made me feel that she was someone who would really help me out, especially because she's a soulful singer, and I'm a soulful singer. I felt she really knew how to direct me."
On her time in the Indonesian music industry: "I went out there for a record label who was looking for a female singer who sang in Indonesian and in English. Long story short, it ended up just not working out for me. We recorded a couple songs and it lead to a couple movies, which lead me into acting–TV series, dramas, movies. After living out there for two years, I felt that I needed to come back to the States and pursue my career out here."