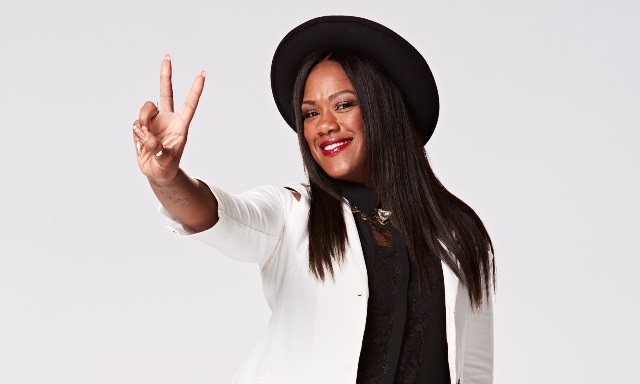 The Voice Season 13 Contestant Spotlight Keisha Renee
Watch The Voice season 13 contestant Keisha Renee's blind audition "I Can't Stop Loving You" by Ray Charles. The singer, who garnered a four chair turn, chose to be a member of Team Blake Shelton. Pop, country and sou is how she describes her sound. She believes Blake can help her navigate the country music world.
https://www.youtube.com/watch?v=stVPL0cTxy8
Keisha, also known as Lakeisha Lewis, is a 30-year-old recording artist from Los Angeles, California, with an impressive resume of previous work with big name artists. Providing background vocals for artists such as Nicki Minaj, Adam Lambert, and Jill Scott, Keisha is far from a stranger from performing on the big stage. As for her solo work, Keisha has been following her dreams to become a recording artist by releasing three singles, Somebody To Love Me, LMAO, and Cold Breeze. On her Facebook about page, she says she is "traveling the world and & doing what I love."
In addition to her work with big name recording artist, Keisha is also no stranger to reality competition shows. She appeared on season 10 of American Idol, and advanced all the way to the top 40. While she didn't make it through to the live rounds, she was featured on the show as a member of a group for her Vegas performance. Since appearing on the show she has lost a considerable amount of weight, and thus looks quite different.
Due to her work with celebrities, Keisha has quite the large social media following, likely larger than any other contestant this season. On her Instagram account she has nearly 30,000 followers, and on Twitter over 11,000. If her incredible voice wasn't enough, this following will push her over the edge and make her a force to be reckoned with this season on The Voice.
Links:
Twitter: https://twitter.com/keisharenee?lang=en
Instagram: https://www.instagram.com/keisharenee/
Facebook: https://www.facebook.com/iamkeisharenee/
Youtube: https://www.youtube.com/user/KEISHARENEEVEVO/featured
Facebook About Page (Source): https://www.facebook.com/pg/iamkeisharenee/about/?ref=page_internal
Nicki Minaj Wiki Page: http://nickiminaj.wikia.com/wiki/Keisha_Renee
Overall Thoughts: Of the big voiced contestants on this season, not only do I think Keisha is the most talented, but I also think she has the best chance of going deep into the competition. As a very current artists with a strong fanbase from her previous work, I can easily see fans rallying behind her and showering her with votes. On a personal note, it doesn't hurt that she was on one of my favorite seasons of American Idol, and just for that there is a part of me really rooting for her to succeed. I don't quite see her winning, but I'm excited to see what she has in store for us this season.
Song Suggestions:
1- Try, by Pink
2- Alive, by Sia
3- Chasing Pavements, by Adele
Thanks for checking out this contestant spotlight. If you want to check out my other work, I currently am managing two other blogs of my own, one of which covers TV shows. 
Personal Blog: adamssoapbox
TV Blog: adamstvblog