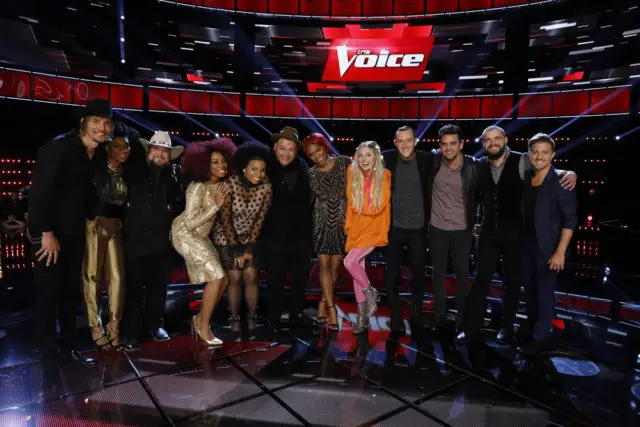 The Voice season 11 LIVE finals begin on Monday. And here is your first power list! I've ranked all 12 finalists from Team Adam Levine, Team Alicia Keys, Team Miley Cyrus and Team Blake Shelton according to their relative strength at this stage of the game. Also, check out the photo gallery at the end of the post. FYI: I think it makes sense to put the four coaches' saves at the bottom of the list as America didn't vote them through.
12. Sa'Rayah – Team Alicia – For me, there is something missing in Sa'Rayah's performances. She hits the high notes and embellishes her singing with runs in the typical place, but doesn't connect with the audience.
11. Brendan Fletcher – Team Adam – I was pretty happy that Adam saved Brenden over young standards singer Riley Elmore. However, at the moment Brendan is an underdog. But that could all change if he comes out of the gate with a terrific performance.
10. Courtney Harrell – Team Blake – Courtney deserved to advance based on her incredible Knockout round performance, but I don't think her performance of "It Must Have Been Love" in the Playoffs did her any favors. We'll see where she goes from here.
9. Darby Walker – Team Miley – Ah yes. Darby is Miley's The Voice version of a Mary Sue, molding the young singer as a reflection of herself. I suppose that's fine if Darby is on board. However, I'm not convinced America is buying the teen hippie bit.
8. Josh Gallagher – Team Adam – The surprise of the night for me was Josh Gallagher advancing to the finals instead of Riley Elmore. But then, come to think of it, mature country singers with radio friendly vocals seem to be some The Voice fans' jam. He could be a dark horse. Watch out!
7. Austin Allsup – Team Blake – There is something about Austin and his world weary growl that I really dig. Not only are his vocals distinctive, but years on the road have turned him into a seasoned performer.
6. Ali Caldwell – Team Miley – Ali had the performance of the night last week with that 60's soul gem, "Times Have Changed." I'm looking forward to what she'll do next.
5. Aaron Gibson – Team Miley – Aaron Gibson is another compelling performer and the alt/rocker of the bunch. I hope Miley doesn't mess with him too much. Something tells me he's capable of driving his own bus.
4. Sundance Head – Team Blake – Look at Sundance making it further than he did on American Idol! Sundance has one of the strongest and most versatile voices in the competition. With the right songs, he could go far.
3. Christian Cuevas – Team Alicia – Christian's Knockout performance of "Superstar" had me taking a second look. Unfortunately he was back to his cornball ways in the Playoffs with an uninspiring performance of the Beatles yesterday. Dude has a strong voice but he's got to find a way to stay in that vulnerable space. Well, for me to be impressed, anyway. In the end, his big voice may be the only thing that matters.
2. Wé McDonald – Team Alicia – I have to say–right now, Wé is my favorite The Voice 11 singer. She didn't knock me over during the Playoffs, but she's easily the most unique and naturally gifted of all the contestants.
1. Billy Gilman – Team Adam – Billy came into the competition with a hit record and years of experience knocking around the music industry. He had name recognition from day one, which put him at a distinct advantage. He also has a big rangy crowd pleasing voice and knows how to execute the perfect "Star Search" moment. He could win the whole damn thing.
BUT Season 11 is not like seasons 8, 9 and 10 that produced inevitable winners Sawyer Fredericks, Jordan Smith and Alisan Porter, respectively. Billy has a head start, but his lead is not so strong that it can't be overcome.
Join us tonight for The Voice 11 Top 12 performances beginning at 8 pm ET. Right here.
Photo Gallery