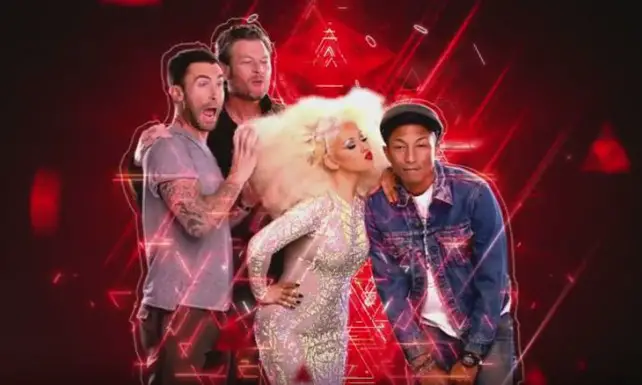 The time is near! The Voice season 10 premieres on Monday February 29 on NBC, and here is a look at the current panel of coaches, Adam Levine, Christina Aguilera, Blake Shelton and Pharrell Williams in the season's first promo.
Blake and Adam have been permanent fixtures since the show premiered in 2011. Pharrell has held his place on the panel four seasons running, including the upcoming cycle.
Gwen Stefani, is shifting to an advisor role this season, helping her boyfriend Blake whip his team into shape for the Battle Rounds.
Pop diva, Christina Aguilera, is returning to reign over this season's panel. Let's hope she whips the guys into shape. I missed her snark last season.
Joining Gwen as mentors, according to reports, will be Patti Labelle for Christina Aguilera, Adam Levine will be assisted by Tori Kelly and P. Diddy will join forces with Pharrell Williams.
The gang looks all sparkly and geometric! Could Christina's hair be any bigger? I don't think so. Check it out below.
https://youtu.be/1Wi6dbI1KQo