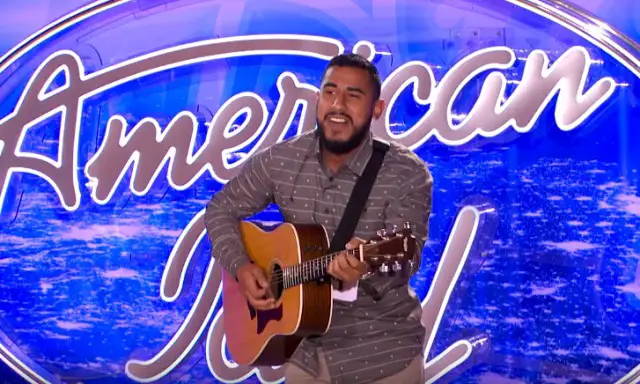 Manny Torres American Idol 2016 Season 15 Contestant
Manny Torres
is a 20-year-old singer from Flushing, Michigan, who is also the last aired audition of American Idol. The son of a pastor, Manny started his musical journey playing drums in a youth band. With time after discovering his passion for music, Manny moved on to learning the piano and guitar from both his father and tutorials. According to Manny's biography, "after realizing such a passion for music I decided to give singing a try and really discovered my potential." Since then, in addition to a short stint on
The Voice
where he made it a step before the Blind Auditions, Manny occasionally makes Youtube cover videos. When it comes to his influences, Manny lists
Bruno Mars
,
John Legend
,
Gavin DeGraw
and
John Mayer
among others.
Click to see the FULL LIST of American Idol 15 Top 24 Contestants!
American Idol 15 Top 24 Video Sneak Peek
Over this past summer Manny auditioned for the farewell season of American Idol in San Francisco. His was the last American Idol audition aired EVER. Manny said the most exciting thing about auditioning was "getting to sing in front of Jlo."  He sang This Love, by Maroon 5, where he got strong reviews and received his golden ticket. Surviving Hollywood Week, Manny sang Master Blaster (Jammin'), by Stevie Wonder. Giving a strong enough performance, Manny was then admitted into the top 24.
Instruments Manny Plays: Guitar, Piano
Links:
Overall Thoughts: Of all the male contestants, Manny is one of the few I don't have that much to say about. I think he is a talented guy and has a solid enough voice, but I'm just having trouble getting excited about him. When I think of other male contestants like Mackenzie, Dalton or Trent I can piece together an exciting run for them, but with Manny I just find myself really disconnected from him. Maybe it is just because I haven't seen enough or it could be the constant pandering to Jennifer, but I don't think Manny is long for this competition. Then again, I do still think he has a shot of making the top 10, especially because the judges will be picking who advances. In my mind, if Manny does make the 10 it will only be because he is a guy that the TCO girl/girls could easily beat, because he isn't a threat of ever winning. If he is in the top 10 though I expect him to be one of, if not the first, to be eliminated. The only advice I have for Manny is to play down the pandering to Jennifer; it isn't going to help you with the voters. Maybe also bringing out the piano would be a good idea. Let's see if Manny can prove me wrong.
Song Suggestions:
I'm Not The Only One, by Sam Smith
I Won't Give Up, by Jason Mraz
Not Over You, by Gavin DeGraw
Manny Torres sang This Love by Maroon 5 at his San Francisco audition. Click to check out his FULL AUDITION
More American Idol Performances:
Showcase Round – Master Blaster by Stevie Wonder – Click to Watch VIDEO
Hollywood Group Round – Click to Watch VIDEO
Semifinal Round – Adventure of a Lifetime – Click to Watch VIDEO
Idol Star Duet Round with Jordan Sparks – No Air – Click to Watch VIDEO