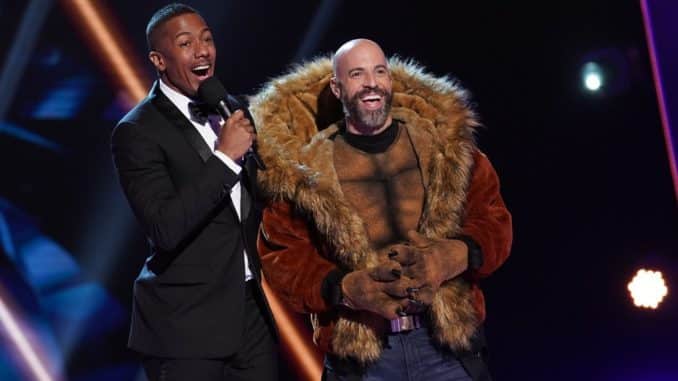 "I'm just not good at winning s***," laughed Chris Daughtry in an interview with Yahoo music after coming in second place on The Masked Singer Wednesday night (Dec 18). "That's my destiny. I'm a very solid runner-up. I'm so good at being the runner-up."
Famously, Chris was a surprise shock boot at 4th place on American Idol season 5 back in 2006. Indeed, he confessed to Yahoo that he "just wanted to make it past the top four this time." The singer thought Wayne Brady, the entertainer who beat him for the Golden Mask, "did an incredible job." But Chris laments, "The only thing that I think is going to bug me the most is I'm going to hear 'You should've won!' for another 10 years. That's what I've been hearing ever since Idol, and now I'm going to hear it again."
The Masked Singer Season 2 Finale Recap – A Winner is REVEALED
The Masked Singer: Rottweiler Brings Audience to Tears (VIDEO)
Chris's last performance on The Masked Singer stage was a cover of Sia's "Alive," which he smartly released to download and stream. "I've always loved 'Alive' by Sia and have always wanted to cover it in some capacity. When I was trying to figure out what song I would do if I ever made it to the finale, I remember saying something about how 'alive' I felt when I was in the costume, and it hit me like a bolt of lightning, 'Alive!'" Chris said in a statement. "That's exactly what I feel. It says it all. That's the song!' There was no question. It really summed up my entire experience on the show."
"I specifically stayed away from rock." Chris told Billboard in an interview. "I wanted to find songs that spoke to me and really challenged a different part of my voice. I didn't want to disguise it and try to sing like a different person, but I wanted to do songs that would not put me in that range that would be too obvious, that higher register."
"I saved those kinds of songs, like 'Alive,' toward the end because at that point, it didn't matter, Chris told Billboard. "I've always wanted to do a Sia song. I've always been a huge fan of her voice and her songwriting, and that song to me summed up my entire experience because I felt so alive in that costume in such a weird way and so present in a way that I've never really been before onstage. No one was looking at me. They're seeing this… thing, this totem of a character, and they have no idea who's under it. I felt so free to do whatever the song called for."
Listen to Chris Daughtry's cover of Alive by Sia
While at least one of the Masked Singer judges–Robin Thicke, Jenny McCarthy Ken Jeong and Nicole Scherzinger–eventually guessed each of the celebrities' identities, they never correctly guessed Rottweiler. Jared Leto, Darren Criss, Gavin Rossdale were some of the names that came up. "Those were definitely the guesses that made me most excited, because I'm fans of those artists and it was pretty flattering to be mistaken for them," Chris told Billboard.
As far as why he did the show, Chris told Billboard: "I felt like I need an experience, something that I'd never done. You tour so much and it's the day-in and day-out, and I felt like I was in need of some real excitement. And when this opportunity came along, I got more excited than I have in a long time. I didn't look at it on the same parallel as going on Idol, but as something that is going to challenge me in ways I've never been challenged and I'll get to do it without anyone knowing who I am, which was so attractive to me."
Chris was bitten by a Rottweiler as a teen and has been scared of them ever since. It's the reason why he chose the costume.
Chris explained to Entertainment Weekly that he never heard or met his competition: "Not only did we not know who was under any of the costumes, but we had no idea what songs were being sung. I didn't know how many professional singers I was up against. And that was actually a great thing because it's so easy to get in your head and go, 'Oh, well if they're here then I need to change my song or I need to change the way I perform because I'm up against this person.' It was so freeing to just go against me and me only."
Watch all of Chris Daughtry's clips on The Masked Singer
"I remember years ago seeing this video of Ryan Reynolds as the unicorn on King of Masked Singer in Korea, and I remember seeing that and going, 'That looks fun. I would love to do something like that'," Chris explained to Billboard about how he wound up on the show. "Fast-forward to last year and my publicist asked if I'd ever heard of The Masked Singer … so I watched it and said, 'I have to do this. This looks like so much fun to me.'"
Chris' kid played a role in his decision to compete on the Masked Singer: "Of course my kids came into play thinking how cool it would be for them to see their daddy as a dog. They still think it's me, but at the same time — I have twins — my son was like, 'Daddy, I know that sounds exactly like you and some of the clues even sound like you, but I keep track of your schedule and when you're gone and when you're not and it just doesn't add up.'He's a little detective.
As far as what's next for Chris. His band Daughtry's last album Baptized flirted with pop and electronic music, he told Yahoo music that he's "in that phase in my life where I'm really itching to get back to the big guitars and bring the rock back," and he promises that his next album will "definitely be rock."
In addition, the band is heading back out on the road. on tour beginning in March. Beginning in March, Daughtry will be hitting the road throughout the US and Canada. Tickets go on sale December 20th at 10:00 AM local time, but Daughtry fan club members will have exclusive pre-sale access from December 18th at 10:00 AM local time for all of the events other than the March 13 and April 24 concerts. For ticket information and tour schedule CLICK THIS LINK.