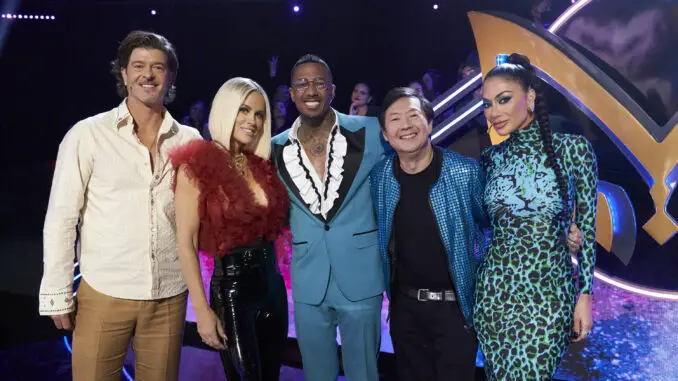 The Masked Singer season 8 premieres tonight (Sept 21) with a few BIG format changes. Check out a gallery of the 22 masks competing this season.
You heard that correctly. 22 masks. How will the new format work? Instead of one celebrity leaving each week, only ONE will advance. There will be at least two eliminations every episode. On tonight's premiere four masks will perform THREE will be unmasked.
The Masked Singer 8 Will Feature New Format, More Masks
Each of three rounds will produce a King or Queen of the Masked Singer, who will each compete on the semi-final for a shot at the Golden Trophy.
What the new format eliminates is the week to week guessing game. Most of the celebrities will be unmasked by the end of their episode. Considering the internet knows who is behind the mask almost immediately, there isn't much guessing going on, unless a viewer avoids the internet. 
Celebrity guests and theme nights
Each episode will also feature fewer contestants–only three or four–to make way for celebrity guests by stars such as Donny Osmond, Andrew Lloyd Webber, The Muppets, Will Arnett, Leslie Jordan, Joel McHale, Tori Spelling, Jon Lovitz, Jodie Sweetin, Carrot Top, Blue Man Group, Lance Bass, Danielle Fishel, Sheila E. and Drew Carey.
And each week will have a theme including "Vegas Night," "Comedy Roast," "Hall Of Fame," "Muppets Night," "Andrew Lloyd Webber Night," "TV Themes," "'90s Night," "Thanksgiving" and "Fright Night." 
The premiere is titled "A Royal Season Premiere" and will feature four celebrity masks. The show will unmask THREE celebrities will by the end of the episode. Unmasked contestants, rather than be whisked off stage, will watch their fellow competitors be unmasked from the audience. 
The thing is, The Masked Singer ratings have come down to earth. The spring premiere garnered a 0.6 rating in the demo. That was lower than American Idol. For a comparison, Season 1 premiere in 2019 garnered a 3.0. It was often the highest rated show of the week. Producers figure it's time for a shakeup, I suppose!
The cast remains the same. Nick Cannon returns as host, along with panelists Robin Thicke, Jenny McCarthy, Ken Jeong and Nicole Scherzinger.
Check out the list of masks below. There appear to be two group costumes–Lambs and Mummies. Pi-Rat is a Rat dressed as a Pirate. Argh! Bride is a dinosaur dressed in a white wedding gown and veil. One mask was missing from the FOX press site. I'll add it when it turns up.
Avocado
Beetle
Bride
Fortune Teller
Harp
Hedgehog
Hummingbird
Knight
Lambs
Maize
Mermaid
Milk Shake
Mummies
Panther
Pi-Rat
Robo Girl
Scarecrow
Bug a Boo
Snowstorm
Fly Trap
Walrus
The Masked Singer Season 8 Photo Gallery