The Masked Singer season 7 aired a "Road to the Finale" clip show this week (May 11) ahead of next week's finale (May 18)
The season 7 format had three groups of five contestants compete one after another in three week mini-contests. A winner emerged at the end of each set: Firefly is the Group A champ, Group B gave fans Ringmaster and Prince prevailed from Group C. Another gimmick this season had each contestant assigned as either "Good," "Bad" or "Cuddly." All three contestants are from the "Good" team and will compete in the finale to win the "Golden Mask."
But who ARE the celebrities behind the masks? As always, fans have done a good job of sleuthing throughout the season. We feel pretty certain that the internets have uncovered the identities of each of the three finalists. Let's dig in.
The Masked Singer season 7 finale airs on FOX May 18 at 8 pm ET/PT. Robin Thicke, Jenny McCarthy, Ken Jeong, and Nicole Scherzinger sit on the panel. Nick Cannon hosts. 
Firefly is Teyana Taylor
Firefly emerged the winner of Group A, beating out McTerrier (Duff Goldman), Ram (Joe Buck), Thingamabob (Jordan Mailata) and Cyclops (Jorge Garcia).  She impressed the panel with performances of "Ain't Nobody" by Chaka Khan, P.Y.T by Michael Jackson and "Attention by Charlie Puth.
Teyana Taylor and her husband Iman Shumpert are reality show regulars. Former NBA player Iman won Dancing with the Stars season 30. Additionally, the couple starred together on E's We Got Love Teyana & Iman and more than that. She has also released music alongside her acting career.
Clues:
Apollo theater program – She performed at the Apollo theater
Photo of Tyler Perry – She starred in his movie Big Happy Family
A photo of Kanye West is a clue and She mentions "Fade" – Teyana danced in Kanye West's "Fade" video
Statue of Liberty clue – Teyana is from Harlem
Pharrell's "Happy" is a clue – She signed a deal with Pharrell Williams' record label imprint
Ringmaster is Hayley Orrantia
Hayley Orrantia, who is surely behind the Ringmaster mask is an impressive vocalist. But people know her mostly as a regular cast member of the long-running ABC sitcom, The Goldbergs. However, fans of singing shows knew her first as a contestant on the first season of X Factor USA in 2011 as part of the manufactured country pop group, Lakoda Rayne. 
The winner of Group B, Ringmaster beat out Lemur (Christie Brinkley), Hydra (Penn & Teller), Miss Teddy (Jennifer Holliday) and Armadillo (Dog the Bounty Hunter). She performed "The Climb" by Miley Cyrus, "Super Bass" by Nicki Minaj and "I Will Always Love You" by Dolly Parton. 
Clues
"Nice to see you again Nicole," Ringmaster said. – Nicole Scherzinger sat on the X Factor USA panel the year Hayley competed.
Tic Tac Toe with an X clue also refers to X Factor
John Oates videoed in to wish Ringmaster good luck: Hayley has performed with "good friend" John Oates
Miley Cyrus is a clue: Hayley sang background vocals for Miley in Hannah Montana.
The clue "Sweet Southern" refers to her song "Strong Sweet and Southern"
"Golden State" is a clue referring to The Goldbergs
Her Mega Clue, a guitar, refers to her singer-songwriter career
"90s chick" from her Mega Clue – Hayley was born in in 1994
A crossed out Elf in her third clue package points to her movie Christmas is Cancelled
The NASA clue: Hayley's parents named her after Hayley's Comet
"Welcome to Nashville" and "I've Never been part of a group before and we tried our best to make it work" – Refers to her very short stint in the X Factor group Lakoda Rayne. The girls obviously preferred to go solo.
"It's been paying off for 10 years" – The Goldbergs just finished its 9th season.
Prince is Cheyenne Jackson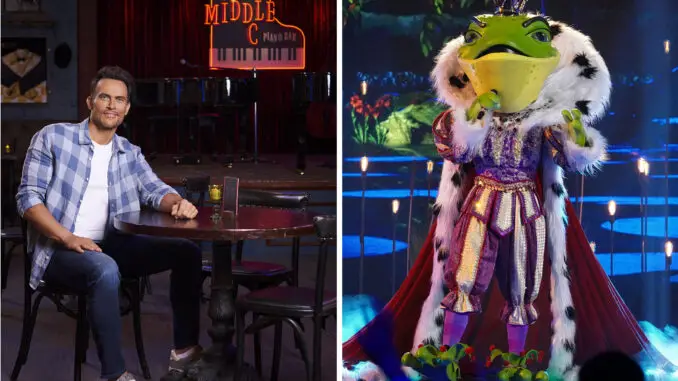 Cheyenne Jackson stars in another FOX series Call Me Kat starring Mayim Bialik. It makes sense that FOX would cast him. Prince prevailed over Jack in the Box (Rudy Giuliani), Baby Mammoth (Kirstie Alley), Space Bunny (Shaggy) and Queen Cobras (trio En Vogue). Prince performed "La Copa De La Vida" by Ricky Martin, "Lay Me Down" by Sam Smith and "Sir Duke" by Stevie Wonder.
Cheyenne had a Broadway career before he starred on 30 Rock and several seasons of the Ryan Murphy anthology American Horror Story. He also did a guest spot on Glee and guest judged on RuPaul's Drag Race.
Clues:
Cheyenne is about to appear in the Sci-Fi movie Borderlands with Jamie Lee Curtis. She cut a clip wishing him good luck
The "Mars" clue points to a guest starring spot in Life on Mars in 2009.
The 80's style exercise video clue in the first clue package refers to Cheyenne starring in the 2007 Broadway show based on the movie Xanadu. The people exercising toss around a stuffed bear referring to the movie Bear With Us in 2016.
The big diamond "rock" ring points to his role in the sitcom 30 Rock.
Prince's Mega Clue, Luggage, refers to his starring role in American Horror Story: Hotel. "I have toured hotels all over the world and this one has to be the most wild one yet," he said. 
In the third clue package Prince talks about escaping his "small pad." Cheyenne grew up in a very small town in Idaho. 
Carnegie Hall is clue – Cheyenne got his start in Broadway musicals
A model plane – This clue refers to Cheyenne starring as one of the 9-11 heroes in the 2006 movie United 93.