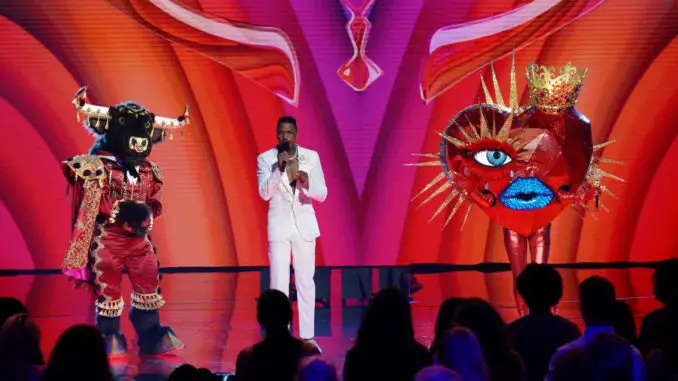 The Masked Singer is now filling studio audiences in Los Angeles for upcoming season 7 tapings. FOX will air the the next cycle of the wacky singing competition sometime in spring 2022.
FOX returned to taping the show with a live audience for season 6, after two seasons of filming in an empty studio due to the COVID pandemic. Production coped by  editing in shots of audience members from prior seasons.
WATCH The Masked Singer's Todrick Hall Special Christmas Rap! (Video)
Jewel Accepts Masked Singer Trophy From Kelly Clarkson (Video)
COVID-19 Omicron flavor is still raging across the country, But the network will do all it can to keep audience members safe.
It's weird. Because vaccinations don't keep people from getting infected when exposed to Omicron. So sit in a room with a bunch of strangers at your own risk!
Check out the schedule and apply for tickets at OnCameraAudiences.
The Masked Singer Season 7 filming schedule
Wednesday Jan 26 – 12 pm PST
Thursday Jan 27  – 12 pm PST
Friday Jan 28 – 12 pm PST
Thursday Feb 3 – 12 pm PST
Friday Feb 4 – 12 pm PST
Saturday Feb 5 – 12 pm PST
Attention Masked Singer Fans, you can be part of the live studio audience! You will be given exclusive access to this season's live performances before anyone else.
You will be able to cheer along and vote for your favorite new Masked Singers. Your votes will decide who stays under the mask and moves on in the competition. The masks receiving the least amount of votes will be up for elimination and risk being unmasked.
You must be fully vaccinated to attend. You will be required to take a COVID test with us 48hrs prior to your attendance date. The COVID TEST IS FREE.
We will also rapid test day of taping before we load the audience. All testing and show information will be on your ticket.