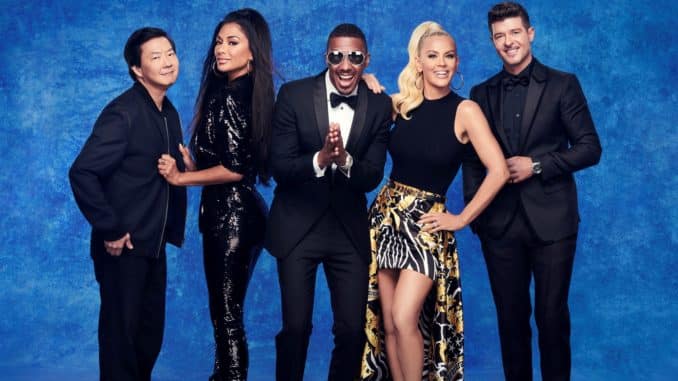 The Masked Singer is inviting fans back into the studio for live tapings. Season 6 began filming on Wednesday July 8. The show also taped on July 9 and is scheduled to film on July 13, 21, 23 26 and 27.
FOX taped seasons 4 and 5 without live audiences. Fans watched and voted virtually from home. But the weird thing–producers edited in a "fake" audience from previous seasons. So it appeared that a full audience of fans, sitting shoulder to shoulder were watching and voting.
The Voice returned to the studio earlier this summer with live audiences. And America's Got Talent plans to invite in a studio audience when live shows begin on August 8. 
The Masked Singer Studio Audience must be vaxxed, tested and masked
And similar to The Voice and AGT, The Masked Singer will follow strict COVID-19 protocols. The rules include mandatory COVID tests and proof of vaccination for audience members. Also, MASKS will be mandatory for audience members. The studio audience will also vote for which celebrities advance to the next round.
From the On-Camera audience website, where fans can sign up for tickets:
As one of the most important parts of America's favorite guessing game, if selected to be in the live studio audience, you will be given exclusive access to this season's live performances. You will be able to cheer along and (most importantly) vote for your favorite new Masked Singers. Your votes will decide who stays under the mask and moves on in the competition. The masks receiving the least amount of votes will be up for elimination and risk being unmasked. Don't miss out! Sign up now for the chance to be in the live studio audience for Season 6 of The Masked Singer.

Please note: Currently masks are required to be worn by all audience members in studio when not actively filming.
After employing a "fake" audience, will The Masked Singer show a masked audience?
While season 4 and 5 showed full unmasked audiences, as if the pandemic didn't exist, will the editors now pan to a masked audience sitting socially distanced apart? I have the same questions about AGT, which also edited in fake audiences behind the judges. The live show audience will look very different seated according to COVID protocols. 
At least The Masked Singer could work it into the show format. They can hand out fancy looking masks to audience members and pretend they are part of the show!
The Masked Singer returns to FOX this fall with the same cast: Nick Cannon hosts. Robin Thicke, Jenny McCarthy, Ken Jeong and Nicole Scherzinger sit on the judges panel.