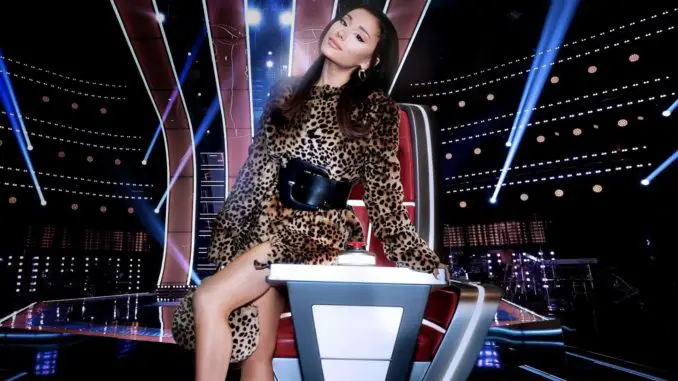 The Voice season 21 Blind Auditions began taping on Monday (June 20) and will be filming all through the week. 
And because major pop star, Ariana Grande, is taking Nick Jonas' place on the coaches panel alongside Blake Shelton, Kelly Clarkson and John Legend, E News already has "insiders" reporting on the first days. (FYI: E News is part of Comcast as is The Voice's network, NBC)
"Ariana was so fun and sweet," one eyewitness shared with E News. "She was interacting with the fans so much and was having the cutest moments on and off camera with the coaches. She was so sweet to anyone who came up to her from the production team, as well. Ariana and Kelly Clarkson were talking selfies. It was so cute."
Ariana sits next to Blake, dishes out "treats" from a "lunchbox"
Reportedly Ariana is sitting next to Blake Shelton, and the two "are so funny together." Blake, Kelly and John "seemed completely welcoming towards her," even if they did clown on her a couple times, as the second onlooker described it to E.
The Voice Paying Ariana Grande Huge Coach Salary – Find out How Much
Ariana Grande Joins The Voice Season 21 as Coach, Nick Jonas Exits
The Voice Cuts Back to One Cycle! NBC Adds AGT: Extreme, American Song Contest
Ariana also interacted with her fans in the crowd. "At one point, Ariana was gushing with one fan over [the Lin-Manuel Miranda movie musical] In the Heights."
And of course, since gifts for new team members have become a thing, "Ariana also had a cute little lunchbox filled with goodies for whoever chose to be on her team," the eyewitness said. "She was so excited to hand them out."
Tickets for The Voice 21 Blind Auditions Tapings are STILL Available
The Voice is inviting back live studio audiences for the first time since the COVID-19 pandemic shut down film production. It's worth noting that typically, The Voice tapings fill up FAST. By now, all tapings would be sold out.
But with COVID restrictions, which include pre-testing for the virus and PROOF of full vaccination, NBC is still filling audiences. Even Kelly's socials were advertising empty seats. Tickets are STILL available for Wednesday and Thursday. Friday is sold out. For those who live in the Los Angeles area and are vaccinated and Covid-free, sign up for your tickets HERE.
Guess what y'all?! @NBCTheVoice has a live audience again!! Request tickets today so y'all can come and listen to some live music ?? #TeamKelly #TheVoice https://t.co/HDqhCRMJbc pic.twitter.com/54sklJdGAS

— Kelly Clarkson (@kellyclarkson) June 20, 2021
Goodbye The Voice Spoilers!
And just so you know: The Voice spoiler bonanza is over, now that tapings are in front of a live studio audiences. For the last few seasons, virtual audiences meant fans from all over the country watched from their living rooms, including those who wanted to spoil the results. We'll eventually get partial spoilers, but they likely won't be complete.