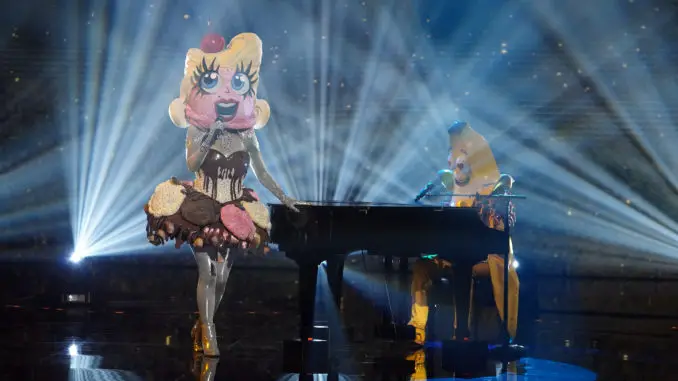 The Masked Singer season 6 introduces five new costumes tonight (Sept 29), including Banana Split, which is a two-person mask. There's Banana who plays the piano and the ice cream who is female and sings real pretty. AND REAL DANG FAMILIAR C'MON.
Banana Split is so very very obviously American Idol season 5 runner-up Katharine McPhee and her husband, producer/songwriter David Foster. Right? It sounds like her! Plus, the piano player gives it away. Because that's what David Foster does on stage.
What do you think? There's nothing to think about really. No clues necessary. See Split sing "A Million Dreams" from the motion picture The Greatest Showman while Banana accompanies her on piano. 
That voice is a DREAM! ?

Don't miss more clues for #BananaSplitMask on an all-new episode tonight at 8/7c on @FOXTV. pic.twitter.com/9znAn4dDVR

— The Masked Singer (@MaskedSingerFOX) September 29, 2021
The Masked Singer season 6 boasts ANOTHER American Idol alum in Group A. Season 9 Top 25 alum Todrick Hall is most certainly the Bull. He has so far delivered two show stopping performances on the Masked Singer stage.
The season, the format will have Group A and Group B whittled down separately. The last acts standing will face off against each other in the finale. Wouldn't a Bull vs Banana Split AMERICAN IDOL THROW DOWN be cool?
Other costumes performing tonight include Queen of Hearts, Mallard, Cupcake and Dalmation. The Masked Singer featuring Group B airs tonight (Sept 29) on FOX at 8 pm.
UPDATE:
Read our full recap of the Masked Singer episode HERE.
Check out the CLUES: The silver medal refers to Katharine finishing American Idol season 5 as the runner up. "Big Man" might refer to her husband David Foster as "Hitman." Her big break, American Idol, did not translate to instant success. Katharine starred in the NBC musical drama Smash.
And full performance with judges comments: