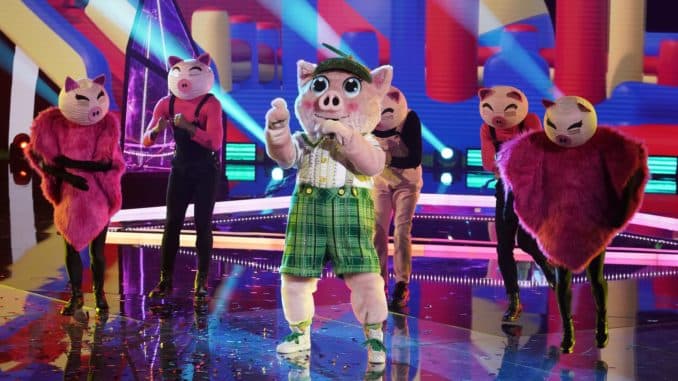 Tonight, season 5 of the wacky singing competition, The Masked Singer continues on to week 7 on FOX.
In a two-hour extravaganza EIGHT celebrities  will perform in crazy costumes. TWO will be unmasked by audience vote before the  episode ends. After the contestants are presented, with clues, they will perform a song. Then, it's up to the at home-audience to guess who is behind the mask.
Ken Jeong, Jenny McCarthy, Nicole Scherzinger and Robin Thicke sit on the panel. And Nick Cannon is back as host. Country singer and wife of Tom Hanks, Rita Wilson will serve as a guest judge.
Tonight's masked celebrities include Robopine, Seashell, Russian Doll, Black Swan, Piglet, Chameleon, Crab and Yeti. Plus, clue mask, Cluedle-doo, who will be unmasked before the end of the season!
Piglet
Clues: His life hasn't always been smooth sailing. He moved back in with his parents. A perfect storm of despair. His Sunday pastor had a vision of a man sailing to a perfect storm. That inspired him to move to LA. 
Performance: The Pretender by Foo Fighters – Piglet has a very familiar voice and is obviously a pop/rock singer of some sort. Ha. I love the way his beanie copter perpetually spins. Anyway, I think he'll be sticking around for awhile. This week's clues are delivered as food orders. The piglet's order is Cotton Candy. It reminds him of one of his very first jobs. Jenny guesses Lance Bass because of the UFO clues in the package. Ken guesses Adam Levine. IN NO WAY WOULD ADAM LEVINE DO THIS SHOW NOT IN A MILLION YEARS. Rita guesses one of the Manning brothers football players. That is a terrible guess. 
Prediction: Piglet is former 98 Degree member, Nick Lachey.
Here's an interlude with Cluedle-do. He'll be roasting the judges throughout episode.
Robopine
Clues: Robopine has  been struggling with depression lately. He struggled with self-esteem growing up. His parents and friends always put down his singing talent. One summer he stopped by a block party. He sang, and everyone loved it. It changed the trajectory of his life.
Performance: Let's Get it On by Marvin Gaye – Robo dude is giving off sexy Motown vibes this week. Based on this performance, he isn't going anywhere. He ends on his knees! Big note at the end. Nick calls it epic. It is! Like Piglet, Robo is obviously a professional singer. Robopine's food order: It's a Lobster!!! Nick teases that he TOTALLY KNOWS WHO IT IS. Robo says the clue is connected to his time in Costa Rica as a child. Robin guesses Terry Crews. Ken guesses Aaron Hall. Nicole guesses Jamie Foxx.
Prediction: Robopine is actor and R&B singer, Tyrese. The Roman statue in the clue package points to his role as Roman in the Fast and Furious franchise. The baby toys point to his role in the movie Baby Boy.
Chameleon
Clues: He's walked to a beat to his own drum. He met is GOAT through a contest he won at a local radio station. They even worked together. And now, he's a true friend. He's going to keep it old school tonight.
Performance: Regulate by Warren G ft Nate Dogg – Chameleon is a rapper. He can carry a tune, but he's not a great singer. This performance is pretty boring. He might be going home tonight. Rita jokes that she can spit some flow. She recites some from that viral video she did while in quarantine. Chameleon's dinner order: Fried Bird and Cricket Cake It's an MRE. Chameleon says he supports all the troops. Jenny guesses Machine Gun Kelly. Ken guesses Kyrie Irving, NBA player. Nicole guesses G. Eazy or Waka Flocka Flame. Cluedle-do is here with more clues. He was rooting for him at the Golden Globes. Hm. Robin points out that Wiz Khalifa and Charlie Puth were nominated for the massive hit "See You Again" from the Fast and Furious. DING DING DING. 
Prediction: Indeed, Chameleon is rapper Wiz Khalifa.
Yeti
Clues: He had a once in a lifetime role, that caused an avalanche of success. But he blew it. He blamed everyone but himself. When he managed to get a second chance, he left his ego behind, "ABCD" refers to his stint as a judge on MTV's America's Best Dance Crewe.
Performance: Lonely by Justin Bieber and Benny Blanco – Wait, was Yeti on ice skates last week? OH LOOK NICOLE IS FAKE CRYING. These vocals are decent. The ice skating tho! He should stick around just for that. Yeti's food order: Donuts. Nicole guesses Todrick Hall Hm. Ken guesses Justin Timberlake. That's a joke. He's too famous. Robin guesses Omarion or Mario.
Prediction: The O is for Omarion.
Russian Dolls
Clues: There was a time they felt everyone gave up on them. Suddenly they were not famous anymore. But they kept on it. They sold out a prestigious room eventually. There are FOUR dolls in the video package!
Performance: 24K Magic by Bruno Mars – The dolla are awesome singers and their harmonies are nothing short of AMAZING. They sing an R&B song and are highly entertaining. This week, thera are actually four dolls with actual people inside of them. Jenny thinks the dolls can win! Only two stay on stage after the performance, though. Russian Dolls food order: Red jelly beans. For a very long time, we have loved Jelly Beans. Ken guesses Jonas Brothers. STAHP IT NO. Nicole guesses Hanson DING DING DING. Rita guesses Boyz II Men. Actually, I think they could win!
Prediction: The Russian Dolls are certainly Hanson. There are more than 3 Hanson brothers, although they aren't all in the group. Plus, the Hansons have had a gabillion kids by now. A bunch of suspects could be the "fourth Hanson." Smart way to throw everyone off bringing out a different number of dolls every week. Also, reportedly, fans give Hanson red jelly beans as gifts. 
Crab
Clues: His first talent show was scary. But it went so well, he did talent shows all the time. Remember, last time he had to yank his mask off, because he got claustrophobic.
Performance: In the Air Tonight by Phil Collins. This is a very smooth performance. He's trundling around the stage like he's maybe a little older? But he growls his way through the chorus. It's pretty good. Crab's food order: Marshmallows. He loves marshmallows. So does his kids. Candy girl? Robin guesses Ray Parker Jr. Jenny guesses Flavor Flav Nicole guesses Keith Sweat 
Prediction: Crab is Bobby Brown. Marshmallows points to the song "Candy Girl" by New Edition, his teen boy band back in the day.
Seashell
Clues: It's taking her decades to open up.  Being under pressure is what she needed to let loose.
Performance: I Think We're Alone Now by Tiffany – Seashell has a decent enough voice, but nothing remarkable. Could she be going home this week? Seashell's food order is brought out by Cluedle-do, who steals the clue. That chicken better watch out, says Seashell, because she makes good fried chicken. Ken guesses Sarah Silverman. What a horrible guess. Nicole guesses Tamera Mowry DING DING DING. Rita guesses Scout Willis. Nope. Cludle reveals the food hint backstage: Green and red grapes.
Prediction: Seashell is Tamera Mowry. The clues this week point to her work as a host on The Real. She and her husband own a winery.
Black Swan
Clues: Growing as an only child of a single mom wasn't easy. She bought her mother, who believed in her, her first real home.  
Performance: Use Somebody by Kings of Leon – Swan sings a ballady performance of the song. It's very R&B, with runs and big notes galore. Black Swan is the best singer left. She's not going anywhere. She could win the show too. Black Swan's food order: Golden Fish crackers. She and her mom loved the fish crackers. Rita guesses Kesha. Ken guesses Demi Lovato. LOL NO. Nicole guesses JoJo. DING DING DING. Robin doesn't think it sounds like JoJo. But it is.
Prediction: Black Swan is JoJo. She's close to her mom! They lived in a one bedroom apartment in low income housing, so buying a house would be a big deal. Also, mom is very musical, so gave her the gift of music. In the video, the Cinderella slipper could point to the 2006 documentary, JoJo the Pop Princess.
Results
The first eliminated mask is The Crab! Robin's first guess was Kool from Kool and the Gang. Now he thinks it's Ray Parker Jr. Nicole's first impression guess was a member of the Jackson 5. Now she thinks it's Keith Sweat. Ken's first impression guess was Bobby Brown. He's going to stick with his gut. KEN GETS ONE. Jenny also guessed Bobby Brown at first and she will also stick with Bobby. Rita guesses Martin Lawrence. And the Crab is Bobby Brown! He talks about losing his children Bobbi Kristina, and recently Bobby Jr. Sad.
The second eliminated mask is The Seashell! Ken's first guess was Kristin Chenoweth. Now he thinks it's Sarah Silverman. Nicole's first guess was Hilary Duff. She thinks it's Tamera Mowry. Jenny's first guess was Vanessa Hudgens. She's sticking with that. Robin's first guess was Ashley Judd. He's changed it to Haylie Duff. Rita guesses Scout Willis. And The Seashell is Tamera Mowry!
Next week, it's a CLIP SHOW as Nick Cannon hosts "The Maskie Awards" Sing-a-Long episode celebrating the "best of" season 5.