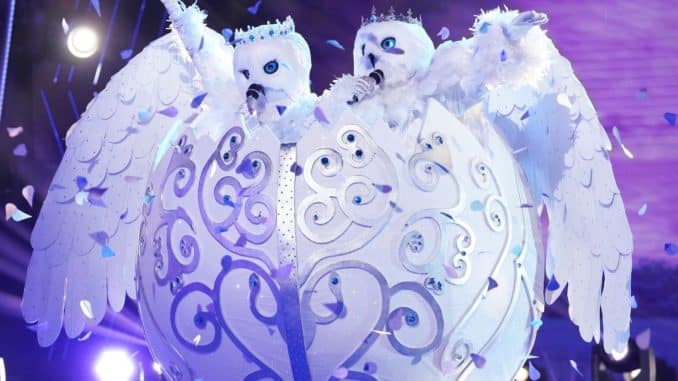 The Masked Singer continues tonight as the final three singers from "Group A" take the stage for their final chance at the Super Six. The bottom two singers will face one another in a Smackdown and only two will advance to the next round.
Celebrities perform in crazy costumes. ONE will be unmasked by audience vote before the episode ends. After the contestants are presented, with clues, they will perform a song. Then, it's up to the virtual audience to guess who is behind the mask.
Ken Jeong, Jenny McCarthy, Nicole Scherzinger and Robin Thicke sit on the panel, while Nick Cannon hosts and is an executive producer.
Performing tonight in Group A  is: Popcorn, Snow Owls, and Sun
This week's guest panel is Niecy Nash. 
GROUP SONG!!!! Popcorn, Snow Owls and Sun sing Pink's "Raise Your Glass." What could be cheesier than C list celebrities in costumes singing a group number, amiright. 
Clues are coming from friends and family of the contestants. 
Sun
Clues: Honey, take the wheel. The mystery person dropping clues here appears to be Sun's significant other. They take trips in the RV to Baltimore Alaska, and Mexico. There are Angel windchimes and plastic COWS. 
Performance: Piece of My Heart by Janis Joplin. Sun is definitely a country singer. Actually I am confident I know the identities of all three performers tonight. Anyway, Sun puts a countryfied twist on this rock classic. Clue from a close personal friend: The sun is actually golden. She has at least one single that went certified gold. Ken guesses Katharine McPhee NOPE. That dude giving the clues IS NOT DAVID FOSTER. Niecy is convinced the person in the package is a boyfriend NOT a husband. She thinks its Jewel. Jenny thinks it's Demi Lovato. 
Prediction: Internet sleuths picked up on this one right away. The Sun is country singer, Leann Rimes. The clue giver is her husband Eddie Cibrian, an actor she met on Northern Lights. There is your Alaska clue! As an aside–Leann and Eddie were both married when they met. Eddie was married to housewife Brandi Glanville at the time. 
Snow Owls
Clues: It's TWO celebrities in one costume. A friend drops a few clues. Earlier clues didn't let on the two were a couple. Finally, the Owls' friend describes them as a couple.
Performance: The Prayer by Andrea Bocelli and Celine Dion – This song is out of the male half's comfort zone. His voice is so warbly. Nice harmonies, however. It's obvious they are used to singing together. That was totally cornball. Clues: The robot fell over. Heh. "The robot is drunk!" Two snow owls sitting in a tree kissing. So finally they admit they are a couple. Niecy guesses Brad Paisley and his wife Kimberly. Doesn't sound anything like Brad. But that's a decent guess. Robin guesses Amy Grant and Vince Gill again. Ken makes a ridiculous guess: Danny Devito and Rhea Pearlman. 
Popcorn
Clues: Her best friend has famous karaoke parties. There is a Russian royalty theme. And she's been on the Masked Singer! The package includes a toy reindeer, a sewing kit, bunny ears.
Performance: Domino by Jessie J – It was clear from the jump that Popcorn is an old school diva. She has a huge voice! And seems completely comfortable in that ridiculous costume. She's 100% game. Clue: "Not only have I been here before, but one of you have guessed popcorn." Why is she Giving it away? And Jenny nails it: Taylor Dayne. Oh so the friend might be Leah Remini, who appeared previously as a guest judge. Niecy guesses Cyndi Lauper. That's not her voice. Ken guesses Anita Baker. Uh no. Ken aims to be as insane as possible. 
Prediction: Nicole nailed it. Popcorn is 80s diva, Taylor Dayne. And it makes sense her friend is Leah Remini. She was a guest judge on the show, and there were a ton of "King of Queens" hints in the clip.
Results:
The Sun goes straight to the super 6! Snow Owls and Popcorn will battle it out in the smackdown.
The smackdown is done in FOX wrestling style. It's literally cross promotion! 
Smackdown
Snow Owls – Because You Loved Me by Celine Dion – Back to the Celine Dion well. This performance is better than the first. 
Popcorn – Everything I Do I Do For You by Bryan Adams – Everybody remaining this week can really sing. It's hard to say who will win this smackdown. The novelty of Snow Owls might win the day? Popcorn delivered the better performance. 
Results
The Snow Owls are eliminated! The dancers help the Owls out of their egg. First impression guesses: Robin Thicke: Amy Grant and Vince Gill. He's sticking with it! Jenny guessed Barry Williams and Maureen McCormick but now agrees with Robin. Ken guessed Derek and Julianne Hough. But now he's sticking with his dumb Danny Devito and Rhea Perlman guess.  Nicole guessed  Donny and Marie Osmond but now she thinks its Clint Black and Lisa Hartman. DING WE HAVE WINNER. Niecy thinks it's Harry Hamlin and Lisa Rinna.
The Snow Owls take of their masks and YES it is Clint Black and Lisa Hartman! The internet had already guessed it. "You guys are no Simon Cowell," says Clint. "You were so nice!"