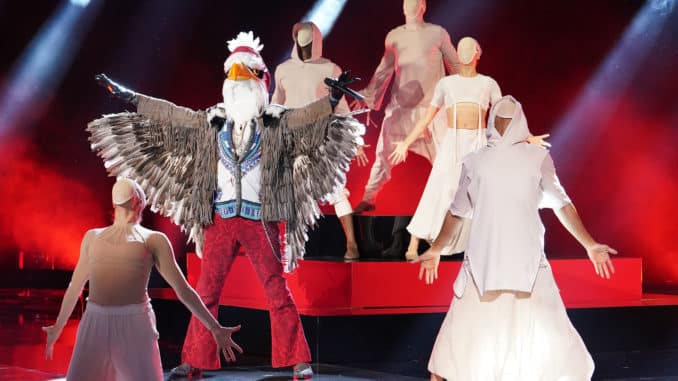 Tonight, season 2 of the wacky singing competition, The Masked Singer continues on FOX. The final four celebrity characters are introduced in an hour long episode. After contestants are presented, with clues, they will perform a song. Then, it's up to the audience to guess who is behind the mask.
Ken Jeong, Jenny McCarthy, Nicole Scherzinger and Robin Thicke sit on the panel, while Nick Cannon hosts and is an executive producer.
The Masked Singer 2 Spoilers: Week 2 Clues and Guesses
Masked Singer Season 2 Sneak Peek FIRST Clues Revealed! (UPDATED)
The four celebrities will face off in pairs. The winners advance to the next round. The losers pair up for a "smackdown." The loser is eliminated. The studio audience and judges vote for the winners.
Tonight, it's Eagle vs Flower and  Penguin vs Fox
Flower
Clues: Flower likes to cook She has a doctorate? And a clothing line maybe?   "Vision of Love" is a clue. "What's Love Got to Do With It" too. "Empire" is also a clue. 
Performance: 9 to 5 by Dolly Parton – The voice is very familiar, and somehow seems older maybe? She hits a couple of high notes. Nicole calls her voice "legendary." Jenny guesses Taraji P. Henson. Nicole guesses Mariah Carey (No. Ha Nick says "that's why we're holding hands!). But then, Patti Labelle. Hm. She actually sounds like Patti, but not entirely. Robin guesses Jesse J or Jennifer Hudson (NOPE). Ken guesses Bjork (LOL NO) Why is she the Flower? "Because I'm beautiful and I smell so good."
https://www.youtube.com/watch?v=bx-0nkIjHek
Eagle
Clues: He had a health scare and loss of a parent. He was at the top of his field. He neglected writing his own story. He doesn't just hang out with rock stars. He is one. 
Performance: Anything For Love by Mealoaf – He is NOT a singer.  He's bellowing his way through the song. It's actually kind of comical. The panel noted that he's very tall. Also, he's gonna lose this matchup. Robin and Nicole are critiquing his voice heavily. Nicole guesses Bret Michaels. Robin guesses Pauly Shore. Jenny thinks Howard Stern (both his parents are still alive though) or Adam Carolla. Ken guesses Craig Ferguson  Why is he the Eagle? "Like an Eagle I can see things miles away that other people can't see." Hey, would The Voice coach Carson Daly hop over to FOX to appear on a rival singing show? Probably not. But clues fit–he hangs out with rock stars and has lost a parent. 
https://www.youtube.com/watch?v=UM-4fiZyZ1o
Results: Flower wins! She advances. Eagle will compete in the "Smackdown"
Penguin
Clues: Not pretty enough, not smart enough, not good enough. She was told her career is over. Penguin sings for those who dare to be different. She's "leading the march." 
Performance: The Middle by Zedd and Maren Morris- Hm. She's not a singer. Probably an actress. She's a better singer than Eagle, but she's certainly not a pro. Nicole is sure she's not a professional singer. Robin guesses Melissa McCarthy (Jenny's cousin, for real). Nicole guesses Megan Mullally. Jenny guesses Kathy Griffin. AS IF FOX WOULD LET HER ANYWHERE NEAR THE NETWORK. Jenny goes for her stalwart Sherri Shepherd guess.  Why is she the Flower?  "Everything is not as black and white as it seems."
https://www.youtube.com/watch?v=3RPpmro87lc
Fox
Clues: Fox tells a bedtime story to a mini-fox. He does his best work at night. Viewers see illustrations of Fox in disguises. He's lived two different lives. He's an on air super hero. He's got a kid maybe?
Performance: This Love by Maroon 5 – He can sing. His voice is very soulful. He'll definitely win this matchup. Nicole calls him a natural. Robin says he moves like a pro. Jenny guesses Wesley Snipes or Leslie Odom Jr. Nicole guesses Anthony Mackie. Ken guesses Tyrese Gibson. Why is he the Fox? "I'm quick, I refuse to be caged in and I'm crafty."  Ken changes his guess to Jamie Foxx. 
https://www.youtube.com/watch?v=dHQ-zVvvErk
Results: The Fox wins, Penguin will face off against Eagle in the Smackdown. 
Eagle vs Penguin in the Smackdown!
Eagle: These Boots Are Made for Walking by Nancy Sinatra – This singing is ridiculous. I predict Eagle will be unmasked tonight. Nicole guesses Eagle is Jeff Goldblum. No. Jeff Goldblum can actually SING, besides being a talented musician. I mean, he just put out a jazz album and toured. 
https://www.youtube.com/watch?v=6HSrc1Bwjp0
Penguin: Worth It by Fifth Harmony – She's not a great singer but way better than Eagle. The weakest singers go first so… Penguin is also really funny! She tries to kick box the Eagle. This show is so weird!
https://www.youtube.com/watch?v=u2EaCM4TiHs
Ha. Jenny calls the Smackdown a "weird episode of Angry birds." 
RESULTS! The winner is PENGUIN!!!! The Eagle WILL BE UNMASKED. 
Final guesses: Jenny says Adam Carolla. Robin says Howard Stern. Ken says Craig Ferguson. Nicole says Jeff Foxworthy.
AND THE EAGLE IS….Dr. Drew Pinsky. WHAT THE HELL? Nope. Did not see that coming. Neither did the panel. However, Jenny's guess was in the ballpark. Adam Carolla and Dr. Pinsky co-hosted Love Lines together back in the 90s. 
The celebrities unmasked so far:
Egg – Ice Skater Johnny Weir
Ice Cream – Internet celebrity Ninja
Panda – Ex-Boxer Laila Ali
Eagle – TV doctor Drew Pinsky
The personalities unmasked so far aren't big named celebrities. Despite the show's high season 1 ratings, The Masked Singer doesn't appear to be attracting the big-name stars.
FULL EPISODE
https://www.youtube.com/watch?v=_n-pg8eGXmU