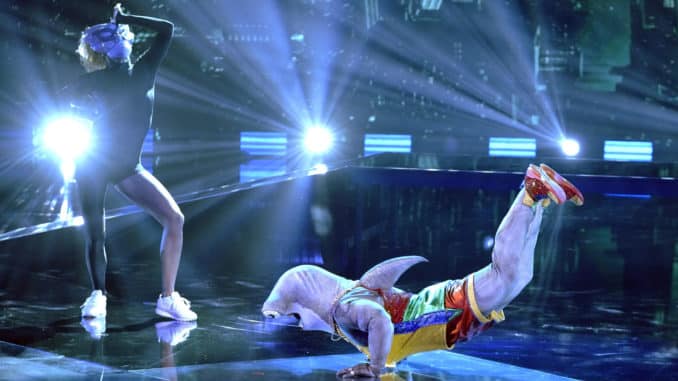 The Masked Dancer continues tonight on FOX, and we are liveblogging the performance and results here.
Ken Jeong from The Masked Singer sits on the panel next to former American Idol and SYTYCD judge Paula Abdul, actress Ashley Tisdale and former The Masked Singer contestant Brian Austin Green. Actor and comedian Craig Robinson hosts.
Meet The Masked Dancer Characters – Season Preview (Video)
Who is Exotic Bird on The Masked Dancer? An American Idol Winner?
The short season features 10 costumed celebrities. Tonight it's the Group A Playoff featuring the remaining four in the group: Tulip, Cricket, Exotic Bird and Hammerhead.
Tonight's guest panelist is Rob Lowe, who currently stars on the FOX show 911 Lonestar.
Exotic Bird
Clues: Will Paula guess Exotic Bird this week? (YES SHE DOES) She should! Exotic Bird shares that she got sick before a big opportunity, and her mother helped her through it. Oh look a Super Bowl trophy. "mama bird" is a dead ringer. An apple pie slice is a big clue.
Performance: Latch by Disclosure ft Sam Smith – This week, Bird performs what looks like an interpretive dance, aka contemporary mixed with a few hip hop moves. Her movements are very fluid! Ken assumes she performed at a Super Bowl. (True!) He guesses Janet Jackson. Paula who choreographed Janet, says NO WAY. Bird's Word Up is: Number 1. Paula FINALLY GETS IT. It took her long enough. She guesses JORDIN SPARKS. Whom it ABSOLUTELY IS. Rob Lowe guesses Kate Hudson. Seriously a dumb guess. Brian guesses Megan Thee Stallion. 
Prediction: Paula is correct. Exotic is most certainly Jordin Sparks. Jordin performed the National Anthem at the 2008 Super Bowl game. The pie slice likely refers to her stint in Broadway's Waitress: The Musical.
Cricket
Clues: There is an Olympic set up? He felt judged growing up. SUPER PHONE. He did something risky (PH). He saw his way to stardom. Constellation? 
Performance: This is How We Do It by Montell Jordan – Cricket shuffles around the stage. Clock face masks the backup dancers. I wonder if that's a clue? This routine is boring. He gets his confidence from his wife, he says. Cricket's Word Up is: Allstar. Paula thinks he's a musician. She guesses Brian McKnight. Ken thinks its Michael Phelps. Rob guesses Ryan Lochte. Brian also thinks it's Ryan Lochte. Cricket says he's the youngest in his family.
Hammerhead
Clues: He has layers. He had one shot. Is he a comedian? He wanted to be a lawyer. He learned to embrace both sides. Wedding cake with two men on top. 
Performance: Blinding Lights by The Weeknd – Hm. This isn't bad. He credibly performs a few hip hop moves. He attempts a moonwalk. I think he's definitely a performer of some sort. The solo was a Tik Tok dance challenge, apparently. Hammerhead's Word Up is: Heartbreaker. Ken guesses Ryan Seacrest. Hm. No. Rob guesses Joe Rogan. Brian guesses Joe Rogan also. Paula guesses The Situation. I think Joe Rogan is a good guess.
Tulip 
Clues: Egyptian pyramids in the background. She mentions being envious of a best friend, but then getting over it. 
Performance: Fields of Gold by Eva Cassidy. She tapped dance last time! This week, it's ballet moves. So obviously, she's studied dance at some point in her life. I don't think she's a professional, however. Tulip says she was judged a lot growing up. Tulip's Word Up is Princess. Paula guesses Kristen Bell. Ashley guesses Charlie Devaliau Brian guesses Simone Biles. Rob agrees with Ashley.
Results
The dancer from Group A going home tonight is….Cricket. He's been famous a long time. He has won an award. He's only known for one thing. He has "baby crickets." Ashley still thinks its Ashton Kutcher. Ken thinks its Michael Phelps. Brian thinks it's Ryan Lochte. Rob also thinks it's Ryan Lochte. Paula thinks it's Brian McKnight. And Cricket is….Brian McKnight! WAY TO GO PAULA. I actually thought she was dead wrong! I was leaning toward Ryan.