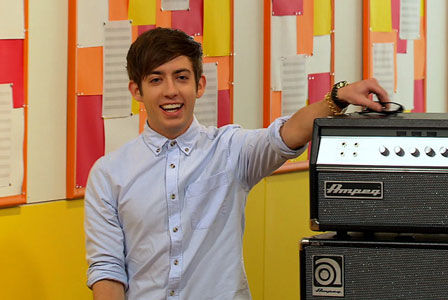 This week's The Glee Project features Glee star, Kevin McHale as guest mentor!  He leads the Top 10 through their homework assignment–"You Oughta Know" by Alanis Morissette–but with a twist!
"Price Tag" by Jesse J.  is this week's music video. Aylin won the homework assignment. I'll be posting results in this space as soon as the episode is over. Later, watch out for videos and a longer recap.
The BOTTOM 6 perform in DUETS for Ryan Murphy
Ali and Abraham – "Last Friday Night" by Katy Perry
Mario and Charlie – "Don't Let the Sun Go Down on Me" by Elton John and George Michael
Nellie and Blake  – "Waiting for a Girl Like You" by Foreigner
Ali, Nellie and Blake are declared safe first.
Abraham, Mario and Charlie are in the Bottom 3
Eliminated from The Glee Project – Mario
***
Once again, the right person went home! I don't think Mario has ever given a great last chance performance and he lacks some serious self awareness. When he's given notes, or constructively criticized, he can't comprehend what the problem could be. If he's off–it's somebody else's fault. Not a great point from which to grow and improve. So, buh bye Mario!
I mention this in my recap, but for right now, Nellie and Blake are my front runners. The problem is, Ryan will eventually choose a winner that inspires him to write. I can't see him resisting the Shanna's juicy crack baby backstory, or passing up the opportunity to cast a Muslim on the show. Aylin as the rebellious child of old school Turkish immigrants would add a completely new, and somewhat controversial element to the show.  Nelliw playing awkward as the awkward girl just can't match. Sadly.
The episode kicks off with Aylin and Charlie agreeing to cool off their showmance for the sake of the competition. Aylin, who never seemed that serious about Charlie in the first place, seems to be driving the split. Charlie hugs her a little too hard and too long to seem convincing.
Casting director and mentor, Robert Ulrich, arrives with the new assignment. This week's theme is "adaptability."  Robert explains that the ability to adapt is crucial as a performer on Glee.  "Things move fast, rehearsals shift, songs change," he explains.  Mario, the blind kid, sniffs, "I am adaptability, because every day I have to adapt to a world and situations that the sighted world creates for me. It has to show this week."
The homework assignment is "a particularly tricky song" says Robert–"You Oughta Know" by Alanis Morissette.  Oh, but there is a twist! The contenders will be handed their lines, rather than dividing them up amongst themselves as they have done so far. The kids get to work. Michael is psyched to have no time to think, because getting caught up in his head has been his downfall. On the other hand, Lily likes to plot and plan. Flying by the seat of her pants is not for her.  Charlie believes being adaptable is being willing to say YES to anything! Personally, I would say that's it in a nutshell.
The following day, Robert introduces the special guest mentor as someone who "can tell you all about rolling with the punches."  And WHOO it's Glee star, Kevin McHale, who plays wheelchair-bound gleekster, Artie Abrams.   Maybe it's my imagination, but the kids don't seem as gobsmacked by this week's reveal. Perhaps they're getting accustomed to being face to face with their favorite Glee stars? Or maybe Cory, Lea and Naya really are ROCK STARS.
Ali, the contender who REALLY uses a wheelchair has been watching Kevin carefully to see if he "cheats" and moves his legs. So far, he's passed the test. "Every week is adaptability week on Glee—or every day." Kevin explains to the group. "Every day is different."  And in keeping with the theme, he surprises the group with a last minute change. Instead of singing the lines they were assigned, each contender will perform the entire song!
The kids rise to the challenge, with a few missed lyrics here and there. Surprisingly, nobody falls apart. I may be a little disappointed about that. Kevin tells Michael that he may have overplayed his part, but appreciated that he made an acting choice and stuck with it. Aylin "sang the hell out of it."  Kevin was impressed with how Charlie changed the lyrics to make them appropriate for a guy.  Ali was able to transform her super-sweet personality into anger.  And Shanna, forgot the words, but Kevin didn't care because she kept going. In the end, Kevin chooses Aylin as the homework winner. She'll receive one-on-one mentoring from Kevin, and a stand out moment in the group number.
Which is…."We're not telling you!" says Kevin. They'll find out the song when they meet Nikki to record vocals. And, they'll be learning choreography the day of the video shoot.  Lily continues to flip out. She likes to know where she's going, what she's doing and at what time.  This is not a theme tailor made for control freaks.
Homework Assignment with Kevin McHale

tgp2-adap-mentor by mjsbigblog
Next, it's vocals with Nikki Anders, where the kids learn that the song will be "Price Tag" by Jesse J. Some, like Aylin, know the song and are thrilled. Others, like Blake and Shanna who don't know the song, are worried. But a funny thing happens. With no time to fret over the song, the kids mostly sail through their vocals–particularly, Michael, who had a problem in the booth last week. When he doesn't have time to think, he nails stuff.
"I think the most important thing you can remember for this week is confidence," Kevin tells Aylin in their one on one. "'Cause the show from day one has always been about the heart and the emotion behind it.  At the end of the day, if I just remember what the song is about and what I want people to feel? That's what it's all about."
After that advice, Aylin nails her vocal.
Not having a great day in the booth is Abraham, who has problems with pitch and phrasing. Also, Ali's on-the-spot vocal choices aren't working for Nikki. She may be somebody who does better when she prepares.
Aylin One on One Mentoring with Kevin, Vocal Booth plus Alexander and Ali struggle
It's time for the video shoot.  Director, Erik White, explains the concept. It's the mean rich kids vs the broke kids. The broke kids will be having fun. One by one, the rich kids will join the broke kids until the character played by Aylin in her stand out moment is left. She'll be faced with the decision of whether to stay rich and mean, or join the fun, broke kids. I'd rather keep the money money, honey.
Charlie makes the bizarre choice to create a character that is not only mean, but really really insane. He may not completely be aware of that last part.  He plans on staying in character the entire time.  He even gives his character a name—Scott Campbell.
"I don't particularly care how many oscillates you have to skin until the seats on my plane are complete," Charlie fake talks into the phone with a terrible posh accent WHILE THE CONTENDERS ARE ON BREAK.
"Ordinarily the only requests I make from people below the poverty line are more caviar," he says to a confused Michael. The problem here is that Charlie is kind of distracting, and basically he's hijacking the shoot. The mentors are not pleased.
Mario's vibe is girls and money, but his affect is "I need a nap right now.  "I need more acting out of you!" a frustrated Erik tells Mario.  As usual, Mario is completely clueless to the problem, insisting to the camera that he's an excellent actor.  "I am so stunned at being in this position right now," he says.
Zach Woodlee zips in to teach the contenders dance steps in the dwindling afternoon light.  Blake is really unsure about learning choreography on location.  "Right now you all look like zombies!"  chides an exasperated Zach as he attempts to lead the kids in a group number. Blake in particular, has problems learning the choreography quickly.
"In this show we need people who can learn it and perform it in minutes," says Zach. Hm. I recall some of the Glee regulars revealing how it took them weeks to nail the first couple of numbers they ever performed on the firs t season of the show. The fast learning deal came with experience….
Nellie is once again having trouble pushing out of her comfort zone. She's doing OK in solos, but is disappearing in the group.  "If you can't be in New Directions and make a statement," says Zach, "Then you're not right for the scripted show."
The shoot finally wraps. Erik works his magic—everyone looks great. In the end, Aylin decides to toss her rich bitch ways to join the white t-shirted poor kids.  I'm not feeling the decision to dress the poor kids all alike. It looks like…communism or something.  Shed your pretty clothes comrade! Com join us!  It would have worked even better if the rich kids were more clone-ish— while the poor kids were tricked out in colorful, funky duds.
Video Shoot
It's time to reveal the bottom 3. Robert calls out the names of the kids who best handled the assignment.  Aylin was this week's standout performer. She killed both the homework assignment and the video shoot. Robert notes that her acting keeps getting better and better. Shanna, Michael and Lily are also on the call back list. They leave the room, giddy. Lilly is especially relieved that she's done dealing with surprises.
Each of the six struggled in some way this week, the mentors point out. Nellie needs to figure out how to pop inside of the group. Blake looks distracted when he dances.  Abraham struggled in the vocal booth. Ali has trouble reigning in her over-the-top vocals.  When confronted with his flat acting, Mario blamed it on Erik's direction, which he felt was not specific enough. Uh oh. Didn't playing the blame game get Mario in trouble a few weeks ago? Not learning a lesson doesn't bode well for him. Charlie was once again at a different energy than everyone else at the shoot.
The twists keep coming. It turns out that ALL SIX remaining contenders will have to perform for Ryan Murphy. They'll be paired up in duets to sing. After, a bottom 3 will be chosen and one will go home.
Ali will be singing with Abraham. She lets out a yelp of excitement. They are assigned, "Last Friday Night" by Katy Perry.  Mario and Charlie are paired up. Charlie is a little worried. He's afraid the two will battle over creative control.  They will sing "Don't Let the Sun Go Down on Me" by Elton John and George Michael. That leaves Nellie and Blake, who will sing "I've Been Waiting for a Girl Like You" by Foreigner.
The kids disperse to rehearse. Blake sees it as a big wake up call, "There's no room for mistakes," he realizes. Mario complains that Charlie never sings the melody of songs.  Is that you Phillip? Just kidding!
The Bottom 3 are revealed–with a Twist
It's time to sing for Ryan Murphy who wants to know why he'll be watching 6 people.  I assumed it was your idea Ryan! After this week, you will have seen everybody who is left in the cast perform.
Nellie and Blake are first, and holy crap they are SENSATIONAL.  I wouldn't call it a perfect vocal, but the emotion they both bring to the table is what Glee is all about. As far as I'm concerned, Nellie and Blake SHOULD be front runners. But Ryan has a funny way of choosing who moves on that often has little to do with talent. Zach, Robert, Nikki and Ryan are all visibly moved. Ryan says he loves them but to come back with a little more energy, like they really want to win the competition.
Abraham and Ali are next.  Eep. They stumble over the words and have absolutely NO chemistry. Ryan compliments Ali on her comic skills, but I find her face pulling and over-the-top vocals really annoying. Poor Abraham just disappeared in that mess.  After mentioning the missed lyrics, Ryan, compared Ali to  Dolly Parton. Hm.
Mario and Charlie wind things up. This performance is all kinds of awkward. Neither contender seems comfortable. Charlie is as weird as ever, making some really odd choices with his phrasing.
After the performances, everyone gathers on the stage. Ryan declares Ali, Nellie and Blake safe. That leaves Abraham, Mario and Charlie.  Ryan dishes out some notes.  He felt Abraham had the weakest performance and that Ali stole the song from him. Mario is a wonderful singer, but he needs to improve his acting. There are still questions about whether Charlie can be a professional or not.  Ryan thought all three struggled to balance star power vs being a team player.  After discussing the bottom 3 amongst themselves, the mentors come to a unanimous decision about who to send home.
Last Chance Performance

tgp2-adap-lastchance by mjsbigblog
Robert arrives with the callback list. The trio head down the hall to learn their fate. Charlie reads the list and smiles. After Mario's fingertips brush over the results he turns away. Abraham bursts into tears when he sees the list, but he is safe. It's Mario who will be leaving the competition this week.
"I'm going to take with me from The Glee Project, great professional and social experience that I think will change how I interact socially for the rest of my life." says Mario, "When people watch this competition, I hope they see a confident, fearless inspirational young man that happens to be blind, and not a blind person that they let on The Glee Project. I'm so much more than that. Blindness is last on my list."
Next week, the impeccable Jane Lynch will be on hand to teach the kids how to be Fearless.
Fearless Promo