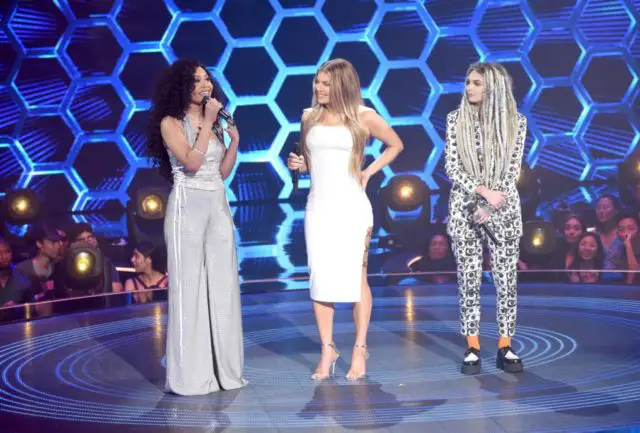 The Four season 2 Comeback Episode airs Thursday (July 26) and here are all the details we know so far.
First: Both the Comeback episode AND the FINALE were filmed last night (July 24). I have yet to track down any finale spoilers. But in any case–a The Four winner has been crowned. If I can dig up the details, I will post them in a separate spoiler post.
As far as the comebacks are concerned. I don't have results spoilers, but FOX has posted official photos from the episode. Eight contestants were invited to return. A few of them did NOT win a seat on The Four. Last season, there were only four artists invited back–all were , former seat earners. That show was a little complicated, with brand new challengers also thrown into the mix (eventual winner Evvie McKinnon claimed her seat that week).
From what I can glean, the 8 Comeback Artists (supposedly chosen via twitter vote) were paired up to compete. The winners of those matchups were then given the opportunity to challenge one of the current Four: Hip Hop artist Sharaya J, R&B artist, The Voice alum Ali Caldwell, 17 year old singer Leah-Jeneah, and R&B singer and music student Jeronelle McGhee.
Here are the eight comeback artists
Additionally, The Four fan favorite Zhavia (she's releasing a single same day) and winner Evvie McKinney are set to perform.
Check out the Week 7 The Four Comeback Episode photo gallery below: