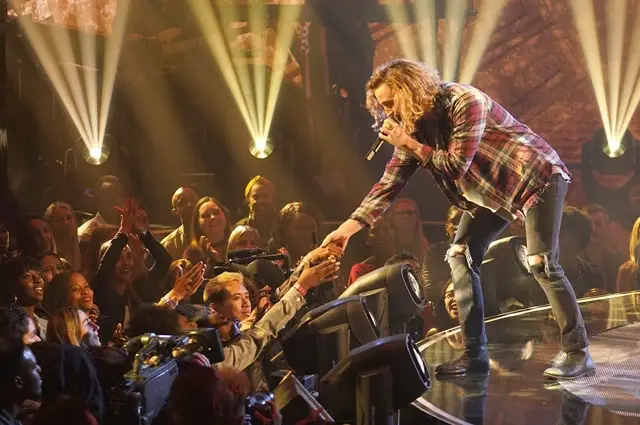 The Four: Battle for a Superstar Season 2 continues tonight on FOX. Musician, record producer and songwriter Sean "Diddy" Combs, record-producing hitmaker DJ Khaled, and recording artist and songwriter Meghan Trainor return to the show's "panel of experts." Pop star Fergie is back as host.
Four artists, spanning all music genres, will fight each week to defend their coveted seats on the show, as determined newcomers challenge them and try to knock them out of the competition. The singer who is the last standing at the end of the competition will earn the ultimate prize: the panel of industry experts becomes key players on the winner's team, along with a record contract and a lucrative spot as one of iHeartRadio's On the Verge artists.
Former X Factor UK contestant James Graham, Hip Hop artist Sharaya J,  and rocker Jesse Kramer  all return this week to face NEW challengers. However, Whitney Reign was knocked out of the competition last week by The Voice alum Ali Caldwell.
The show kicks off with The Four performing a group number, "I Can't Feel My Face."  The Four is in the Building! OK.
In just three weeks, the winner will be named, says Fergie…by the panel of experts. Next, a video package features Evvie McKinney, the Season 1 winner.
Dylan Jacob – 16 – Las Vegas NV – Flava in Ya Ear  – Craig Mack (The Four Version) – He's a "hip hop artist" and we see him acting pretty inappropriate with some girls. Yay. He shares that his family of 10 all live together in a studio apartment. He's been rapping on the streets of Vegas–dropped out of school to do it full time. He's determined to pull himself up by the bootstraps.  Right off, he's all swaggy and showing off in front of the judges. Let's see what he's got. He namechecks the judges and contestants and is all about how he's going to grab that seat. Not bad. Diddy is on his feat. Khaled blows his air horn. "You comin' with that season 2 talk" Meghan calls him "clever…you make me nauseous!" Diddy goes on nonsensically about his shoes…but he wants a challenge. "Very very impressive," he says.  3 blue rings Dylan Challenges Sharaya J.
Sharaya J – She's a Bitch by Missy Elliott – She's had ups and downs, but grateful she's still here. She notes that her stage personna is very different than her real life personality. She brings attitude to the stage and floor. Indeed, she's a pistol once she hits the stage. She knows how to battle. Bringing out these green rappers to challenge her. She gobbles them up and spits them out.
Dylan Jacob – Dat Cheese by Dylan Jacob – This original rhyme is not going to rule the day. Nice try kiddo, but nope.
Meghan thinks Dylan was Sharaya's strongest challenger yet. However, it was her best performance on the show. So… Khaled thinks Sharaya was way hungrier. "You're fighting for your dreams, you keep securing your bag," he says to her. Regarding Dylan's performance Diddy says, "You took a tour a little too prematurely." Yeah, his first outing was fiercer. "You became dinner." But, Diddy is sure that his future is bright. After that bit of faint praise, Dylan has NO chance with the audience. Sharaya wins the challenge. Dylan is eliminated. As Dylan takes his loss graciously, Diddy calls him a class act.
Jade Milan – 20 – Baltimore MD – Grenade by Bruno Mars – She comes from a musical family, which includes an uncle who is a well known gospel singer. She was cast as Nala in Lion King on Broadway at nine. Hmmm. Bad song choice. Grenade doesn't show off her vocals at all. It sits too low in her range and she's pitchy in spots. Meghan calls her voice "haunting" but she's not sure. Khaled says "the song didn't touch my bones." He right! Diddy says timing is everything. "I didn't feel any goose bumps." Yep. That performance was a snooze. Jade promises to bring the goosebumps if she gets another chance. She's going to sing "Unbreak My Heart" by Toni Braxton in the next round. Dang. All three rings are red. BYE GIRL. – Eliminated. WALK YOUR PATH WITH PRIDE.
Ronnie Smith Jr. – 25 – Miami FL – U Don't Have to Call by Usher – His family has been in the "mortuary" business for 40 years. His uncle just opened a funeral home, and that's where he works now. He drives the hearse, etc. He sang for the first time at a funeral. He's in line to take over the business, but his heart is in music. He's VERY CONFIDENT he won't leave The Four without a seat. Hm. Diddy wants to know if funeral homes are "scary."  Ronnie is very Usher-like. Nice voice, pretty falsetto. Not super original. But good enough to challenge…and lose probably. He's super tall and thin! (6′ 5′).  Khaled says he definitely can sing "Incredible," he says. Meghan says his riffs are clean, and she compliments his falsetto. Diddy wonders how bad he really wants it. "Ain't no time to be cool." – 3 blue rings Ronnie Challenges James
James Graham – On Bended Knee by Boyz II Men – James is defending his seat for the 4th week in a row.  He's panicking a little bit about the song he's been rehearsing. It hasn't clicked yet. I wasn't sure about that song choice at first. But after a bit of a slow start, James totally brought it. The performance is a slow burn, with James utilizing all his vocal tricks to great effect. That falsetto! He ends practically in tears. Meghan is melting and the audience goes crazy. Ronnie might as well turn around and head home now.
Ronnie Smith Jr – Let Me Love You by Mario – Oooh. He looks a little scared. He's a good singer. Very good in fact, but he's not matching James' passion. Not even a little. He brings it on near the end. But still. In a singing competition, the singer with the biggest notes wins. The end.
Meghan liked Ronnie's song choice, but says he doesn't need dance moves for every single word.  She says James knows what he's doing and always surprises her. Diddy doesn't have time to play! He disagrees with Meghan. He thinks Ronnie grew with the second song. He wanted more emotion from James. WHAT. Wrong. JAMES CLEARLY won that challenge. And the audience knew it.  James Won the Challenge. Ronnie is Eliminated
Khaled says The Four are holding on to their seats longer this season. No kidding. That's not an accident considering the challengers are mostly cannon fodder. The producers want some fan favorites to stick around, obviously.
Noah Barlass – 26 – Welch OK – The Middle by Zedd and Maren Morris – Describing himself as a pop/R&B singer, Noah says he comes from a real small Oklahoma town. He grew up on a farm. But it was hard for him to be "himself." He didn't do rodeos or play football.  At 17, he "ran away" to Nashville. He's terrified to be rejected. But he knows he needs to step out. He performs a slinky souled up version of the song. He's good. Nice tone and phrasing. REALLY nice phrasing. "You are so different in the best way," says Meghan, "You have this crazy powerful voice…you're really talented." Diddy didn't like his stage presence, the way he "walked around the stage." Meghan argues with him a bit. "We're here to actually have a vocal fight…I want to see a fight." Diddy counters. I'm not sure what he's asking for? Diddy's fake drama is tiresome. Khaled couldn't believe the notes he hit in the middle. He felt his confidence. But "You've got to fight for your life." After having to wait through a break, we learn that Noah gets 3 blue rings and Challenges Jesse
Jesse Kramer – Nothing Compares 2 U by Prince – Noah is a better singer than Jesse, for sure. Last time Jesse performed, Diddy said he wanted him to show another side of his talent. Jesse plans to deliver a stripped down performance. Ehhhh. I find his vocal tone tuneless and grating. Having said that, the only way to beat Noah is to sing a ballad. But unfortunately, putting his voice in the forefront only highlights his vocal flaws. He sounds like he's garbling a box of rocks.
Noah Barless – Who You Are by Jessie J – Uh yeah. Noah is smoking Jesse. He's just hands down a better singer. Who cares if he doesn't move around the stage. LISTEN TO THAT DANG VOICE. He deserves a seat. Meghan is on her feat. The crowd is chanting.
Khaled says he likes Noah's authenticity and notes the crowd is connecting with it already. But he thinks Jesse had his best performance yet. Diddy feels Jesse showed versatility, finally, but the song needed to be performed with some finesse.  "I don't think the performance was great." However, he still didn't love Noah. Still wrong about Noah. Jesse is eliminated! Noah wins the challenge. The other contestants trash talk Noah, saying he'll be knocked out after his first challenge. Jesse quotes some rock n roll as he exits, "Here I go up on the stage…turn the page." Diddy feels Jesse is limited. And about that, he is correct.
Kateri Bluford – 23 – Milwaukee WI – I'm Getting Ready by Tasha Cobbs Leonard – She's a gospel singer who has struggled due to her weight. Her mom suffered from depression. Eventually, Kateri found her confidence. She's a decent singer but she won't beat Ali, the only contestant available to challenge. There's something about Kateri's tone…I don't really care for it. Plus, she's missing some fire. Meghan loves her confidence, sass and riffs. Diddy calls the performance "solid." He's not sure she's ready to "eat." Kateri makes her own case. Hm. "Let's battle," Ali says, probably knowing she will roll right over the contender. 3 blue rings Kateri will challenge Ali
Ali Caldwell –  Somebody Loves You Baby by Patti Labelle – Oh. Ali says the others are giving her the cold shoulder because she beat out Whitney last week. But she don't care. And yep. Once again the producers sent a singer out to slaughter. Kateri is like a baby giraffe. And the Lioness is eating her up. After she's done, Ali flips her hair and casually walks back to her seat. Then, she proceeds to ignore James as he offers up a fist bump. OK THEN.
Kateri Bluford – Because You Loved Me by Celine Dion. Kateri is delivering a very nice and earnest performance, but…nah. I'm sure she's hit at church. But Ali is going to be really hard to beat. She's a beast.
Meghan thinks nobody picked Ali tonight, because she's intimidating. She compliments Kateri's carefully placed riffs. Khaled says Ali sounds mixed and masterd but Kateri is also incredible. Ali Caldwell Wins the Challenge, Kateri is Eliminated
Next week is the LAST for new challengers. The following week is "comeback week." Fans can vote for their favorite eliminated artists on twitter. The week after THAT is the finale.
Tonight: Former X Factor UK contestant James Graham, Hip Hop artist Sharaya J,  and  The Voice alum Ali Caldwell all defended their seats and will return NEXT week to face NEW challengers. However, rocker Jesse Kramer  was knocked out of the competition by blue eyed soul singer, Noah Barlass, who will be defending his seat next week alongside the rest of The Four.
Found this singer, Katt Gerardi, on the FOX press site labeled as a week 5 challenger. Hm. Guess she didn't make the cut.