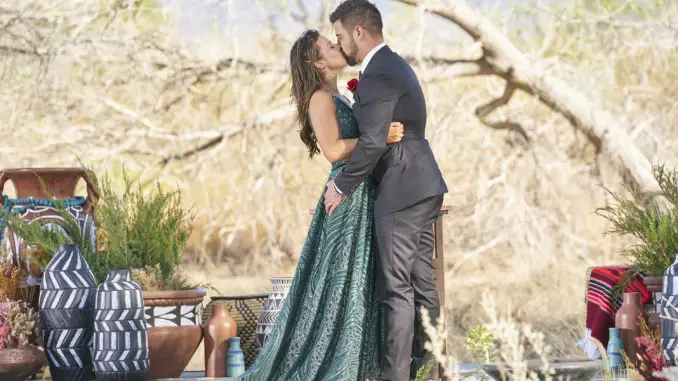 It's been less than three months since Bachelorette Katie Thurston and Blake Moynes got engaged at the end of The Bachelorette summer edition. And it's already splitsville for the couple. The two announced their breakup on Instagram, posting identical announcements on their respective accounts:
It is with mutual love and respect that we have decided to go our separate ways. We are so grateful for the moments we shared together and the entire journey that has unfolded this year, but we ultimately have concluded that we are not compatible as life partners, and it is the most caring choice for both of us to move forward independently. We ask for kindness and privacy as we both navigate this transition. Both of us will forever want the best for one another and ask you to please support us in our decision.
Their long distance relationship may have contributed to the split. Or that they barely knew each other. Katie moved to San Diego after the season concluded, while Blake returned to his home country, Canada. Also, his job takes him all over the world. He recently traveled to Africa.
For Blake, it's three strikes. He originally appeared on the Clare Crawley/Tayshia Adams season last year, and attempted to woo both Bachelorettes.  Tayshia "invited" Blake to meet Katie sometime in the middle of jer season, and the two seemed to hit it off. They admitted later that Blake had "slid into" Katie's DMs before the season started. Thirsty! 
Katie initially seemed drawn to contestant Greg Grippo. And she probably would have chosen him, if he hadn't abruptly left the show after he accused Katie of not reacting to his emotional state properly…or something.
Blake and Katie both seemed determined to give it a go. But the relationship felt hasty. For Katie, she ran out of viable options if she wanted to end the season with an engagement ring on her finger. For her part, she's already carved out a decent career as an influencer, which was probably her goal in the first place. 
Oh well, the two will always have "their song," American Idol alum Laine Hardy's "Memorize You."
*
 

 

 

View this post on Instagram

 

 

*