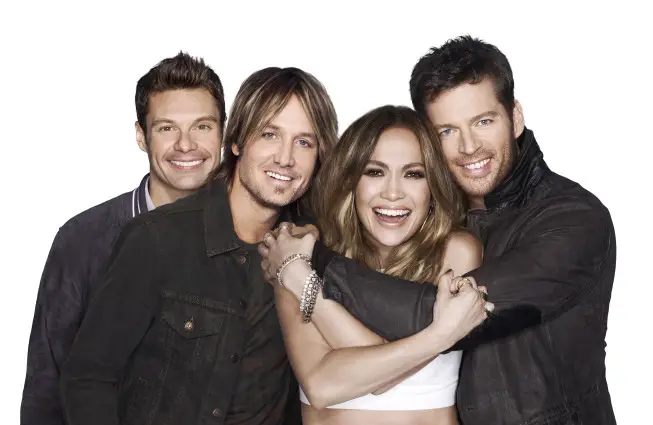 People magazine is reporting that Keith Urban, Harry Connick Jr. and Jennifer Lopez will return to American Idol next season as judges.
Jennifer Lopez, Keith Urban and Harry Connick Jr. will return to the American Idol judges table next season, a source confirms to PEOPLE.

Dubbed "the New Dream Team" last fall, the trio have had a "fantastic" experience on the reality competition, says the source.

"They like and respect each other a lot. What you see on camera is exactly what you get when they're off – fun, playful but they all take this job very seriously."
When Ryan Seacrest announced the audition cities for Season 14 on Wednesday (thereby announcing Idol's renewal for another season) he mentioned that all of the judges hometowns were represented. Nashville is Aussie Keith Urban's adopted home, and Harry Connick Jr and Jennifer Lopez hail from New Orleans and New York City respectively.
It was hard to tell if Ryan was really alluding to the judges returning for another season or merely making an observation. Now we know. Maybe. This is actually just a report from sources. But I bet it's true.
For the record, I'm absolutely fine with all 3 judges returning. Some of their hijinks are annoying, and there are TOO MANY SHOTS OF JLO. But I think the advice they dispense to the contestants is, for the most part, astute and constructive. Yeah, at times they seems to be towing the producers line, but when has that not been true? Any panel is going to be required to manipulate the viewers.
I think continuity is important. At this point, change is not gonna help the show. There were massive changes put into place this season, and the aging franchise still bled viewers from the key demo. Keep Ryan Seacrest (Betting an announcement of Ryan's renewal will happen at Monday's FOX Upfront presentation), keep the judges (may be announced as well, if their deals are in place) and PUT TOGETHER A GREAT CAST OF CONTESTANTS. Maybe MAYBE FOX can keep the show from bleeding out altogether.
ETA: But Randy Jackson has to go, finally. HAS TO GO. He's useless.
Via People