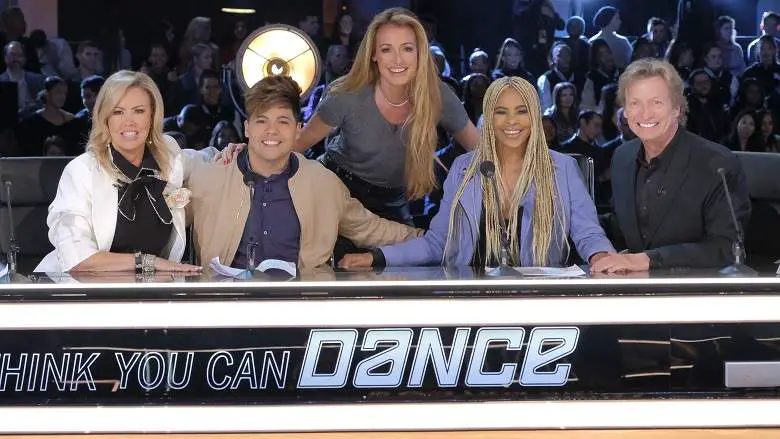 Hey All :)
We are back at the Academy tonight as all the remaining contestants try and earn a place in the top twenty. As Mandy Moore gets them ready for a huge group number, everyone is hoping to be on the ten guys and ten girls selected to face the final judgement and make it to the live shows!
Segment 1
The contemporary round is still ongoing from last week's episode. In the next group, Jarrod Tyler Paulson and Luke Romanzi. They are both in their genre here. As expected, both guys get the steps but there is something missing here. I didn't feel anything from either even though he did the steps. It was very by the numbers. Jarrod is told that the performance wasn't the best. They need a little more work from him and so, he is eliminated. Wow. I didn't expect that. Jarrod is comforted backstage by his girlfriend who is next up to dance. I actually thought he deserved another shot but so it goes. Luke gets his results and they also tells him he needs work. He is also eliminated. Damn. Two contemporary boys eliminated- in contemporary. To be honest, it is sometimes more difficult to dance in your own style because so much more is expected of you.
Madison is in this group along with Juliette and Kaeli. The girls in this group were overall stronger than what we just saw from the guys. Overall, it was a better performance. Juliette is told she is out because they just didn't see it with her. Kaeli is next up with her results and they wanted her more in the pocket sometimes and more authentic. It isn't enough for her to move on as she is also eliminated. Wow. This is rough. Last but not least is Madison. Her beau was eliminated. Will she be as well? He is backstage hoping that she got a yes. COMMERCIAL. Oh the drama and suspense….
https://youtu.be/IBmPkBdbupg
Segment 2
…and Madison is of course… a major yes. Mary is all raves. They love what she just did. Jarrod is very proud of her and she plans on making it to the top ten for the both of them. Aww.
The next day has arrived with 43 dancers left. Mandy Moore is on hand for the group round. Robert Roldan is assisting with the choreography. Mandy is taking the three rounds of competition they did already and using new music to make a big ol' group routine for them. So they need to remember their hip-hop, contemporary, and ballroom. The dancers are inured, tired, and depleted- but Mandy notes that that is when the best stuff comes out. She wants them to push. They have forty five minutes to practice in groups before performing in front of the judges.
As usual, some of the dancers are taking a leadership role (which annoys others). A lot of people are stressed, which is natural. Eddie (the tapper) in particular is having a hard time dealing with it all.
Segment 3
Nigel brings out all the dancers. They are all in black and white outfits. Nigel does them this is the final hurdle before the solos. He tells them not to screw up. CUE MUSIC. That was hot. It is so hard for me to judge it accurately considering how many people I tried to keep my eyes on. What I will say is this- some people stood out for me for good reasons and others for the wrong reasons. But I can't really name them. I will say that they did well as a group and I was impressed. Dom is crying as the judges stand up to applaud them on a job well done. I have a feeling these decisions will be more based on the previous rounds than what we just saw because that group routine was just too hectic to pinpoint specifics.
https://youtu.be/DXrBoXvbKYo
Time for results. Sophie is asked first to step down. And Laurie scares her a bit at first but then tells her she is safe. Whew. Sydney is next up and Mary informs her that she is eliminated. Keep working, Mary states. Here come the tears. Mariah and Melany are both asked to step forward. Both are safe to dance their respective solos.
Segment 4
Some more results now. Ezra (here with his sister Stephanie) is told that he has come into his own. Stefan comes up and is told to immediately go prepare for his solo. In fact, the entire group is safe. Desi (the hip-hop girl) is talked to by Laurie. She tells her that she is not advancing despite Laurie fighting for her. Desi is proud of herself for the things she was able to accomplish. Others also got a no- like Jordyn, Elan, and Caroline. Also, James is sent packing. Some also scraped by barely, like Eddie and Madison. The group round is over and only 33 dancers are left to do a solo.
Gino is first up with his solo. MMM. This kid is good. I remember his audition too and he was great then as well. So much emotion coupled with exquisite steps. So good. The judges seem pleased.
https://youtu.be/UOX7rd3TgYM
Segment 5
Sumi is next to do a solo. Talk about musicality. This girl is killing the song. She just completely took Demi's Skyscraper and made a relevant hip-hop routine out of it. And of course, after seeing only two solos, we hit montage time. We get to see a split second of various routines. Oh Nigel, the way you edit the show will never surprise me. We all can tell who(m) you are focusing on and who you aren't and the reasons why.
https://youtu.be/_igksEgjeXU
Tapper Eddie is next up. We get to see his solo as opposed to just mere seconds of it. He is such a stunning and exciting tap dancer. My only concern with him is how the judges are going to treat him when he does other styles because as we saw in the previous rounds, he gets a bit in his head when he has to do other genres of dance. In terms of this solo, Eddie feels he didn't do his best. His strap came undone during the dance but overall, I thought it was okay. A few other dancers are also struggling with their solos.
https://youtu.be/9You1B-RMAs
Segment 6
Bailey is now preparing for his final solo. Remember, he is the dancer last week who wanted to prove he is more than just a B-boy. He's a very cool and entertaining dancer. Though I need to admit, nothing about what he does screams to me "Oh man, I haven't seen this done before" or "I haven't seen this done so well before" But we shall see. The solos are over now and now, the dancers wait for the judges decisions.
https://youtu.be/KHCbWCnGphc
Anna is first to hear her fate. Nigel was disappointed with her solo. She is safe though because of her previous rounds. Sophie is also in. Ashley as well. Sofia is told she is in too. Ditto for Nazz. Olivia unfortunately is cut. As is Abigail. Alexa is also sent home. But there is good news for Madison and Melany. Stephanie Sosa is also in, as is Sumi. And Mariah too. And that's it for the girls.
For the dudes, Bailey is out first to hear his results. Of course he is in. Brandon, Benjamin, Ezra, Vlad, Nathan, a Aleksandr, Gino, Bryan (Clocks) are all IN. John John is sent home however. Also eliminated are Howard and Lukas. The final spot in the boys is between tapper Eddie and ballroom dancer Stefen. OF COURSE NIGEL is making Eddie sweat it out. The judges give both the boys criticism but Eddie gets to stay. SHOCK. But not really if you know how Nigel works. You could have written the script that he would make Eddie wait until the last second and then pretend as though he is eliminated before giving him the go ahead. Because DUH.
Next week- it is the FINAL CUT.
Here's how it works. The girls go first. They are paired with an All-Star and a choreographer to do a routine outside their style. The top five will be announced. Then the following week, the boys take the stage. Once the two weeks of routines are over, we will finally have THE TOP 10. Same system as last season. See you guys next week and thanks for watching with me this week. :D
Top 10 Guys
Bailey
Brandon
Benjamin
Ezra
Vlad
Nathan
Aleksandr
Gino
Clocks
Eddie
Top 10 Girls
Anna 
Sophie
Ashley
Sofia
Nazz
Madison
Melany
Stphanie
Sumi
Mariah