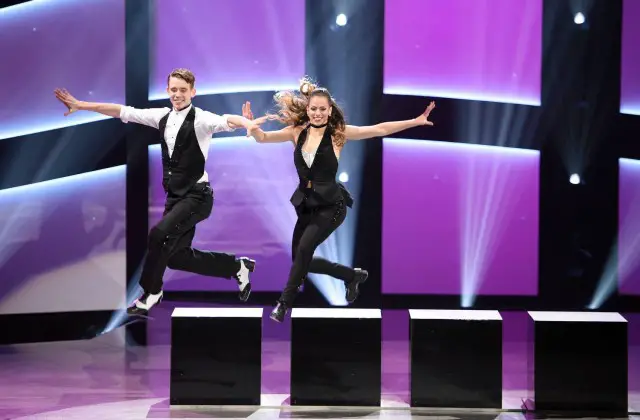 SYTYCD 12 Final 4 – Gaby Diaz & Zack Everhart – Tap – VIDEO
Gaby and Zack – Tap by Anthony Morigerato – Dibidy Dop by Club Des – Nice to see they brought Zack back… but where's Aaron? (insert sad face here). Travis thinks it will be a "moment". It's not just tap, it's a little broadway too. Feels like a Fred Astaire throwback a bit. They're dancing mostly on boxes with gaps between them. I'm so glad they didn't miss a step cause that would have ended their dancing for a while. Great routine. High difficulty. Awesome way to end the night. Standing O from all three judges. Nigel might get his tap winner after all. Nigel praised Anthony's choreography, and looks back on how they almost didn't take Gaby. Nigel says Gaby has something very special. Paula calls Gaby a tornado. Jason says he's in love with what Gaby does. Jason stands on the desk and gives Gaby a standing O again. Wow.
Click for Mac's full SYTYCD Season 12 Top 4 Results & Performance Recap
Gaby's Solo- Magalenha by Sergio Mendes – To think that Gaby actually was cut in her first audition this season. That's insane. Gaby says Travis's round was her best round in Vegas. Her favorite performance was her duet with Robert (Angel/Mandy Moore). Travis says that was his favorite of the season. Gaby plans on using the money to pay her parents back for all the leotards and tights. LOL. Gaby's tap solo tonight is ELECTRIFYING. Fast tapping. So good. Her best solo this season. Hands down. I wanted more!