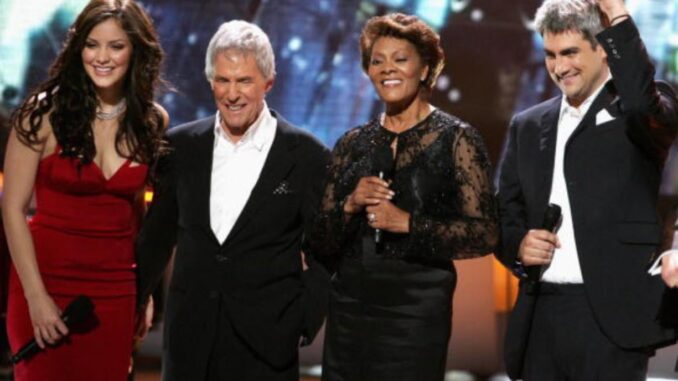 Songwriter, composer, producer and arranger Burt Bacharach, a dominant force in American popular music for half a century, died of natural causes in Los Angeles on Wednesday. He was 94.
Bacharach's publicist Tina Brausam revealed the news on Thursday, reports Variety.
His songs, many of them written with the late lyricist Hal David, became huge hits for singers like Dionne Warwick and Dusty Springfield. Bacharach earned six Grammys as a writer, arranger and performer from 1967-2005.
He also wrote many beloved movie themes in the 60s and 70s and was recognized by the Academy Awards and Golden Globes for his work on Butch Cassidy and the Sundance Kid (1969) and Arthur (1981). He earned an Emmy for a TV recital of his work in 1971.
On Broadway, the 1968 Bacharach-David musical Promises, Promises played 1,281 performances and garnered a Tony nomination as best musical.
Burt Bacharach and Hal David provided a slew of Top 10 hits for Dionne Warwick: "Anyone Who Had a Heart," "Walk on By," "I Say a Little Prayer," "Message to Michael," "Do You Know the Way to San Jose," "This Girl's in Love With You" and "I'll Never Fall in Love Again." Warwick also sang the theme song for the 1968 Michael Caine film Alfie.
More Top 40 hits from Bacharach included Jackie DeShannon's "What the World Needs Now," the 5th Dimension's "One Less Bell to Answer" and Bobby Vinton's "Blue on Blue."
Hits featured in films abound: "What's New Pussycat" by Tom Jones, Dusty Springfield's "The Look of Love" was featured in 1967's James Bond spoof "Casino Royale." B.J. Thomas' "Raindrops Keep Fallin' on My Head," from "Butch Cassidy and the Sundance Kid," reached No. 1 and Bacharach received Oscars for best original song and score.
In 1985, he and his wife at the time, Carole Bayer Sager, co-wrote "That's What Friends are For," which became a massive hit for Warwick, Elton John and more. The song won a song of the year Grammy.
And as far as TV talent shows are concerned, his songs are ubiquitous. "What the World Needs Now," has been sung on shows many times over the years, often becoming viral.
Burt Bacharach plays piano as Season 2 finalist sings "What the World Needs Now"
American Idol season 12's Kree Harrison sings "What the World Needs Now"
Pia Renee sings "What the World Needs Now" in the The Voice Knockouts 2021
The Voice 22 – Morgan Myles sings What the World Needs Now
"Burt was one of the greatest pop composers of all time"
Former American Idol producer, Nigel Lythgoe wrote on social media: "Burt was one of the greatest Pop composers of all time. He was a hero of mine and a real star for us on American Idol. He composed "You'll Never Get To Heaven" well that's where he's now going to link up with his old lyricist, Hal David. May they both Rest In Musical Heaven."
Indeed, Bacharach and his music appeared time and time again on American Idol during the FOX years. American Idol season 1 featured a "Burt Bacharach Love Songs" theme in 2002, with Bacharach mentoring the finalists. Bacharach appeared on season 2 to direct a group song. He also appeared on the season 5 finale as the finalists performed a medley of his hits with Dionne Warwick. Season 12 featured a Bacharach theme as well.
Watch Burt Bacharach mentor Kelly Clarkson before she sings "Walk on By"
The season 5 finalists sing a Bacharach medley with Dionne Warwick on the finale.
Part 1
Part 2