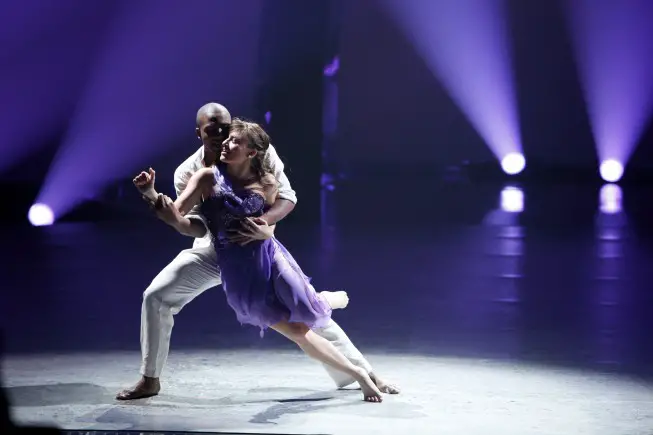 I'll be live blogging tonight's So You Think You Can Dance Top 14 performance show right here. This week's guest judge is Carmen Electra and choreographer Travis Wall.  Videos VIA IdolXFactor
I LOVE Cat Deeley's Asian-inspired dress. SO GORGEOUS. I love her motherly-ness with Travis. So sweet. Travis got the call last night, and said he had to change his pants afterward.
Top 7 Guys perform – Justin Giles – Contemporary – "Prague" by Damien Rice – Piece is about the 7 stages of grief, after losing a significant other. Shock, Anger, Denial, depression, guilt, bargaining, acceptance.
http://www.youtube.com/watch?v=BRKpYYa7ipQ
Melanie & Marko – Ray Leeper – Jazz – "Americana" by Lady Gaga – Melanie is Travis' favorite dancer in the competition. Judges love Melanie & Marko again! 1- 888-836-7601
http://www.youtube.com/watch?v=_5GF5OZCnr8
Sasha & Alexander – Sean Evaristo – Hip Hop – "To The Moon" by Miguel – Ohhh. Mary and Nigel did not like that. Swag missing, says Nigel. 1- 888-836-7602
http://www.youtube.com/watch?v=9m51nLQA2tY
Jordan & Tadd – Toni Redpath – Smooth Waltz – "Nocturne" by Secret Garden – Mary thought it was dreamy and romantic. Travis is giving the couple some really good constructive criticism! Carmen sounds like an idiot. 1- 888-836-7603
http://www.youtube.com/watch?v=tBKG-UwQUoU
Clarice & Jess – Contemporary – Justin Giles "Light Through the Branches" – Celeste Lear – Wait…why is Jess dressed like a Mormon missionary? It was Travis' favorite routine from the couple. Nigel and Mary both enthusiastic about the routine. 1- 888-836-7604
http://www.youtube.com/watch?v=DyWpw4tTucQ
Ashley and Chris – Salsa – Liz Lira – "Mambo Beat" by Tito Puente – Travis is NOT yessing these contestants to death! He says they lack chemistry "It didn't pop" he says. BOOS! Entire panel not feeling it, though Mary had some compliments for Ashley. – 1- 888-836-7605
http://www.youtube.com/watch?v=-BNs2EgJy10
Ryan & Rickey – Chucky Kaplow  – Zombie Jazz – "Fashion" by David Bowie – Chuck 1- 888-836-7606
http://www.youtube.com/watch?v=WM7HkCr351A
Caitlyn and Mitchell – Mandy Moore – Contemporary – "To Love You More" by Celine Dion – Judges loved it. They aren't going anywhere. 1- 888-836-7607
http://www.youtube.com/watch?v=OBVFo-tREUk
Top 7 Girls Group – Ray Leeper – Jazz – "My Discarded Men" by Eartha Kitt
http://www.youtube.com/watch?v=KE9yqjltIVA