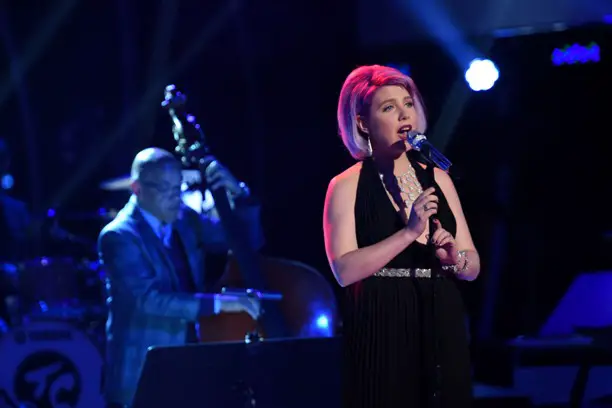 The American Idol Live! tour is currently in full swing. The American Idol 14 Top 5 will finish a 7 date swing in Florida with a concert in Jacksonville tonight, after which they head to the storied Ryman Auditorium in Nashville TN.
The tour only took The Top 5 Idols on the road this year, a cut back from the previous years which featured the Top 10/11 finalists. However, some of your favs who didn't make the cut will be opening for the Idols on the road.
Joey Cook finished a six concert run last night. The 7he place finisher has also begun a crowdfund project for her debut album. She just added a $15 album download perk! Click to check that out.
Billboard provides the full schedule of Idol openers:
Sarina-Joi Crowe – Nashville TN – July 17
Adam Ezegelian – Atlantic City NJ – August 1
Qaasim Middleton – New York City – Aug 5
Trevor Douglas – Grand Prairie TX – Aug 12
Savion Wright – Houston TX – Aug 13
Daniel Seavey – Seattle WA – Aug 25
Adanna Duru – Riverside CA – Aug 28
"Opening up the show is such a thrill," Joey told Billboard. "It's crazy to think that I was the first performer to kick off this year's American Idol tour. Every time I stepped on the stage, I heard the gasps and people talking about how surprised they were to see me and how absolutely excited they were. I start off every show with 'Fancy,' and the crowd's response is simply electric. The other two songs I play are on my uke, and I love this combination — just me and my uke, like old times."
"When I found out I was going to be performing on the tour I was really excited because it gives me another great opportunity to meet fans," said 16 year old finalist, Daniel Seavey. "I also miss my Idol family more than words can describe, so when I heard they would be there I almost burst into tears."
Returning to the "real world" after Idol has had it's ups and downs for Daniel. "Going to the movies is entertaining in a whole new way because of how many times I get noticed." However, Daniel has had to deal with typical high school politics: "There have been some struggles with friends and other teens, mainly at school, because not everybody is supportive of me and many of them are very open about not being supportive of me."
"It's been awhile since the live TV shows and this will be nostalgic for me," said Adanna. "It's also great that we can perform without the pressure of being judged. It'll just be good, clean fun!" Adanna will sing both covers and originals. Currently she has been working on Exhibit A, a pop/R&B mixtape filled with original content that she plans to release this summer.
Read more at Billboard Magazine