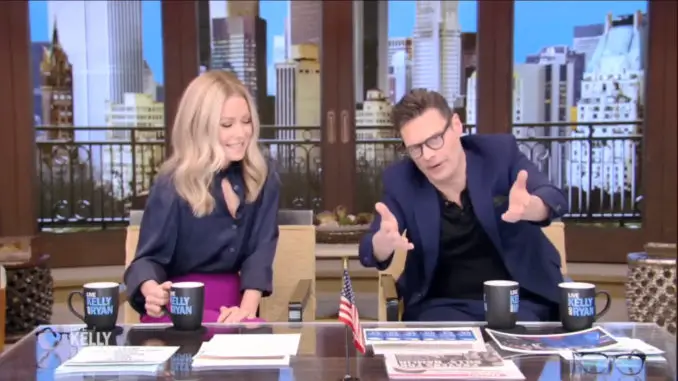 The "feud" between Ryan Seacrest and Andy Cohen continued on Tuesday morning. The two hosted New Year's Eve specials from Times Square in New York City on Saturday night (Andy hosted with Anderson Cooper for CNN). Like last year, the two stages were set up close to each other.
On Live! with Kelly and Ryan, the American Idol host said that he tried to say hi to the Bravo star, but he never acknowledged him.
"My big stage was right in front of Anderson and Andy and so when I was not working, I was trying to get their attention," Ryan said. "I thought maybe I was in the shot. I just wanted to wave and say hi. You know, they have a great show."
"Andy did not turn around"
According to Ryan, Anderson turned around and waved at him mouthing "How are you? and "Have a good show." But "Andy did not turn around," Ryan pouted. SNUBBED!
Kelly Ripa, who is good pals with Andy, interrupted to disagree. "That's not true. He said he was trying to get your attention." Taken aback by her comment, Ryan said, "Really? I'm like, 'Hey, it's me. Guys, it's me. Put me in your shot. Put me in your background.'"
Ryan explained that all the New Year's Eve hosts in Time Square are "within 10 feet of each other doing the show."
A few days before the big broadcast, Ryan took a few swipes at Andy, saying it was a good idea that CNN banned the hosts from drinking during the broadcast. Then he mentioned how the previous year, a drunken Andy dissed Ryan's show, ABC's New Year's Rockin Eve, calling them "losers" on the air. Ryan felt confident that a sober Andy would have behaved better.
Well maybe not! On Saturday's CNN New Year's Eve special, a supposedly sober Andy asked The Masked Singer host Nick Cannon a bunch of personal questions about fathering 12 kids, and asked him if he was planning a vasectomy. Nick was a good sport about it all.