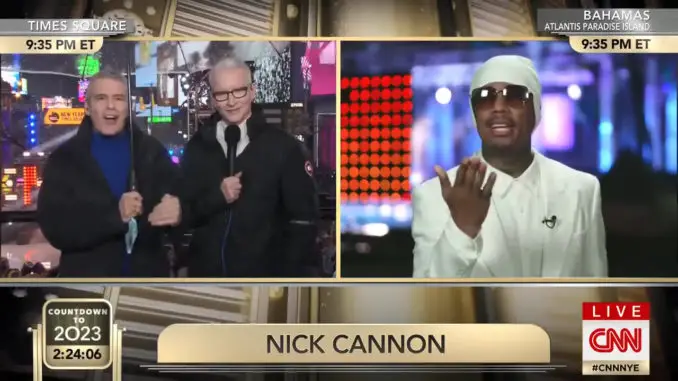 Welp. This awkward interview with Nick Cannon by Andy Cohen and Anderson Cooper from their New Year's Eve special on CNN went off the rails pretty fast! Lucky for the hosts, Nick laughs off the personal questions about his family planning…or lack thereof.
Nick was speaking remotely from a DJ gig at the Atlantis Paradise Club in the Bahamas. Andy and Anderson were standing in the rain in Times Square. After a few polite questions asking about his health (Nick is still recovering from a bout of pneumonia, complicated by his Lupus diagnosis) Andy got right to it.
"You are single-handedly repopulating the earth"
"Nick, you are single-handedly repopulating the earth, I give it up to you man!" said Andy about the birth of Nick's 12th child earlier this month. "What is your plan here? What is your endgame with the kids?" Andy asked, as Anderson stood by silently shaking his head. "You just want to keep going, or is there a number? Do You want to hit 20? Where we going with this?"
Miley Cyrus New Years Eve Duets with Dolly Parton, David Byrne
American Idol and Tik Tok Star Jax Got Engaged!
None of your business would have been a fine answer for Nick! But he played along. "Clearly," The Masked Singer host replied, "I don't have a plan." Taking on a more sober tone, Nick continued, "Seriously, it's just so much joy and elation that I have…the family that I have. I embrace it and I love it, but I don't have a plan! That should have been clear from the jump."
Would Nick consider…a vasectomy?
"A vasectomy?" Andy asked, shrugging his shoulders, while Anderson looked like sinking into the earth at that point would be preferable. "Is that what you want me to get," Nick shot back, clearly joking. "This is my body my choice!"
"Yes, yes, that is right," Andy yelled. "Good for you. Good answer!" Was he really not drunk? Earlier in the broadcast he mentioned he had edibles in his pocket…so maybe! Anderson jumped in to ask Nick if he had any New Years resolutions. He doesn't make them!
But Andy couldn't let the questions about Nick's family go. He asked if Nick was able to see his entire brood over the holiday. "I was St. Nick, man," he replied. "I was traveling on a sleigh throughout the nation making sure all the kids was happy and full of holiday cheer."
Nick called fatherhood his number 1 priority. But careerwise, he's proud of his reality show Wild N Out which finished its 20th season. The interview ended with Nick answering questions about the "wildest" things he's ever done. The wildest place he found out he was going to be a father? A church. The wildest place he had sex? ALSO A CHURCH.
Watch the interview below.