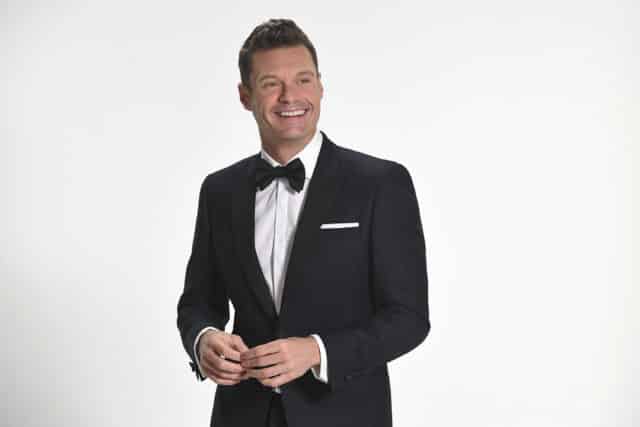 Ryan Seacrest accuser Suzie Hardy has filed a police report with the LAPD regarding her sexual misconduct allegations against the producer and American Idol host, she reveals in an op-ed piece for Hollywood Reporter. Here's an excerpt below:
So much for "Let's believe the women," right? Unless you're the President of the United States or a TV cash cow, apparently. Those who work with Ryan seem to hope I will just go away. Well, I'm not going away. I'm thriving in the truth and feel more inspired than ever. I recently contacted the LAPD and filed a police report so I'm guaranteed a real investigation this time. Ryan's team of lawyers, who are also representing Harvey Weinstein, do not intimidate me. If Ryan is so innocent, why hasn't he called me a liar or sued me or presented evidence of my so-called extortion plot?

These were not new allegations to Ryan, E! and many in my close-knit circle of family and friends. I gave a full account of my experience to the E! HR department in 2012, while I was still employed. Soon after my truthful confession, I was let go without severance, compensation or any credible explanation. After six years of faithful work and dedication that included humiliating episodes of inappropriate advances, touching, groping and assault, I was gone, just like that.
The Hollywood Reporter has confirmed that a police report has been filed and is being investigated by the LAPD. THR added a response from Seacrest and NBC Universal:
Seacrest has denied any inappropriate behavior, calling the claims "reckless allegations." An investigation conducted by an outside law firm cleared him Feb. 1, finding "insufficient evidence to support the claims." The company's investigation focused on witnesses with first-hand knowledge of interactions between Seacrest and Hardy. NBC and Seacrest have said Hardy was not terminated, her contract ended when Seacrest's tenure on E! News came to a close. NBC and Seacrest's attorney declined to comment further.
UPDATE: Statement from Seacrest's attorney, Andrew Baum:
After Mr. Seacrest denied each and every one of Ms. Hardy's decade old claims, after Mr. Seacrest refused to pay Ms. Hardy any money whatsoever, and after an independent legal investigation did not support her claims, Ms. Hardy went to the press attacking the legitimacy of the investigation. Now, after being refused money and unhappy with the independent legal investigation, Ms. Hardy now claims to have spoken to the authorities. We will continue to cooperate and we remain confident that Mr. Seacrest will once again be cleared of any wrongdoing.
So far, no other woman have stepped forward to accuse Seacrest of misconduct, while people who have worked closely with him have gone on record to support him.
Now that the police are involved, we'll see what happens next.