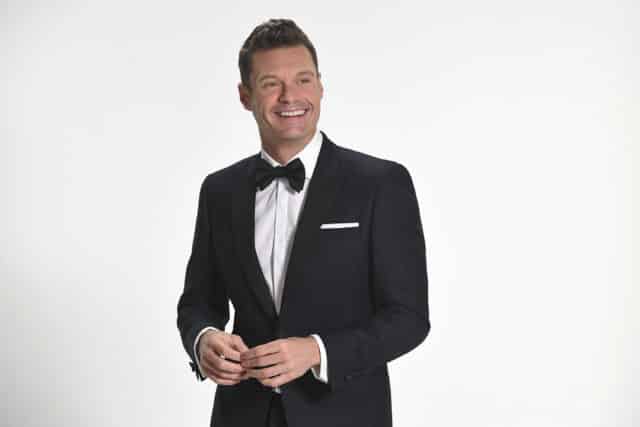 Debbie Williams, who worked with Ryan Seacrest for 15 years on American Idol, is defending the host against sexual harassment allegations.
"I call BS on this whole thing," she says regarding the accusations of sexual abuse from an E! News wardrobe stylist. 
Ryan Seacrest Had an Awkward Night on the Oscars Red Carpet
Kelly Ripa Defends Ryan Seacrest on LIVE (VIDEO)
Ryan Seacrest E! Stylist Reveals Sexual Misconduct Allegations
Williams, who was the lead stage manager on Idol reached out to the The Wrap after learning of the stylist, Suzie Hardy's accusations.
"I've been in this town since 1976," said Williams. "Worked in a lot of different capacities, been stage-managing for 34 years. I've worked with everybody. And never, never in all my 15 years with him, if you told me this story, would I believe you."
"I met him when he was 26 years old and we started Idol,'" she said. "I had never seen a more driven, professional kid that age in my life. I was like, 'Who is this guy?' We didn't know what the show was going to be at that time — we had no idea. But he had a work ethic like nobody I'd seen in a while. When he came to work, he worked. Whether he was in his dressing room, whether he was onstage, this kid was focused and he was working.
"And he was so focused in the beginning, I almost thought he was a eunuch. I thought, 'This kid doesn't care anything about anything but his career.'"
While Hardy alleges that Seacrest brought her to the Idol set to dress him, Williams said she never saw her.  "We had a stylist, Miles [Siggins]." 
Seacrest was never alone in his dressing room, said Williams.  "I was in his dressing room constantly," she said. "I thought about it, and there was never a time when there weren't several people in there. He was always doing five things at once. He wasn't just getting his makeup on or putting his clothes on — he was making a deal, talking to somebody on the phone."
Even when he was getting ready, he went into the other room and changed into his suit, but he was still talking to somebody out here or on the phone with somebody."
Seacrest's demeanor was 100% professional on set. He didn't flirt with members of the staff.  "In fact, there was a moment in the beginning of  'Idol' when there might have been someone in his dressing room, doing his makeup or something, who was a little flirtatious with him. He did not like it. He felt uncomfortable with it." The flirtatious employee was replaced, Williams said.
"God knows I've worked with people who are less than lovely," Williams said. "I have been sexually harassed, and I've worked with people who I later see things in magazines and go, 'Oh yeah, I knew that.'
But that was never Ryan, ever. If I thought for a second, Ooh, I've seen things, I would call him out. But nothing. Ever. Nothing. The crew was all talking at the Oscars, and everybody — audio people, camera guys, everybody — went, 'We have never thought this guy was anything but a class act."
As avid supporter of the #MeToo and #TimesUp movement, the accusations really bothered her.  "I love this movement, I love that people are coming out," she said. "I love that some people are saying things and other people are losing their power, because that's legit. But in a case like this, there's nothing legit about it.
"I'm not the guru of this. I'm just dealing with a human being that I know has integrity. I am a big advocate for women's rights, but on this one I'm calling foul."
Williams raises interesting points in her full-throated defense of Seacrest. The only thing I take issue with. At one point she told the Wrap that Seacrest prefers "skinny blond girls" and that Hardy isn't his type. Sexual harassment is about power, not attraction.  But let's put it this way. Williams can't exonerate Seacrest, but if he were harassing women on the Idol set, she would be in a position to know.  
Williams is currently living in outside of California and won't be returning to the American Idol reboot, which premieres on Sunday March 11.