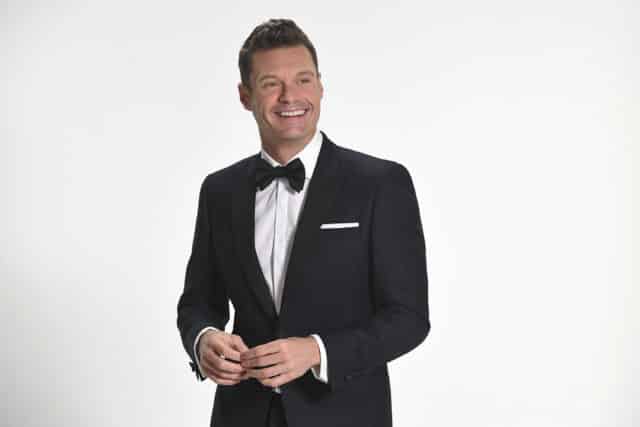 American Idol host Ryan Seacrest had an awkward night on the red carpet Sunday before the 90th Academy Awards took place at the Dolby theater in Los Angeles. Amid allegations that Seacrest sexually harassed a former stylist, the E! network stood by their man and kept him on the red carpet.
While celebrities did stop by to chat with Ryan, there was a conspicuous absence of big name stars. For instance, Ryan didn't interview any of the nominees for Actress in a Lead Role.
Here's who stopped to talk to Seacrest on the Red Carpet, according to EW
Diane Warren, nominee for original song
Miguel
Gael García Bernal
Kelly Ripa and her husband Mark Consuelos
Allison Janney, nominee for I, Tonya
Christopher Plummer, nominee for All the Money in the World
Andy Serkis
Richard Jenkins, nominee for The Shape of Water
Bradley Whitford, Lil Rel Howery, Betty Gabriel from Best Picture nominee Get Out
Donald Sutherland, honorary Oscar winner
Rita Moreno, presenter
Eiza Gonzalez (Baby Driver)
Mary J. Blige, nominated for Mudbound
Andra Day and Common, nominated for original song from Marshall
Taraji P. Henson, presenter
Whoopi Goldberg
Tiffany Haddish
Compared to previous years' coverage, there was an awful lot of cutting over to a a crew stationed at the Roosevelt hotel, headed by Giuliana Rancic. They gamely kept up a stream of chatter about what folks were wearing. All second hand information–because Seacrest wasn't getting the deets first hand. At one point, the camera panned back and someone on the panel suggested they WATCH folks entering the red carpet. Folks who were pointedly avoiding Seacrest.
Supposedly on a 30 second delay to prevent controversial interviews, Taraji P. Henson seemed to get in a subtle dig when she said to Seacrest, "The universe has a way of taking care of the good people," while briefly touching his chin. Twitter posters, who had been trolling Seacrest hard throughout (he trended all through the pre-Oscar hours), posted clips that immediately went viral.
Holy shit Taraji just put a curse on Ryan Seacrest ? pic.twitter.com/GSknn3NozF

— Sara Jean Hughes (@sarajeanhughes) March 5, 2018
But for her part, Taraji told People that she absolutely supports Seacrest. the "I did it to keep his chin up," she said. "It's an awkward position to be in. He's been cleared, but anyone can say anything."
Discussion regarding the sexual harassment initiatives, #MeToo and #TimesUp, was relegated to the panel, which only touched on it briefly. That's pretty weird considering how heavily those subjects have weighed upon recent awards shows.
I don't know what E! was thinking. The network conducted an investigation into the allegations from a former E! employee, and ruled that there was insufficient evidence to prove her claim.  However, in a climate that insists that women MUST be believed,  it was arrogant to keep Seacrest on the red carpet only a week after the the accusers troubling details were reported.
I think Seacrest could have STILL maintained his innocence, while bowing out of this year's gig. Instead, the situation created an awkward situation for himself, and the stars who were put in the position of deciding whether to speak to him or not.