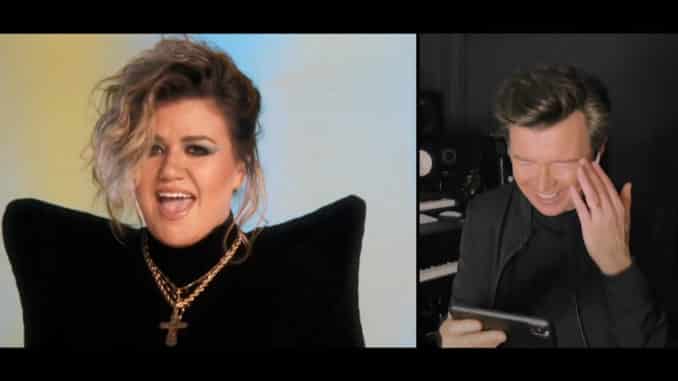 What makes 80's crooner Rick Astley so cool is not only his warm, soulful voice, but his ability to laugh at himself. And even more, his ability to EMBRACE THE CHEESE.
The Voice uploaded a clip of the singer reacting to The Voice coaches Blake Shelton, Kelly Clarkson, John Legend and Nick Jonas performing a homage to his hit 1988 hit "Together Forever." He laughs as he watches the quartet sing, backed by the same "shiny background" as the vintage 80s video. He stops for a second when Kelly sings her solo. "Ooooh. Kelly adding a little bit of soul to it!"
WATCH: The Voice 20: Coaches Rick Roll with Cheesy "Together Forever" (Video)
Rick also praises the dance moves, believing that the singers worked hard with a choreographer to get all of those steps down.
But at times, he's laughing so hard, he's practically wiping tears away. "That is priceless!" he says, "All my dreams have come true!" On a serious note, however, Rick says, "It's a crazy feeling having some of the greatest vocalists in the world sing an old song of yours from back in the day. That is very very special." But then Rick snarks, "Even if they are doing it in a cheesy way!"
The singer, who is responsible for the popular "rick rolling" meme, remarks after watchin the video, "That is about the cheesiest thing I've ever seen in my life," Rick laughs, "The original video is about as cheesy as it gets. But they have out-cheesed the original. Amazing! I'm moved." Indeed.
The new season of The Voice debuts on NBC March 1 at 8 pm
Rick Astley reacts to The Voice coaches' "Together Forever" Music Video
https://youtu.be/gUsBCfrX8ek