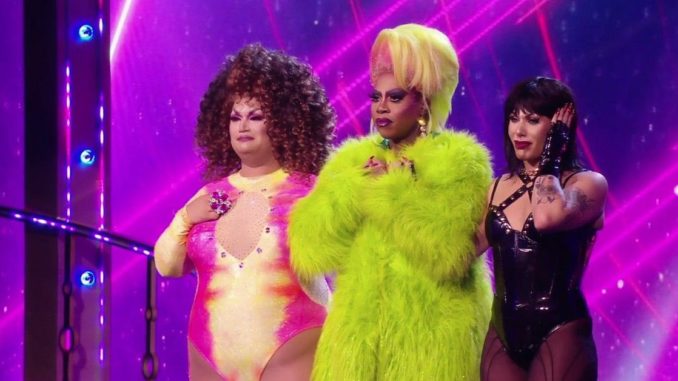 Queen of the Universe, the Paramount+ drag competition that featured all singing and no lip-syncing has crowned a winner.
And the winner is….Grag Queen from Brazil. American Idol season 16 alum Ada Vox came in second place and  Aria B Cassadine from Atlanta Georgia came in third. The results, determined by the "drag loving" audience members, were a surprise. The finale seemed to be a contest between Ada, who is hands down the best singer of ALL 14 contestants, and Aria, the queen with the most experience and best overall package.
American Idol's Ada Vox Advances to Queen of the Universe Finale (Video)
But Grag Queen came in with a superb final performance of Andra Day's "Rise Up." She picked a song that fit her range, and infused it with emotion. That, coupled with a compelling backstory–it's downright life-threatening to be LGBT in Brazil. The queen also had to endure conversion therapy as a child. Her win was triumphant. 
O simples fato de terem levantado pra ouvirem a Grag cantar Rise Up caras… ela venceu muito ?
pic.twitter.com/OTliOpKRuS

— shantay #TeamGragQueen (@shantayficagayr) December 30, 2021
Still, Ada gave it everything she got, and she really could not have given more. She stepped up her look for the finale, too. The judges, Vanessa Williams, Michelle Visage, Trixie Mattel and Leona Lewis always complimented her vocals, but criticized how she put herself together.
Here's her incredible "showstopper" performance of Journey's "Open Arms." When it came to singing, Ada blew the competition away every time.
Aria, unfortunately, bit off more than she could chew with her final song choice. Her big notes were so out of tune, the judges had to mention it. Grag Queen sidestepped those issues by choosing the right song.
The ladies kicked off the competition with holiday tunes. Aria, dressed in a sparkly tuxedo performed the Temptations version of "Rudolph the Red Nosed Reindeer" which fit right into her wheelhouse. Too bad she didn't choose as wisely for her her second song. Grag Queen performed a campy version of "Jingle Bell Rock."
But it was Ada Vox who stunned with a gorgeous version of "Pure Imagination" in the holiday round. Not exactly a holiday song, but the performance did capture the Christmas spirit.
?????? https://t.co/CjFRJkTfFO

— #TeamAdaVox (@AdaVox) December 30, 2021
The winner won a huge cash prize–$250,000. High stakes, indeed. Ada must be disappointed coming so close. The runner-up should have won some money too! But although the series only ran on a subscription streaming channel i.e. not a ton of people saw it, she's part of the RuPaul family now (RuPaul is executive producer). Being on the show can only help her career. 
The finale opened with a holiday song from all 14 contestants
Had the pleasure of writing and music directing this extremely gay holiday song for the @queenofuniverse finale feat our top 3 queens!! Congrats @AdaVox, @gragqueen and @AriaBCassadine! https://t.co/Btp431hwYp

— Leland (@LelandOfficial) December 30, 2021
The entire Queen of the Universe first season is only 6 episodes, and can be streamed in an afternoon. A subscription to Paramount+ is necessary, however. If you've been thinking of subscribing, use the link below. Disclaimer: We earn a cut for every sub.
  
All episodes of Queen of the Universe are now streaming exclusively on Paramount+. Try it FREE!