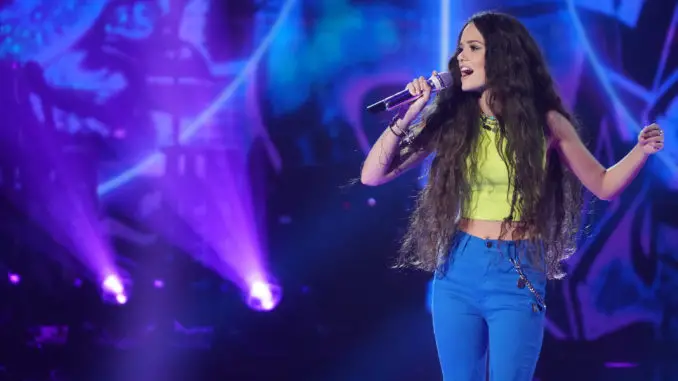 After leaving American Idol season 19 in fourth place last spring, Casey Bishop has been busy playing concerts and recording her debut album.
In a new post on Instagram, the teen rocker looks back on a life-changing year, and shares her thoughts on recording her first EP.
"This has 10000000% been the best year of my life so far." Casey wrote on Instagram, alongside a photo of her "crazy hair."
"I am so grateful to have developed such a strong support system in such a short amount of time. I have met so many beautiful people who have made such a strong impact on my life," she wrote.
The singer, who was signed by BMG/19 Recordings shortly after she finished the competition in 4th place continued, "This year showed me how powerful the mind can be when you are determined enough for something, anything you want you can have. This year was FULL of love, learning & beginnings."
"Next year is going to be just as great and i'm SOOO excited for you guys to hear the new music," Casey wrote enthusiastically. "Working on this upcoming project has been so insanely fun. I discover something new about myself during every song and everyone involved in the music is just so unbelievably talented."
She continued, "It's still crazy to me how being at such a low point in my life last year brought me to my happiest and highest self this year. The growth has been fast but beautiful and is ongoing. Thank you guys so much for everything you do, i love you all."
Casey has been recording and writing debut EP since leaving American Idol
Casey, who finished fourth in the 2021 season of American Idol behind winner Chayce Beckham, runner-up Willie Spence and 2nd runner-up, Grace Kinstler is currently writing, singing and recording new songs for an upcoming EP. This past fall, she wrote and recorded songs in Los Angeles with producer/singer-songwriter Chris Greatti. She planned to return to L.A. to do more work in Greatti's home studio. 
Casey told the News-Press back in November that she started writing songs with Greatti, who also worked with Yungblud and Blink 182, the day after the American Idol finale in May. "Then I just kept going back and forth over there," she said, "and we just keep on writing bangers." Casey was known for her big voiced renditions of classic and heavy metal rock songs. 
She described the new songs she is writing as rock and alternative rock. The songs have an angry and aggressive overtone she said, inspired by a past romantic break up. 
 

 

 

View this post on Instagram