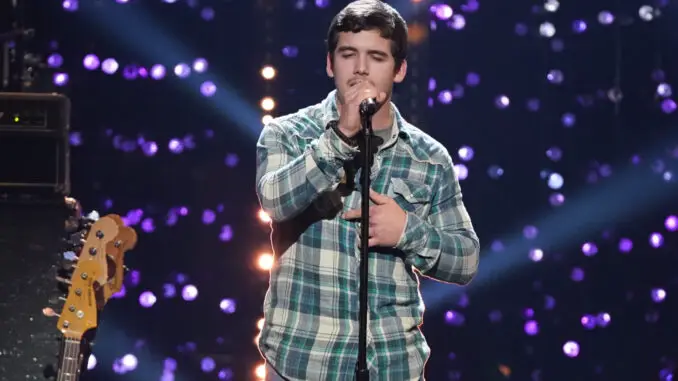 Noah Thompson Stays on American Idol with Rihanna Cover
Noah Thompson, a 19-year-old country singer from Louisa, Kentucky, flipped the beloved Rihanna and Mikky Ekko ballad, "Stay" into a gorgeous country number for the American Idol Showstopper round (Read our Recap).
The song pick was a super-smart choice. The judges, Lionel Richie, Katy Perry and Luke Bryan loved it too. Noah explains that he is switching it up, but he chose it because he sings it back home with his girlfriend, Angel.
Noah starts very strong with his best vocals to date. His tone is clear with just a hint of rasp at the start, and he ramps up the dynamics as it goes on with more rasp. His diction and enunciation are noticeably better than his audition and other past performances. It's the most range that Noah has displayed in a performance, and for the first time, I felt the words he sang.
A true frontrunner
The young singer has always been a solid country contender because he his raspy tone is pleasing and very marketable. Additionally, he seems like the "heart of America" type that American Idol has showcased in the past. But this is the first time he appeared as a true front runner. He peaked at the right time with one of the best Showstopper performances of the night.
From a viewer's standpoint, Noah's fate was inevitable. Katy said, "Top 24" in the middle of his performance. The judges stand and look thrilled with him. Luke exclaims, "I want to applaud you on your song choices," adding that Noah has a  "magic quality. Luke thinks he can "fine-tune" his talent and figure out how to wow and keep the audience's attention. He sends Noah to the Top 24 with a fake-out: "Unfortunately it's the end of the road for so many people…other than yourself!"
Unsurprisingly, Noah soared through to the Top 24 round, which filmed at the Disney Aulani Report in Hawaii.
Noah can rock out too
The bonus clip for Noah is a cover of Seether's "Broken," which shows how Noah can rock out too! It features his friend Arthur who convinced Noah to audition for the show. 
Noah, Lady K, Sir Blayke, Sage, Nicolina and HunterGirl are the Showstopper round standouts. Although the episode was well-paced, editing is still a problem. This season boasts a solid group of frontrunners as well as a deep group of dark horses. Unfortunately, several talented contestants were hardly shown. 
The round completely skipped over singers like Elli Rowe, Mike Parker, and Allegra Miles. The show didn't feature Elli at all during Hollywood Week, and had already montaged Allegra's audition. Also, Morgan Gruber was missing and didn't make the Top 24. I wonder what went wrong for her performance to send her packing.