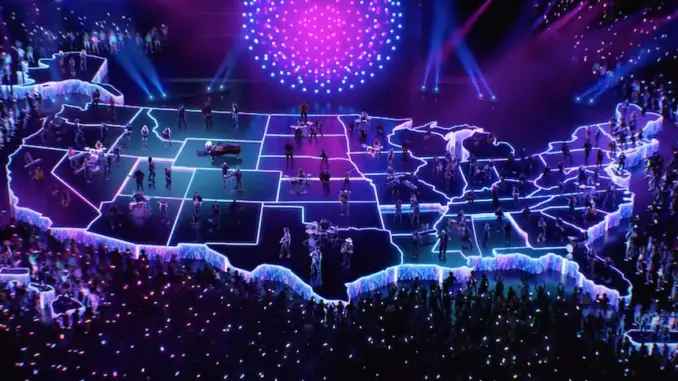 Happy Monday! Welcome back to another night of original songs, state facts with Snoop Dogg, and Kelly Brianne's (formerly Clarkson) hilarity!
Last week's episode featured performers from Maine to Montana, with
The Voice
winner
Jordan Smith from Kentucky with "Sparrow"
being named the winner of the night by the jury.Three more songs from last week's episode will be moving on to the next round at the start of tonight's show, then we'll see 12 contestants from 12 different states/territories with 12 new songs!Voting is conducted by a jury representing all 56 states, territories and Washington D.C., but fans have the opportunity to vote as well! Fan-voting takes place online, on TikTok, and on the NBC app. Full voting details can be found 
HERE.
Kelly and Snoop announce the three performers from last week who are going to the semi-finals… Chloe Fredericks, Broderick Jones and Jonah Prill!
Grant Knoche – Texas – Mr. Independent
Grant welcomes us to Texas in his "postcard" package, letting us in on his upbringing in dance and singing, which led him to touring with Kidz Bop at 10 years old. Despite being from a state known for country music, Grant calls his genre "dark pop."
I love the way this performance features some lyrics floating by! Grant incorporates his dance background into this performance, with an edgy and unique sound. I can see this kid and this song going far whether or not he wins, to be honest!
Brittany Pfantz – Louisiana – "Now You Do"
Brittany shows us around New Orleans, telling us her music represents Louisiana because her music is "drenched in Louisiana." Brittany calls her music spicy, and a combo of Amy Whinehouse and Adele with hints of Janis Joplin. We also get to see the moment Brittany's fiancé proposed at one of her gigs!
Brittany's performance starts out with a unique headpiece, and I ca definitely hear those Adele "Rolling in the Deep" vibes in this song. I'm surprised by her lack of a stage presence at the beginning, but she saved it in the middle by walking around and bobbing her head to the music.
Tyler Braden – Tennessee – "Seventeen"
Tyler introduces us to the musical city of Nashville, then surprises us by sliding down a firehouse pole and telling us he was a firefighter, but left when he started getting career offers in music. Tyler made his Grand Ole Opry debut only a few month ago, hopes to make Nashville and its country music history proud.
My immediate thought is: "Really unique voice." I could point him out on the country station among all the other voices and songs that always sound way too similar. "Seventeen" is your typical county ballad about younger years, but its hidden gem is the soul in Tyler's voice as he sings it.
*Sidenote: I've got to admit, this show confuses me with the way it's supposed to be all about a SONG, yet every performance is full of theatrics. I understand it's meant to be entertaining, but I tend to wonder if it all takes away from the goal, which is to find America's next hit SONG. Anyone else agree?
Brooke Alexx – New Jersey – "I Don't Take Pictures Anymore"
We get to see the Jersey Shore in Brooke's "postcard" package, then gives a fun fact that pumping you own gas in NJ is apparently illegal. Brooke uses TikTok to showcase her music, and had one video reach 9 million views. Brooke wants this song to instill confidence in people the way her home state instilled confidence in her.
Okay, I know I just went after the performance theatrics, but that doesn't mean I don't enjoy it! haha Brooke's whole performance is fun, lying on a bed full of Polaroid photos and exchanging her pink robe for a fun black blazer-and-shorts combo. And did she just call out Nickelodeon in a lyric?? Overall, a really cute pop song with some serious Taylor Swift/Olivia Rodrigo vibes!
Ni/Co – Alabama – "The Difference"
Couple Dani and Colton make up Ni/Co and show us around Fame Recording Studios in Alabama. The two met in a music class, dating for two years before becoming a music duo.
This performance is very cinematic and screams Ni/Co to me after watching that "postcard" package. It sounds like a big, dramatic ballad/love song that could play during the end credits of a movie.
Ale Zabala – Florida – "Flirt"
Ale suggest the first place you visit in Florida be Miami Beach, with beautiful neon lights in the nightlife. Columbia-born, Ale moved to Florida when she was 5 years old, and says she's grateful to perform a pop/Latin song she wrote on this show.
Everything and everybody covered in bubblegum pink was a little much, but the song is fun and poppy with the perfect dash of Latin spice. I really enjoyed the mix of languages in the lyrics as well.
Jewel – Alaska – "The Story"
Jewel brings us to the log cabin in Homer, Alaska that her grandfather built by hand in the 40's. The "You Are Meant For Me" singer says music is the great leveler, and hopes to re-introduce herself with this new song she wrote specifically for this show after the break…
This country pop song has a really good beat that leads up to a fun, almost magical sounding chorus. I supposed contestants like Jewel who are already well-established in this business may have an edge over the newbies, but you can't deny this song had every ingredient to make it a success.
Jesse LeProtti – South Carolina – "Not Alone"
Jesse calls his home state of South Carolina beautiful, and that its "old-school charm" can "make you feel like you're in a time capsule." Jesse says his hardworking upbringing inspires his Urban pop music, and that we'll see a smalltown kid give his all for his family, for his mother struggling with MS, and for Alabama.
A Ne-Yo sound meets a Michael Jackson-esque voice in this funky pop song. The fun sound couples with inspirational lyrics about not feeling alone in your struggles. One of the best of the night, in my opinion!
Judd Hoos – South Dakota – "Bad Girl"
Judd Hoos is a rock band of five members with only one original member, Shane, still left in it. The band take us on a roadtrip to where they're playing a gig, taking Mount Rushmore selfies and talking about the state's "street dances," when a whole street will shut down for a concert.
They mentioned there would be a lot of production but the production starts out very simple, with just a lit platform and the lead singer singing into an old-fashioned microphone, and the simple production works with this soft rock headbanger.
Nitro Nitra – Delaware – "Train"
Nitro Nitra celebrates how Delaware has tax-free shopping. She says after walking by a sign every day that said "a place to be somebody," she decided she was going to be a singer. "Once you win within, it doesn't even matter because you've already won," she says.
A very slow start but the song picks up in the chorus with a catchy lyric. It had a hard rock sound and despite the enjoyable chorus, the song wasn't a favorite of the night.
Sabyu – Northern Mariana Islands – "Sunsets & Seaturtles"
Sabyu welcomes us to the beautiful Northern Mariana Islands, an occupation of about 50,000. A bunch of different cultures come together to create of community of the Islands, and with a ukulele in-hand, Sabyu says he's released two EPs and two albums.
"Sunsets & Seaturtles" is a super cute title for this calm and mellow tune. The lyrics are simple, just like this performance; just Sabyu, his acoustic guitar and the scenes of literal sunsets and seaturtles behind him.
Riker Lynch – Colorado – Feel the Love
The former R5 member calls his sound "tropical pop," repping a fun, beachy vibe despite living in the cold and rocky Denver, Colorado. Riker shows us around the famous Red Rocks amphitheater, and plans to start a new journey with his performance after the break…
I love this little R5 reunion in Riker's new band! It's a very different sound from what fans of pop rock band R5 may be used to, but this is a fun sound with a super catchy chorus! And I wasn't expecting to see Riker crowd surf, but maybe his R5 days aren't as far behind him as they seem.
The jury casts their vote and tonight's winner is… "Seventeen" by Tyler Braden from Tennessee!