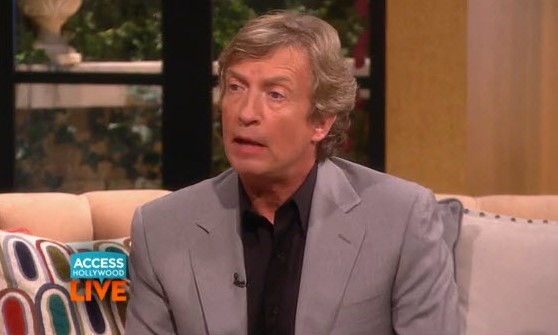 UNCLE NIGEL IS COMING BACK!
Variety reports that former American Idol producer, Nigel Lythgoe, is returning to the show's fifteenth and final season to executive produce the finale episode.
Nigel left American Idol after the disastrous Season 12 which low lights included warring judges Mariah Carey and Nicki Minaj and continued declining ratings. In the meantime, Nigel has continued to produce the summer dance competition, So You Think You Can Dance for FOX.
Production company, Fremantle Media, made the deal, inviting Nigel to produce the finale, as his "final bow." Fremantle's president of entertainment Trish Kinane, who will take over as showrunner for Per Blankens, who left after producing seasons 13 and 14, will share executive producer duties with Nigel.
Nigel ran American Idol from from the debut season in 2002 through its seventh season in 2008, then returned for Season 10 through 12. He also was an original executive producer on the original British series, Pop Idol, created by Simon Fuller.
"I doubt we will ever see another television show with the same cultural and social impact as 'American Idol.' It has also given such incredible opportunities to so many young, talented performers and changed so many lives, including my own," Nigel said in a statement to Variety. "Consequently, I am delighted and proud to rejoin the Idol team in order to create what is sure to be one of the most memorable and spectacular finales in all of television history."
Trish Kinane commented, "Nigel is an incredibly talented producer who helped make 'Idol' an iconic television show. He was part of our 'Idol' family for many years and I'm delighted that he is joining our team for the final episode of the farewell season on Fox. It's going to be an amazing finale to celebrate 'Idol's' rich and ongoing legacy."
Plans for the final season are still underway, but promos have hinted at the return of favorite Idol grads and the original Idol judges, Paula Abdul, Randy Jackson and Simon Cowell.
American Idol 15 Promo Features David Cook's "The Time of My Life" (VIDEO)
American Idol 15 Promo: William Hung, Sanjaya and Kanye West (VIDEO)
American Idol 15: Ryan Seacrest Says All Original Judges Will Return
American Idol will return to FOX one last time on January 6, with Ryan Seacrest, returning as host, and judges Jennifer Lopez, Keith Urban and Harry Connick Jr.
I think this is a SPECTACULAR idea. Who knows the show better than Nigel Lythgoe? He needs to return to give the iconic show the proper send off it deserves.
Via Variety