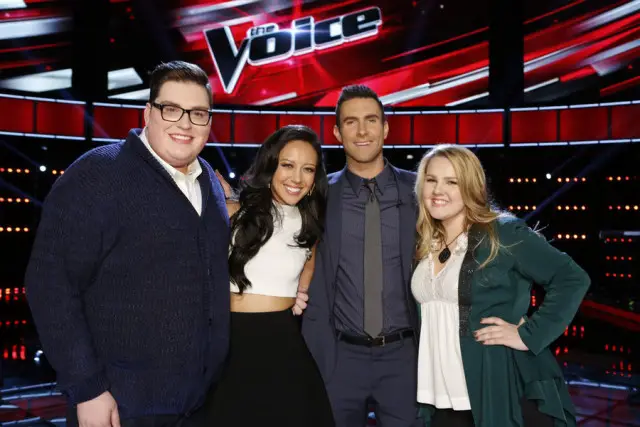 The Voice 9 finals continue! The Top 10 will perform for your votes tonight, and one will be eliminated tomorrow. See what the members of Team Pharrell Williams, Team Gwen Stefani, Team Blake Shelton and Team Adam Levine are singing right here.
REMEMBER! Wait until 10 pm ET before downloading your favorites, or it will not count as a vote for this week's elimination.
Madi Davis – Team Pharrell – Girls Just Want to Have Fun by Cyndi Lauper – Download from iTunes
Braiden Sunshine – Team Gwen – Radioactive by Imagine Dragons – Download from iTunes
Korin Bukowski – Team Gwen – Same Old Love by Selena Gomez – Download from iTunes
Jeffery Austin – Team Gwen – Jealous by Labrinth – Download from iTunes
Barrett Baber – Team Blake – I'd Just Love to Lay You Down by Conway Twitty – Download from iTunes
Emily Ann Roberts – Team Blake – She's Got You by Patsy Cline – Download from iTunes
Zach Seabaugh – Team Blake – Crazy Little Thing Called Love by Queen – Download from iTunes
Amy Vachal – Team Adam – Bye Bye Bye by *Nsync – Download from iTunes
Jordan Smith – Team Adam – Hallelujah by Leonard Cohen – Download from iTunes
Shelby Brown – Team Adam – Go Rest High on that Mountain by Vince Gill – Download from iTunes
Jordan Smith singing "Hallelujah"? *smacks head*. Who didn't see that one coming? He'll win the iTunes sweepstakes for sure this week. Amy Vachal singing a boy band cover isn't going to capture lightning in a bottle this week.
Braiden Sunshine and his attempts at being "badass" are cringeworthy. STOP THAT GWEN.
Perfect song choice for Jeffery Austin. He's going to kill "Jealous."
Steel yourselves for more hip thrusting from Zach Seabaugh. Expecting a ridiculous performance that will please the people who like him.
Shelby Brown pulls the religion card, but that Vince Gill song was written in the past couple of years, I believe. It's a good pick for her and should get her back on track.
Barrett Baber is singing a song that suits him. But The Voice parade has passed him.
Blake keeping Emily Ann Roberts right in her wheelhouse. Exactly right.
Get that save me song ready, Korin Bukowski. Blake and Pharrell both have some good ones. I don't think she'll be able to carry off a sexy pop song.
Madi Davis performs the slowed up version. The iTunes recording is lethargic. We'll see how the live performance goes.