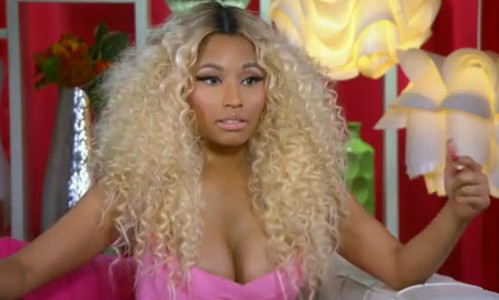 In a sitdown with E News producer (and American Idol host!) Ryan Seacrest, Nicki shares her feelings on the season long–and often ugly–feud she's had with fellow judge, Mariah Carey.
Describing what her relationship is like with Mariah now, Nicki said, "Imagine someone that you loved your whole life. Imagine you meeting them, and then all of a sudden, feeling like, you did something horrible to them, but you just don't know what you did."
Nicki continued, "I really thought we were friends. That's the other thing I learned. This industry is so fake. You walk away thinking people are your friends, and they're not."
"It's a couple of nice hi and byes," she explained, "but you better not step on nobody's toes. God forbid you get a little shine. God forbid you're witty or quick on your toes, or make someone laugh. Maybe, you're making somebody feel insecure. You shouldn't have to dim your light to let another person shine."
Nicki signed on to Idol thinking they were going to be "the most fun judges of all time."  The person Nicki was most worried about getting along with was Keith Urban, whom she feels close to on the panel.
About whether she'll be back next season, Nicki responded enigmatically "That's the million dollar question."
For her part, she wouldn't change a thing about her Idol experience. "If I had to so this all over again, I would have done Idol. We built a family, I feel happy here. I have to thank Idol for giving me this chance."
Watch the interview, below.
http://youtu.be/ey6CadDO-Bc