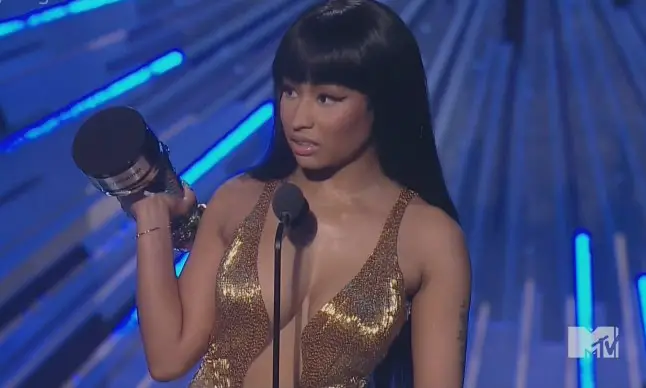 When Minaj accepted the Best Hip Hop Video Moonman for her "Anaconda" visual, she called out Cyrus — who is hosting the awards ceremony — for weighing in on Minaj-Taylor Swift's VMAs controversy to The New York Times.
"Back to this b**ch that had a lot to say about me the other day in the press; Miley, what's good?" Minaj confronted Cyrus on live television.
Miley truly seemed caught off stage, but she handled it like a pro. "Hey, we're all in this industry, we all do interviews and we all know how they manipulate s**t. Nicki, congratulations," she said before quickly moving on. Cut back to Nicki's bitch face.
In case you aren't keeping up, Miley sat for a wide-ranging interview with the New York Times recently, and had a few things to say about the little tiff between Taylor Swift and Nicki, after the latter criticised the MTV for shortchanging curvy girls and women of color.
"What I read sounded very Nicki Minaj, which, if you know Nicki Minaj is not too kind," Miley said. "It's not very polite. I think there's a way you speak to people with openness and love. You don't have to start this pop star against pop star war."
No need to start this pop star against pop star war…unless you're Miley Cyrus, pontificating from her high horse to the New York Times. Ahem.
In case you were wondering, MTV is swears the exchange wasn't scripted. A writer from Mashable spoke to a rep from MTV:
That Nicki Minaj vs. Miley Cyrus onstage verbal spat WAS NOT STAGED, an MTV rep just assured me, for what it's worth. #VMAs

— Brian A. Hernandez (@BAHjournalist) August 31, 2015
Watch Nicki confront Miley here
MEANWHILE, in a move only someone hiding under a rock for the past few months didn't see, Nicki and Taylor were all best-freind like, as they opened the VMAs with some Bad Blood. So there you go Miley.