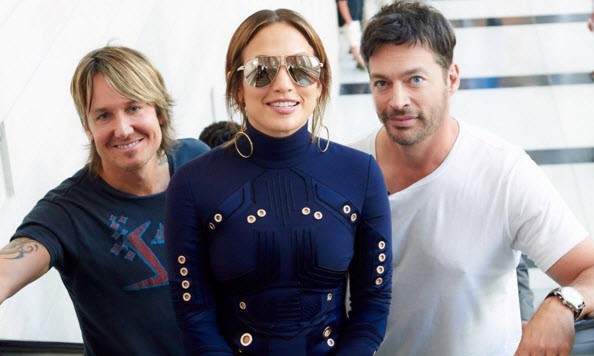 American Idol tweeted two new promos yesterday. One, is a 30 second spot featuring all the winners. Another, a promo for Wednesday's Philadelphia auditions was tweeted TWICE by Idol. The first version featured Clay Aiken, the second did not.
Yesterday, I emailed myself both tweets as soon as they hit my feed. Here's a screenshot of the link to the original Clay Aiken-centric promo for Wednesday's show:
When I clicked on the link this morning, it led to the dreaded "Sorry that page doesn't exist" message. The promo featured Clay almost exclusively and was replaced later, at around 9:45 pm ET with a Clay free spot. Interesting. Did the fans complain so loudly, in the wake of the season 2 runner-up trashing the show while live tweeting the premiere, that Idol thought better of using him to promote the episode? After Clay's negative tweets, did Idol re-edit Wednesday's show to minimize Clay's presence? Hm.
Here's the Clay-free promo featuring David Cook, Kris Allen, Jordin Sparks and Chris Daughtry:
The farewell season of American #Idol continues Wednesday on FOX! https://t.co/G8fVbn4Q5l

— American Idol (@AmericanIdol) January 12, 2016
Sure, Clay is entitled to his opinion, as we all are. But it wasn't very smart, or charitable, to slam the show after they invited him to participate in the farewell season. I'm sure he didn't mind cashing the check.
The 30 second spot features ALL 14 winners, (almost) in order (Lee Dewyze (S9) and Scotty McCreery (S10) are switched. Hooray for acknowledging winners after season 11. Up until this promo, Candice Glover (s12) and Caleb Johnson (s13) were barely acknowledged. I realize the two winners come from problematic seasons. Season 12 yielded the Nicki Minaj/Mariah Carey trainwreck that, frankly, Idol never recovered from. But it's not Candice's fault. Yes, Caleb's post Idol debut barely made a blip on the charts. He would have sold more albums if Interscope had given a damn. But that's a rant for another post. Regardless, both won their seasons. You can't and should not erase history, Idol!
I am such a sucker for these nostalgic promos. I'll admit it. 
This season promises to deliver the most talented group of singers yet. Watch American #Idol? Wednesdays on FOX?! https://t.co/lrWOAjCgTn

— American Idol (@AmericanIdol) January 11, 2016