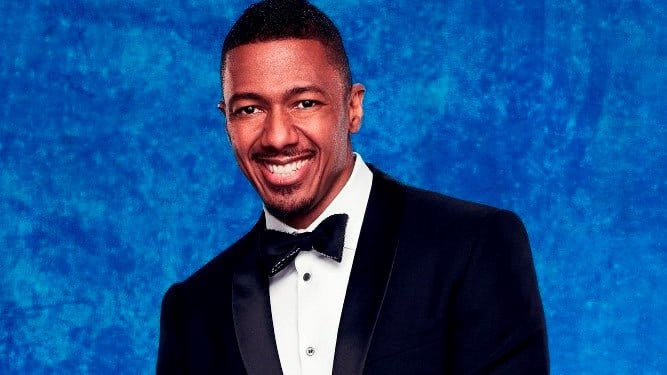 Nick Cannon Spreads Anti-Semitic Conspiracy Theories in Youtube Video 
Video of Nick Cannon spreading anti-semitic conspiracy theories and praising anti-semite Nation of Islam minister, Louis Farrakhan has surfaced.
The Masked Singer host and former America's Got Talent host spoke with Richard Griffin, aka Professor Griff for Nick's Youtube series "Cannon's Class." The clip is a doozy.
Griffin was a member of the hip hop group Public Enemy until the late 1980s, when he was ousted over anti-semitic remarks he made in a series of interviews.
Terry Crews Tussles with CNN's Don Lemon, Criticizes BLM (Video)
AGT Host Terry Crews Put on Blast for "Black Supremacy" Tweet
Nick Cannon Says AGT Forgot "Shattered" Eliminated Contestants
In a 1989 interview with The Washington Times, Griffin said: "The Jews are wicked. And we can prove this," and said that Jews are responsible for "the majority of wickedness that goes on across the globe." Griffin told Nick that during the interview, he was merely "speaking facts" about who controls the music industry. "I'm hated now because I told the truth," he recalled of his dismissal in 1989, repeatedly referencing "the Cohens and the Moskowitzes."
Nick praised Griffin for having "the most substance and weight in speaking unapologetically… and you stuck to your guns."
Nick Cannon Spreads Rothschilds, Bloodlines, Illuminati Conspiracies
Nick begins namechecking anti-semitic conspiracy theories such as "going as deep as the Rothschilds, centralized banking, the 13 families, the bloodlines that control everything even outside of America." Nick claimed that when people understand who the real Jewish people are, "it's never hate speech, you can't be anti-semitic when we are the semitic people. When we are the same people who they want to be. That's our birthright." He later added that "we are the true Hebrews."
Nick also spoke about "giving too much power to the 'they' — and then the 'they' turns into the Illuminati, the Zionists, the Rothschilds." Nick praised Farrakhan repeatedly during the 90 minute clip. To understand why Farrakhan is problematic, the ADL has a good primer here. Referring to Jews as "termites" got him kicked off of social media platforms. Snopes deconstructs the Rothschilds conspiracy, including the Illuminati and New World Order conspiracies HERE.
During the discussion Griffin and Nick insist their beliefs aren't anti-semitic, because they are merely stating "facts." But basically, they insist that Blacks are the true semites, and that Jews co-opted their ideas and stole their identity. 
For highlights, check out the bullet points below.  
At about 10 min and 30 seconds. Griffin describes his version of the 1989 interview that got him kicked out of Public Enemy, and about how Blacks are the true semites.
At about 22:10 Nick throws in his support for Nation of Islam Leader Louis Farrakhan: "This is one of the reasons why I feel honored to speak with you, but I feel like you're so prevalent and so on time is because what we're dealing with with the Honorable Minister Farrakhan being silenced on Facebook and other platforms."
At 24:15 Nick begins spewing about the Jewish conspiracy–Rothschilds, Bloodlines, Illuminati, et al. 
At 37:00 Griffin refers to Jews as the "Cohens and the Moskowitzs." Many references to THEY. Nick speaks incomprehensibly about the Illuminati and how they were just a bunch of Roman Catholics and he doesn't give a F***.
At 45:00 Nick and Griffin talk about the "illuminati" and the "New World Order." Nick explains that lack of melanin led white people to rape and pillage (???) UPDATE: This segment is trending on Twitter right now. Which is odd, because I don't think it's the weirdest or most racist thing Nick said here. The quote freaking people out: Nick says white people are "a little less," "closer to animals," "the true savages," "acting out of a deficiency so the only way they can act is evil." 
I didn't listen to the full clip. I can only take so much.
For now, only the Jewish Insider (where I got all the quotes here), and a few Twitter people have picked up on the clip. It'll be interesting to see if the story goes viral. Gotta say, I did not have anti-semite and/or nutty conspiracy theorist on my Nick Cannon bingo card. Really, really disappointing.
https://youtu.be/w0HkK-AmOL8